US 101 Gaviota Pass Wildlife Connectivity Study
US 101 Gaviota Pass Wildlife Connectivity Study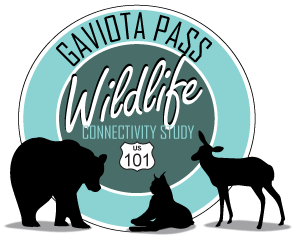 Study Description
The study will analyze the spatial and temporal patterns of wildlife movements and roadkill occurrences along U.S. 101 through the study area using systematic camera monitoring and roadkill surveys, along with assessments of existing infrastructure and surrounding land use.
The study's approach will be consistent with other wildlife habitat connectivity studies and will help to determine how animals are using the landscape.
The stakeholder outreach group will be community based and will focus on implementing the technical study recommendations. This stakeholder group will include a diverse representation from nearby property owners, the Gaviota Coast Conservancy, Coastal Ranches Conservancy, California State Parks, California Department of Fish and Wildlife, California Coastal Commission, Santa Barbara County, Santa Barbara County Association of Governments, and both the Santa Ynez Band of Chumash Indians and the Coastal Band of the Chumash Nation.
Study Benefits
Purpose
The purpose of the project is to provide a robust wildlife habitat connectivity assessment within the Gaviota Pass corridor. The project would also generate recommendations for approaches and/or opportunities to enhance safe wildlife passage in the corridor and reduce the risk of wildlife-vehicle collisions.
Need
The project is needed to identify potential problem areas and locations where wildlife are successfully crossing under the highway.
Estimated Funding Breakdown
| Funding Source | Funding Amount |
| --- | --- |
| Local | Not Applicable |
| State | $327,095 |
| Federal | Not Applicable |
| Construction Cost | $327,095 |
Partnerships
Gaviota Coast Conservancy
Coastal Ranches Conservancy
California State Parks
California Department of Fish and Wildlife
California Coastal Commission
Santa Barbara County
Santa Barbara County Association of Governments
Santa Ynez Band of Chumash Indians
Coastal Band of the Chumash Nation
Vista Del Mar Union School District
Los Padres Forest Watch
California Highway Patrol
Proposed Study Schedule
| Process | Date |
| --- | --- |
| Kickoff Meeting | December 2, 2021 |
| 2nd Meeting Technical Study Design Discussion with ICF | Spring 2022 |
| Complete Technical Study Update | Fall 2022 |
| Complete Technical Study Results and Discussion of Implementation with ICF | Spring/Summer 2023 |
| Implementation Strategy Meetings Kickoff Meeting | Starting Fall 2023 |
Study Contact
Mitch Dallas, Senior Environmental Planner
Phone: (805) 748-7004
Email: mitch.dallas@dot.ca.gov
District 5 Public Information Office
Phone: (805) 549-3237
Email: info-d5@dot.ca.gov
Documents
Accessibility Assistance: Caltrans makes every attempt to ensure our documents are accessible. Due to variances between assistive technologies, there may be portions of this document which are not accessible. Where documents cannot be made accessible, we are committed to providing alternative access to the content. Should you need additional assistance, please contact us at (916) 654-2852 or visit https://dot.ca.gov/request-ada-compliant-documents.
Title VI Information
The California Department of Transportation (Caltrans) assures that no person shall, on the basis of race, color, or national origin, be excluded from participation in, be denied the benefits of, or be otherwise subjected to discrimination under any program or activity receiving Federal financial assistance, as required by Title VI of the Civil Rights Act of 1964, as amended, the Civil Rights Restoration Act of 1987, and Federal Executive Order 12898 (Federal Actions to Address Environmental Justice in Minority Populations and Low-Income Populations).
Caltrans will make every effort to ensure nondiscrimination in all of its programs and activities, whether they are federally funded or not, and that services and benefits are fairly distributed to all people, regardless of race, color, or national origin. In addition, Caltrans will facilitate meaningful participation in the transportation planning process in a nondiscriminatory manner.