Five Cities Multimodal Transportation Network Enhancement Project
Five Cities Multimodal Transportation Network Enhancement Project
Please see below or click here for information about the Virtual Public Meeting held on October 20, 2020
Project Description
Caltrans, in partnership with San Luis Obispo County of Governments, is proposing a pilot project to address peak-period congestion on southbound US 101 by constructing a left-shoulder part-time travel lane from San Luis Obispo Creek to the railroad overhead in Pismo Beach. The southbound left shoulder would be widened to accommodate the lane, which would be open daily during periods of heavy afternoon traffic as well as special events. A new park-and-ride lot in Pismo Beach is also proposed.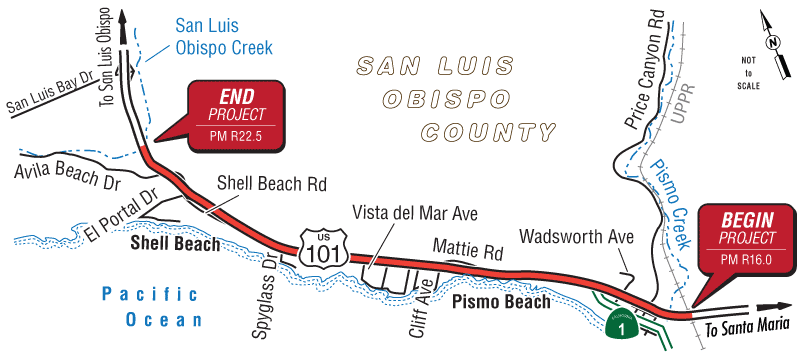 Project Benefits
Purpose: The purpose of the project is to reduce travel delays that diminish the efficient operation of US 101 through Shell Beach and Pismo Beach in the south­bound direction during periods of heavy traffic volumes.
Need: US 101 within the project limits cannot efficiently manage existing traffic volumes that accumulate when large numbers of drivers exit the City of San Luis Obispo within a short period of time. This typically happens during the evening work commute, on summer weekends, and when there are popular events in the communities to the south.
Estimated Funding Breakdown
Regional Discretionary Funds: $10,901,000
SB 1 Grants: $47,110,000
Unprogrammed: $3,089,000
Construction Cost: $61,100,000
Partnerships
San Luis Obispo County of Governments (SLOCOG)
Proposed Project Schedule
Final Environmental document to be completed: Fall 2021
Design to be completed: Fall 2023
Advertise: Winter 2024
Construction to begin: Summer 2024
Construction to be completed: Spring 2026
Contact
Project Manager: Paul Valadao
Phone: (916) 764-9123
Email: paul.valadao@dot.ca.gov
Senior Environmental Planner: Lara Bertaina
Phone: (805) 542-4610
Email: lara.bertaina@dot.ca.gov
Environmental Document Preparer: Paula Huddleston
Phone : (805) 549-3063
Email: paula.huddleston@dot.ca.gov
Public Information Office: Jim Shivers
Phone: (805) 549-3237
Email: jim.shivers@dot.ca.gov
Documents
A public meeting was held on October 20, 2020 from 5:30 p.m. to 7:30 p.m. via Zoom.
To View a Recording of the Meeting, please visit https://www.youtube.com/watch?v=uTgmYQ1coMo&t