Vegetation Management Projects & Partnerships
Vegetation Management Projects & Partnerships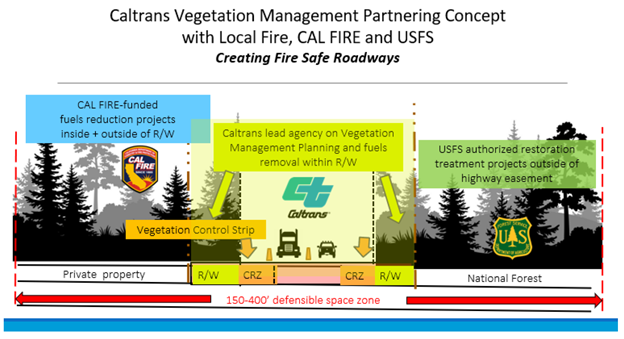 With the launching of the Governor's California Wildfire and Forest Resilience Action Plan (January 2021), Caltrans is embracing a "shared stewardship" approach to setting land management objectives, protecting natural resources, and implementing a strategy informed by State and local fire departments.
Fuels reduction is a strategy used by CalFIRE and local fire districts for fire prevention. Fire prevention activities align with broader public safety goals for protecting the travelling public, adjacent land users, communities, Caltrans employees, transportation system asset infrastructure, and ecosystems from unplanned ignitions.
Caltrans District 4 Maintenance Division is working hard to meet challenges and continues to scale up for a commensurate response to the effects of climate change. Caltrans Maintenance Division is partnering with the pre-fire engineers at state and local fire departments to develop and implement priority vegetation projects. Caltrans is communicating with tribes as well.
Caltrans maintenance is not resourced for the replanting of vegetation, and we may not use potable water for irrigation during the continued drought. Caltrans will work to remove invasive plant species in project areas.
Caltrans Maintenance Division appreciates public understanding and support for activities that may be occurring across our nine Bay Area counties.
Click here for more information on Caltrans' vegetation management methods
---
Vegetation Management Traffic Advisories
October 21, 2022 - Daytime On-ramp Closure for Vegetation Reduction Work in Mill Valley
Newsflash - Vegetation Management