SM 101 Express Lanes Project
SM 101 Express Lanes Project
Stay Informed and Plan for Delays
Construction of the San Mateo 101 Express Lanes Project from Whipple Avenue to Interstate 380 (I-380) is starting. To sign up for weekly or quarterly updates, email with the subject line 'Weekly' or 'Quarterly' to 101express@dot.ca.gov. Follow the project on Twitter @CaltransD4. Para mayor información en español, visite de abajo. 更多详情的中文,请访问下面.
Existing carpool lanes will be converted to express lanes between the San Mateo/Santa Clara County line and Whipple Avenue (blue solid line) and new express lanes will be constructed between Whipple Avenue and I-380 (red stripped line). This will result in 22 miles of express lanes in each direction of U.S. 101.
Scroll down to read project information, information about construction, project contact information and project documents. Click on the frequently asked questions link above to read frequently asked questions.
Accessibility Assistance: Caltrans makes every attempt to ensure our documents are accessible. Due to variances between assistive technologies, there may be
portions of these documents which are not accessible. Where documents cannot be made accessible, we are committed to providing alternative access to the content. Should you need additional assistance, please contact Alejandro Lopez at (510) 286-4948 or 101express@dot.ca.gov.
The San Mateo 101 Express Lanes Project is a multi-year, multi-agency project initiated to reduce traffic congestion and encourage carpooling and transit use on U.S. 101 in San Mateo County.
The project will create 22 miles of express lanes on U.S.101 from the San Mateo County/Santa Clara County line to I-380 in South San Francisco. The San Mateo 101 Express Lanes will seamlessly connect to the express lanes being constructed in Santa Clara County.
A goal of the express lanes is to enable travel speeds of 45 mph or greater, resulting in reduced and more reliable travel times.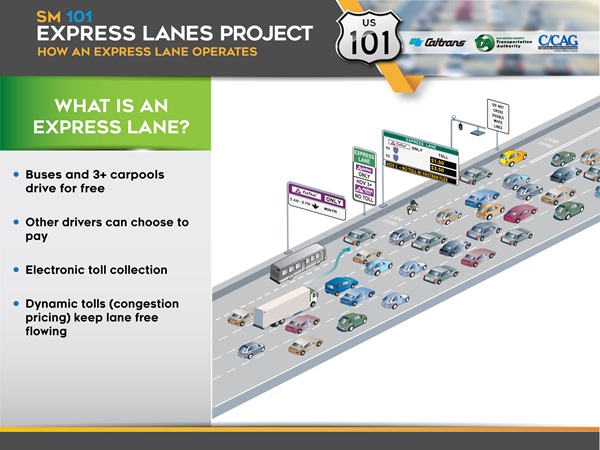 Key Project Benefits
Encourages carpooling and transit use
Improves travel time and reliability for all express lane users
Increases the total number of people moved on the corridor
Uses technology to manage traffic flows
Reduces congestion in the corridor
Upgrades pavement and lane re-striping
Project construction to add a lane from Whipple Avenue to I-380 on U.S.101 is beginning February 2020 and is currently scheduled to last through mid-2022. Throughout 2020, construction activities will occur on the freeway lanes, shoulders, and ramps. Construction work will also occur on local city streets. Beginning early 2021 through mid-2022, construction activities will occur in the freeway median. Lastly, the project area will be repaved and restriped before the new lane is open for operations.
Construction activities will require nightly freeway lane closures, temporary ramp closures, lane closures on city streets, vegetation removal, and the demolition and reconstruction of some sound walls. See below for detailed information on anticipated Lane Closures and Vegetation Removal. Check back soon for more information about Sound Wall Removal/Reconstruction.
Lane Closures
Due to current low traffic volumes, Caltrans has begun implementing nightly lane closures beginning at 7:00PM, Sunday through Thursday night. Caltrans will continue to provide real-time traffic conditions via changeable electronic message signs placed within the construction zone. Caltrans will monitor traffic delays and make adjustments as necessary, though project related delays are anticipated to be minimal during this time.
Plan for nightly lane closures and associated delays. Starting in February 2020, Caltrans will implement freeway lane closures Sunday-Thursday nights. Lane closures for segments of the corridor may be in effect from 9 PM to 5:30 AM.
Nightly lane closures are anticipated to cause delays between 9 PM to 1:30 AM Sun-Thurs, some in excess of 25 minutes. Delays of more than 15 minutes are not anticipated between 1:30 AM to 6 AM. The project's goal is to avoid project-related freeway delays before 9 PM and after 6 AM Closures and delays will vary in magnitude, duration, and location depending upon what work is being performed on a given night.
Travelers will be able to see real-time traffic conditions from changeable message signs placed in the construction zone. The Smart Traffic System is being implemented during construction to provide up to date information, improve safety, and reduce congestion.
Additional information regarding lane closures and project-related delays will be available soon. Sign up for weekly updates to get details on the construction activities planned each week.
Vegetation Removal
Vegetation and tree removal is also starting in February 2020. These activities may be noticeable near residential areas in San Mateo and commercial areas in Burlingame and San Carlos. Trees proposed for removal are located entirely within Caltrans right-of-way and do not overhang or encroach onto private properties.
Additional information regarding vegetation and tree removal activities and what to expect during construction, including a map of all vegetation removal locations in the project area, can be found in the Vegetation Removal Fact Sheet and Vegetation Removal Map.
Sound Wall Removal/Relocation in San Mateo
As part of project construction, Caltrans will remove and relocate three sections of sound wall in the City of San Mateo throughout 2020 and early 2021.
Additional information can be found here.
Para mayor información visite aquí.
更多详情请访问 这里
For questions during construction, contact the Caltrans Public Information Officer:
Alejandro Lopez at (510) 286-4948 or email 101express@dot.ca.gov.
To sign up for weekly or quarterly updates, email with the subject line 'Weekly' or 'Quarterly' to 101express@dot.ca.gov.
February 2020 Project Announcement
February 2020 Traffic Advisory
January 2020 Project Announcement
Vegetation Removal Fact Sheet (PDF)
Hoja informativa sobre eliminación de vegetación (PDF)
You can download other project documents at San Mateo County Transportation Authority's documents page.