580 Rehabilitation/ Roadway Improvement Project
580 Rehabilitation/ Roadway Improvement Project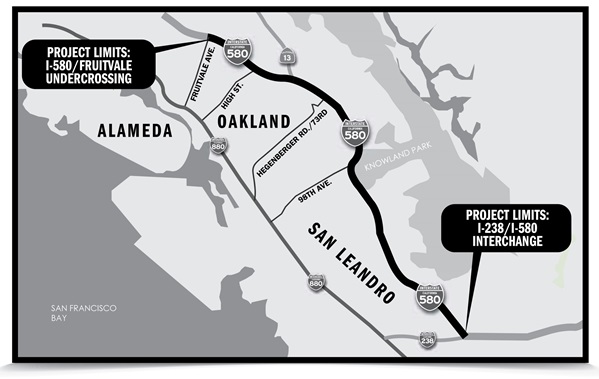 Project Description
Ramp/Lane Closures Westbound/Eastbound Interstate 580 Starting Tuesday, May 7 until Thursday, May 9, 2019
Westbound/Eastbound Interstate 580 Nightly Ramp/Lane Closures Starting Monday, April 23 until Fall 2020
The California Department of Transportation (Caltrans) has begun construction on Interstate 580 (1-580) in Alameda County from routes 1-580/State Route 238 separation in San Leandro to Fruitvale Avenue under crossing in Oakland. This project will improve safety, extend the service life of the pavement, and improve ride quality.
Construction includes the following: Replace slabs, resurface shoulder and ramps, modify curb ramps, construct metal beam guardrail (MBGR) and concrete barrier, and electrical and drainage work.
What To Expect
Motorists may encounter lane ramp closures, temporary detours, and increased heavy construction equipment noise during mostly the night time hours. Advanced notification regarding lane ramp closures and detours will be provided as the become available.