Starting Tuesday, May 7 until Thursday, May 9, 2019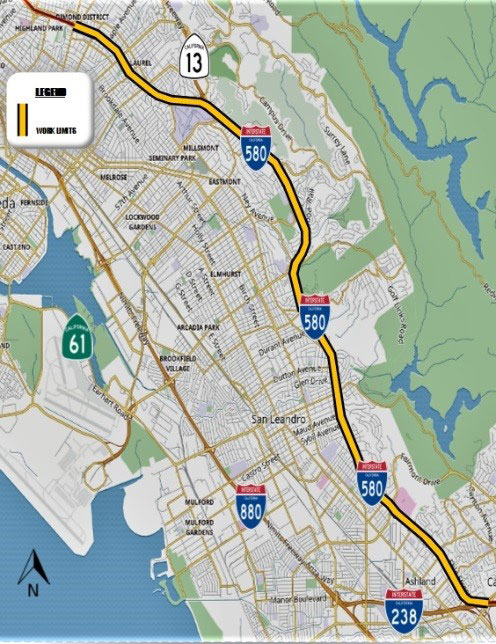 SAN LEANDRO/OAKLAND –Caltrans will continue with nightly closures starting at the I-580/SR-238 separation in San Leandro to MacArthur Boulevard I-580 in Oakland, Alameda County. The closure will begin on Tuesday night May 7, from 8:00 PM until Thursday morning May 9, at 5:00 AM westbound (WB) and 6:00 AM eastbound (EB).
Construction activities during this closure includes pavement grinding and individual slab replacements within the areas identified. All construction work may produce construction noises, demolition noises, back-up alarms, vibrations, and bright lights throughout the nighttime hours.
Closure Information
Various lane closures will start at the WB I-580/SR-238 separation in San Leandro to Foothill Boulevard in Oakland from 8:00 PM until 5:00 AM, May 7 until May 9.
EB ramp and lane closures will be from 8:00 PM until 6:00 AM, May 7 until May 9 at the following locations:
Lane closures starting at EB State Route 13/EB I-580 connector to 106th Avenue in Oakland.
One lane closure of EB SR-13 connector to EB I-580 in Oakland.
Off ramp closure of EB I-580 at MacArthur Boulevard in Oakland.
Changeable message signs and directional signs will be in place to assist motorists traveling in the area. Motorists are advised to expect delays and allow extra time for their commute.
For 24/7 traffic updates, follow 511.org: https://twitter.com/511SFBAY.
For real-time traffic, click-on Caltrans QuickMap: http://quickmap.dot.ca.gov/.
Or follow us on Twitter: