U.S. Highway 50 Camino Safety Project
U.S. Highway 50 Camino Safety Project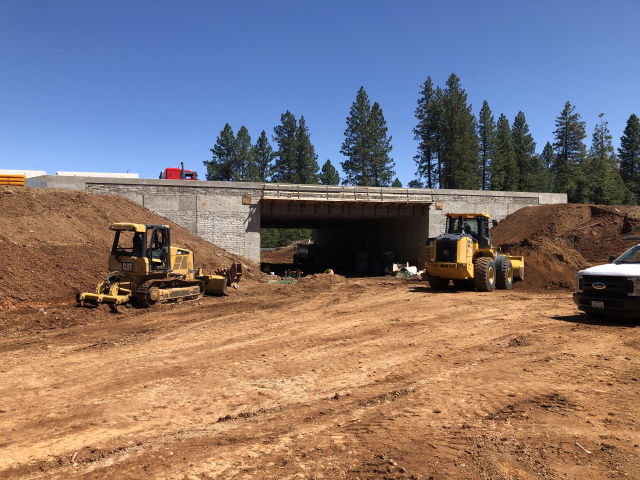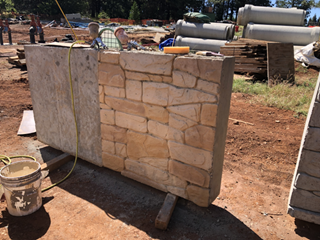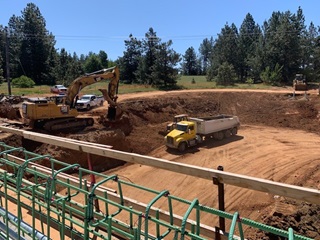 Grading work for the Pondorado Undercrossing and local road connections (top).
A section of the new bridge wall (left). Grading for the roundabout connecting to the new undercrossing (right).
Project Facts
Description
The California Department of Transportation (Caltrans) proposes to improve safety on U.S. Highway 50 (US 50) in the Camino corridor by installing a concrete median barrier, repaving the roadway, constructing an undercrossing, providing access to the undercrossing from local roads, improving drainage, and constructing a wildlife crossing under the highway. The project is in El Dorado County on US 50 from the Mosquito Road Undercrossing to the Schnell School Road Undercrossing (culvert replacement work) and from 0.2 miles west of Still Meadow Road to 0.2 miles east of Carson Road, post miles (PMs) 18.5 to 24.2.
Project Benefits
The purpose of this project is to improve safety on US 50 in the Camino corridor by installing a concrete median barrier that would restrict left-turn movements at at-grade intersections, rehabilitate deteriorated culverts and provide access for wildlife crossing the route. Safety improvements are needed because the collision rates along this segment of US 50 are higher than the statewide average. The culverts have exceeded their intended design life and require rehabilitation, and the wildlife crossing is needed to facilitate off-highway movement between the north and south side of US 50. A secondary purpose is to maintain local and regional access to and from the north and south sides of Highway 50 while providing safe east-west access on and off the highway.
Construction Updates
June 20-July 1
• Grading for Pondorado Undercrossing, Carson Road and Carson Court
• Installing curb and gutter forms and pouring for Pondorado Undercrossing
• Median barrier work
• Drainage work in the median
News Releases/Project Information
Closure Extended on Carson Road within U.S. Highway 50 Camino Safety Project in El Dorado County
Work Continues on U.S. Highway 50 Camino Safety Project
Milestone Reached in U.S. Highway 50 Camino Safety Project
Left Turns to be Restricted on U.S. Highway 50 Camino Safety Project
Update on Camino Safety Project
Virtual Public Meeting Scheduled Thursday, Nov. 18 for U.S. Highway 50 Camino Safety Project
Update on U.S. Highway 50 Camino Safety Project
Traffic Restrictions for U.S. Highway 50 Camino Safety Project
Caltrans Hosting Virtual Public Meeting for U.S. Highway 50 Project
Traffic Changes for U.S. Highway 50 Camino Safety Project
Extended Lane Closures on Highway 50 for Camino Safety Project
Weekday Lane Reductions to Start on U.S. Highway 50 Project
U.S. Highway 50 Camino Safety Project Under Way
U.S. Highway 50 Camino Safety Project Presentation 6-24-21 (PDF)
U.S. Camino Safety Project Construction Completion Schedule (XLSX)
Funding Breakdown
Phase 1 Funding:
Local - $7,300,000
State - $5,500,000
Federal - $42,600,000
Estimated Total Project Cost - $55,400,000
Project Schedule
Environmental Document Completed -- 01/30/18
Right of Way Acquisition Completed -- 07/01/19
Design Completed -- 07/01/19
Advertise -- 12/15/19
Begin Construction -- 08/15/20
Expected Completion -- 12/01/22
Partnership
El Dorado County, El Dorado County Transportation Commission
Project Contact
Daniel Cuellar, Project Manager
Phone: (530) 812-5610
Steve Nelson, Public Information Officer
Phone: (530) 701-9459