I-5 Stockton Channel Viaduct Bridge Improvements
I-5 Stockton Channel Viaduct Bridge Improvements
STOCKTON CHANNEL VIADUCT BRIDGE REHABILITATION
$7 Million Pre-construction Services Contract has Advertised, 100X46CM
Find it Advertised on Caleprocure.ca.gov
EVENT ID: 100X46CM
EVENT NAME: Stockton Channel Viaduct Bridge Rehabilitation
ATTENTION DBEs, DVBEs and SBs:
Interested in providing sub-contracting services?
Join us for a Meet The Prime(s) Event, December 6, 2022
For more information contact Traci Adams, Caltrans District 10, Small Business Liaison
Cell: (209) 986-3499 or Traci.Adams@dot.ca.gov
---
Project Description
The California Department of Transportation (Caltrans) will replace the northbound and southbound Stockton Channel Viaduct Bridges (Bridge Numbers 29-0176L and 29-0176R) in the City of Stockton on Interstate 5 from post miles 26.1 to 27.6.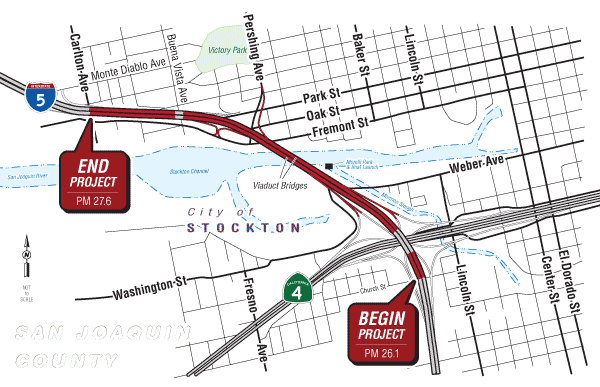 Project Benefits
Purpose
The purpose of the project is to ensure the long-term serviceability and structural integrity and improve the permit load rating of the Stockton Channel Viaduct Bridges (Bridge Numbers 29-0176L and 29-0176R) on Interstate 5 in San Joaquin County.
Need
The project is needed because of structural deficiencies and continued bridge repairs. The bridges show concrete and steel superstructure/foundation deficiencies. The deficiencies include a long-standing issue of concrete deck deterioration resulting in ongoing maintenance challenges, freckled rust forming at various locations throughout the superstructure steel elements, damaged steel bracing, and cracking in the concrete retaining walls, bents, and columns. Substructure deficiencies, such as soil liquefaction potentially caused by seismic activity, are also prevalent. Additionally, the current structures are not rated to accommodate permit loading, which is required for goods movement.
Estimated Funding Breakdown
| Funding Source | Funding Amount |
| --- | --- |
| Local | Not Available |
| State | State Highway Operation and Protection Program (SHOPP) |
| Federal | Yes |
| Capital Construction Cost (Construction and Right-of-Way) | Alternative 3: $407.3 Million |
Partnerships
San Joaquin Council of Governments, City of Stockton, Federal Highway Administration, U.S. Coast Guard, Environmental Resource Agencies
Proposed Project Schedule
| Process | Date |
| --- | --- |
| Begin Design Phase | 10/23/2021 |
| End Design Phase | 6/27/2025 |
| Begin Construction | 1/20/2026** |
| Complete Construction | 5/15/2034** |
**pending funding
Project Status
Project Approval and Environmental Document
Initiated environmental studies—Submitted Notice of Intent/Notice of Preparation—Completed.

Environmental cleared land-based geotechnical exploratory drilling, drilling—Completed.

Prepared roadway—traffic operations concept; develop traffic operations analysis.

A minimum cost alternative to retrofit structure was added in January 2020.

Advance planning estimates have been developed for three structure improvement strategies.

Completed value analysis process.

Environmental technical studies completed; U.S. Coast Guard has been engaged in the process.

Prepared draft environmental document/prepared draft project report—Completed.
A virtual open house was held on February 18, 2021

Target Project Approval and Environmental Document—Completed.
Project Contact
Caltrans District 10 - Public Information Office
Phone: (209) 948-7977
Email: district10publicaffairs@dot.ca.gov
Documents
Stockton Channel Viaduct Project Fact Sheet - August 2022 (PDF) 122 KB
Final Initial Study with Proposed Mitigated Negative Declaration/ Environmental Assessment and Section 4(f) Evaluation - April 2021 (PDF) 22,021 KB
The Draft Project Report is available by request. To request a copy, please contact the Project Manager dina.el.nakhal@dot.ca.gov
Title VI Information
The California Department of Transportation (Caltrans) assures that no person shall, on the basis of race, color, or national origin, be excluded from participation in, be denied the benefits of, or be otherwise subjected to discrimination under any program or activity receiving Federal financial assistance, as required by Title VI of the Civil Rights Act of 1964, as amended, the Civil Rights Restoration Act of 1987, and Federal Executive Order 12898 (Federal Actions to Address Environmental Justice in Minority Populations and Low-Income Populations).
Caltrans will make every effort to ensure nondiscrimination in all of its programs and activities, whether they are federally funded or not, and that services and benefits are fairly distributed to all people, regardless of race, color, or national origin. In addition, Caltrans will facilitate meaningful participation in the transportation planning process in a nondiscriminatory manner.