California Transportation Plan (CTP) 2050
California Transportation Plan (CTP) 2050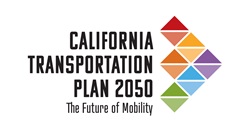 The California Transportation Plan (CTP) 2050 is the state's long-range transportation plan that establishes an aspirational vision that articulates strategic goals, policies, and recommendations to improve multimodal mobility and accessibility while reducing greenhouse gas emissions.
CTP 2050 60-Day Public Review Draft
The Division of Transportation Planning would like to invite you to review and comment on the California Transportation Plan 2050 (CTP 2050) Public Review Draft. This 60-day comment period will end on October 22, 2020. We will also be hosting public webinars during this time (date to be determined). The Plan, more information on the webinars when available, and everything CTP 2050 can be found at www.CTP2050.com
Thank you for participation in this process and we look forward to your input on California's transportation future.
For questions and to comment on the CTP 2050, please email CTP@dot.ca.gov.
Purpose and Objectives
Why is the CTP important to California residents?
The purpose of the plan is to present innovative, sustainable, and integrated multimodal mobility solutions. These will help guide the planning and implementation of a low-carbon transportation system that fosters economic vitality, protects the environment and natural resources, and promotes health and well-being equitably for all Californians. The CTP 2050 update will focus on meeting current and emerging trends and challenges affecting transportation, including economic and job growth, air quality and climate impacts, new technologies, freight movement, transportation funding, and public health. An ambitious plan will aim to address many objectives, such as:
Improve travel times and ease traffic congestion
Increase safety and security on bridges, highways, and roads
Foster healthy lifestyles through active transportation
Expand economic opportunities through the movement of people, freight, services, and information
Create a low-carbon transportation system that protects human and environmental health
The CTP Process and Timeline
2018 Vision Development
Public & Stakeholder Engagement, Tribal Listening Sessions, Future of Mobility White Paper
2019 Analysis
Transportation Scenario Development, Economic & Transportation Modeling, Technical Reviews
2020 Publication
Public Workshop Report, Implementation Plan, Final Plan
2021 Implementation
Implement CTP Strategies & Recommendations