New Inspector General Keeps Watch
New Inspector General Keeps Watch
Oversight Office Audits Costs, Effectiveness of SB 1, Other Programs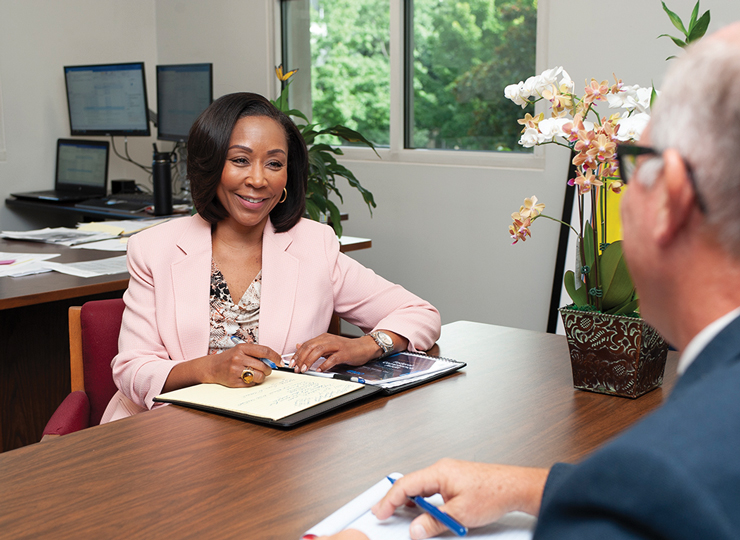 There's a new leader at Caltrans' Independent Office of Audits and Investigations that works to ensure that state transportation funds are being spent on their intended purpose.
Rhonda L. Craft was appointed by Gov. Gavin Newsom to serve a six-year term as Caltrans' Inspector General. The position was created as part of the Road Repair and Accountability Act of 2017 (Senate Bill 1), which required the appointment of an independent administrator to monitor fuel and driver licensing revenues raised by the transportation funding law.
Caltrans' existing Office of Audits and Investigations was brought under the authority of the Inspector General once SB 1 became law. In addition to SB 1 overview, the office performs a scheduled range of audits and investigations through the fiscal year, focusing on selected Caltrans operations and contracts as well as scrutinizing the work of local agencies that receive state and federal transportation funds from the Department.
Craft was most recently director of the state Office of Traffic Safety and the Governor's Representative for Highway Safety, responsible for developing programs to reduce the number of persons injured or killed in traffic crashes in California. She also served in executive positions at the California Department of Motor Vehicles during a 30-year-plus career with the State.
Six months into the job, Craft said she's building on the foundation of good work and organizational structure left by her predecessor, Eraina Ortega, the office's first Inspector General who was appointed by Newsom to become the chief of CalHR.
As Inspector General, Craft oversees a 92-person office made up of auditors, special investigators, and support staff.
Audits and reviews are performed according to state or federal mandates, to satisfy reporting requirements, or if conditions exist that officials believe warrant an examination of a program's efficiency.
Craft's staff has wrapped up its activities for the recently concluded 2018-2019 fiscal year. The recommendations and findings can be viewed in the annual summary posted on the Inspector General's Caltrans web pages.
A total of 70 comprehensive audits were performed through the end of June 2019. Of those, 28 were conducted of local agencies that received state transportation funds, 20 were construction audits of specific projects, 16 involved use of Proposition 1B funds (approved in 2006 for various transportation projects), and six audits looked into Caltrans internal programs.
The office also conducted 351 reviews of architectural and engineering contracts with consultants during the last fiscal year, and 97 reviews of local agency contracts.
That oversight helps save taxpayer funds. The construction audits resulted in $3 million in avoided costs, which were identified by auditors prior to the execution of the contract with consultants. The 16 Proposition 1B audits of local agency spending on those projects turned up $7.5 million in disallowed or questioned costs, of the $415 million total allocated from bond measure proceeds.
Investigations also were conducted on Caltrans' internal operations when incidents of misconduct were reported. Of the 104 allegations reviewed, 15 formal investigations were launched and 11 cases confirmed, resulting in disciplinary action.
The office also maintains an ethics hotline where Caltrans employees can anonymously report unethical or questionable behavior. In FY 2018-19, 152 reports were called in or reported on the office's website.
Source: Rhonda L. Craft, Inspector General, Independent Office of Audits and Investigations
New Inspector General Keeps Watch