Director's Message
Director's Message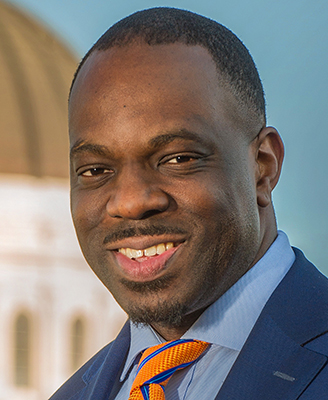 Hello Caltrans, members of the State Legislature and all citizens of California. Thank you to all who have shared their best wishes after I was sworn in as the 33rd director of California's Department of Transportation. I am very appreciative that Gov. Gavin Newsom selected me to lead this great organization at such a pivotal moment for our state and society. When I think about what will guide our state transportation system through the coming years, I believe Caltrans' existing mission statement perfectly serves this role. This is for Caltrans to provide a safe, sustainable, integrated and efficient transportation system to enhance California's economy and livability. This mission should propel each member of Caltrans every single day.
First, safety must remain our most important priority. "Toward Zero Deaths" is the right goal, and this includes zero deaths for anyone who uses or works on our transportation system. Presently, 10 individuals die every day on our state highways. We can do more, including better protecting our most vulnerable users such as bicyclists, pedestrians and scooter operators – of whom at least one dies on our state highways each day.
In terms of sustainability, we are all very aware of Gov. Newsom's commitment to reducing greenhouse gas (GHG) emissions. Given that the transportation sector accounts for about 40 percent of all statewide GHG emissions, a key to meeting our state goal will be creating a more integrated multimodal system. In the coming weeks and months, we will continue to take steps toward enhancing and strengthening our approach for creating a more multimodal state transportation system.
Related to both, I was happy to see $146 million awarded this summer from the Low Carbon Transit Operations Program to 180 local public transit projects statewide. These projects help reduce GHG emissions by increasing the convenience, capacity and ridership of buses and trains around the state. Equally notable, most of the money goes to low-income, disadvantaged communities and households most affected by poor air quality.
And the last important element in our mission is to continually strive to be more efficient. With Caltrans' $15 billion budget, it's critical we spend that money appropriately. This includes all money raised through the Road Repair and Accountability Act of 2017, or Senate Bill 1 (SB 1). Every dollar we can save through an innovative new process or technique becomes money available for starting other vitally needed system investments.
Toward this end in the last fiscal year, Caltrans more than doubled its legislative mandate to find $100 million in annual SB 1 efficiency savings by identifying nearly $233 million in efficiencies. This track record bodes well, as the amount of Caltrans' work available for bid has grown significantly to $5.5 billion in the current 2019-2020 fiscal year.
It's efforts such as these that make me so proud to lead this organization, and I know all the success Caltrans achieves will only happen through our combined efforts as a well-oiled and well-aligned team.
Last, I wish to recognize Bob Franzoia for serving so ably as Caltrans Acting Director. In his four-month tenure, he led this organization of 20,000 employees through a significant double earthquake in Ridgecrest, a major public safety power shutoff, and a nationwide search for his successor. On behalf of Caltrans, thank you for your wise and steady leadership, Bob.