Mileposts
Mileposts
New leaders tapped by governor take helm at Caltrans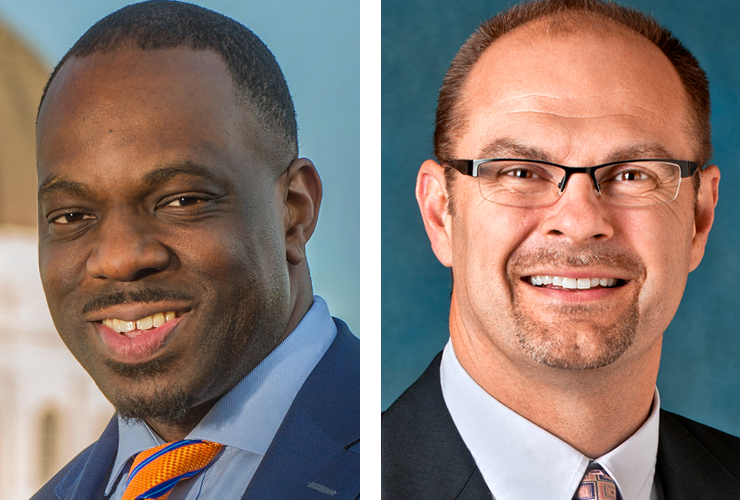 Caltrans has a new director, drawn from the executive ranks of the Tennessee state transportation department, and his chief deputy is a longtime Caltrans engineer who has held multiple leadership roles in the Department.
Toks Omishakin, 43, was appointed by Gov. Gavin Newsom in September to fill Caltrans' highest post. Omishakin was sworn in as director in late October.
James Davis, 54, was chosen by Newsom to serve in the Department's No. 2 position. Davis previously served as special advisor to the director under Laurie Berman, who retired in June, and Acting Director Bob Franzoia, who took over after Berman's departure.
Omishakin comes to Caltrans following eight years with the Tennessee Department of Transportation, where he established environmental, multimodal and planning policies.
As Deputy Commissioner for Environment and Planning, Omishakin was responsible for an administrative and project budget of more than $300 million annually, and he led the activities of the divisions of Environmental Services, Long-Range Planning, and Multimodal Transportation Resources within the Tennessee DOT.
Prior to that, he served as Director of Healthy Living Initiatives in the Nashville Mayor's Office. Omishakin is a member of the American Association of State Highway and Transportation Officials (AASHTO), where he has served as the organization's Vice Chairman of Active Transportation Council since 2017. He also is Chair of AASHTO's Multimodal Task Force.
Omishakin holds a Ph.D. in engineering management from the University of Tennessee, Knoxville; and a master's degree in urban and regional planning from Jackson State University.
Davis served as Caltrans' Senate Bill 1 program manager from 2018 to 2019, Bay Area district director in 2018, division chief of project management from 2013 to 2018, division chief of transportation planning from 2016 to 2017, division chief and deputy division chief of engineering services from 2004 to 2013, and multiple transportation engineering positions from 1988 to 2004.
Reports map climate change threat to SoCal highways
Caltrans has released three Climate Change Vulnerability Assessments that focus on the risks posed to the transportation system by wildfires, extreme temperatures and precipitation, sea-level rise and coastal-bluff erosion in Southern California.
The reports cover Imperial, Los Angeles, Riverside, San Bernardino, San Diego and Ventura counties, and include an interactive mapping application that shows where and how climate change is expected to have an impact.
These new vulnerability assessments will help guide Department planning and investment strategies that lessen the impacts of climate change, and save money.
Caltrans is sharing the reports' data with local, regional, state and federal agencies. Together, the partners will work toward establishing a more resilient transportation system and responding to the need for actions to adapt to the changing climate.
In recent years, Southern California has been beset by destructive and deadly wildfires, record heat waves, and more frequent mudslides. These general climate trends are expected to continue in California and the rest of the West.
Caltrans previously released climate reports for the regions it serves in the San Francisco Bay Area, Central Valley, and northern portion of the state. Six more reports are in development. Upon completion of all 12 assessments, Caltrans will develop adaptation reports for each region that outline how climate change will be fully integrated into future transportation planning decisions.