Bridge, Other Inspections Taking to the Skies
Bridge, Other Inspections Taking to the Skies
Growing Caltrans Drone Fleet Opens Up Many Areas of Field Operations
Caltrans' bridge inspection staff examines California's bridges from the ground and the water, and even uses specially designed vehicles to get a close-up view of hard-to-reach places.
After 93 years in business, Caltrans' Office of Structure Maintenance & Investigations (SM&I) bridge inspections are taking off into the wild blue yonder.
Two camera-carrying drones, officially known as unmanned aircraft systems (UAS), have been added to the bridge inspection toolbox, providing engineers the ability to get a bird's-eye view of those bridge elements that historically have been a challenge to access.
The drones provide Caltrans an ideal vehicle to incorporate video-imaging technology into the inspection process. Instead of relying on using binoculars from the ground or a boat, lane closures, or specialty access vehicles, drones now give inspectors another option to closely view isolated bridge sections.
Improvements in the quality of the video imagery also gives crews in the field a clear look at the condition of a bridge's structural elements. Most importantly, drone use keeps them away from traffic hazards while doing their jobs.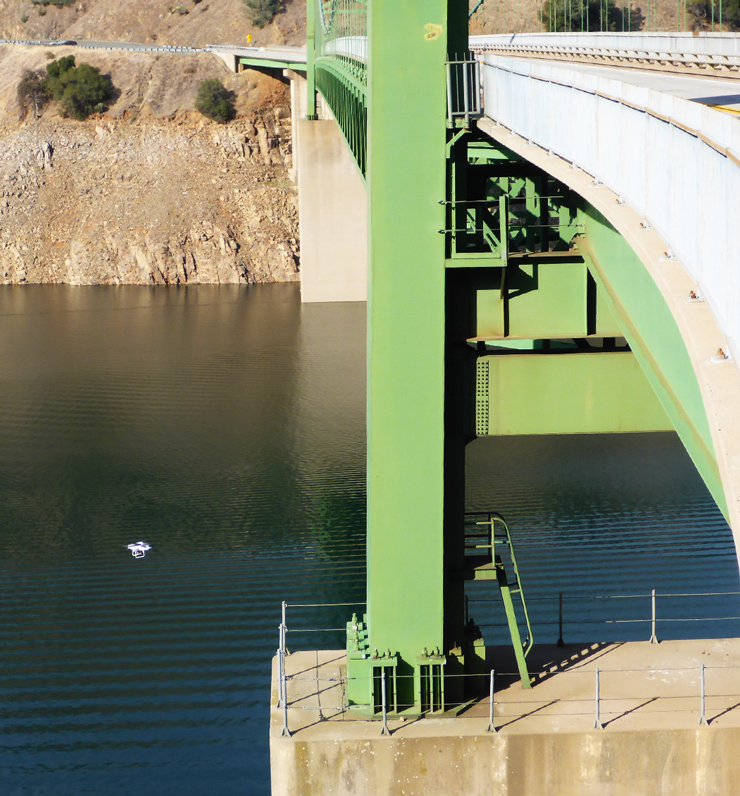 Two drones are used by SM&I's "air corps." The smaller model measures about 12 inches by 12 inches by 8 inches and can be operated by SM&I's two-person inspection crews. The larger one, 35 inches by 34 inches by 16 inches, requires a three-person team to conduct operations.
Each of the drones carries a mounted camera that captures still photos and video. The larger one features multiple camera setups, including the ability to take photos and video while shooting upward, optical zoom capacity, and infrared capability.
The video imagery is transmitted in real time to the inspection team's computer laptop at the launch point. Inspectors can identify bridge defects, assess the condition of specific bridge elements and determine if additional investigation is needed.
Caltrans drone operators are required to obtain a Remote Pilot Certificate through the Federal Aviation Administration and pass an FAA aeronautical exam. Inspectors began using the drones in late 2019. So far drones have been field-tested on more than a dozen bridges.
A recent demonstration showed SM&I crews inspecting the Vincent Thomas Bridge in Los Angeles Harbor how using drones to locate and assess potential issues can minimize time spent on inspection walks 360 feet above the water.
Drones do have limitations. For example, the craft cannot be operated in areas with flight restrictions, in poor weather conditions, or at bridges with limited vertical clearance.
Structures Suited for Drone Inspections Being Identified
Bridge maintenance engineers and drone operators are planning to develop a list of state highway and local agency-owned structures where drones would be the preferable inspection option to access those hard-to-reach locations.
Likely locations where drones could be a preferable inspection tool include the historic Highway 1 arch bridges on the Monterey County coast and cables on the state's major toll bridges.
Caltrans is working with the University of California, Davis, on a research project using drones to obtain surface flow measurements of moving water. Those measurements can be used to estimate flow rates and calibrate hydraulic models needed where bridge substructure elements are exposed to water.
Caltrans' bridge inspection office also will be coordinating with the post-earthquake inspection team on the potential use of drones and video imaging in assessing bridge damage and deploying emergency resources following a major quake.
Bridge inspections are just part of the burgeoning use of drones by Caltrans for various operations. The Unmanned Aircraft System program under the Department's Division of Aeronautics now has 42 unmanned craft in its fleet and 64 certified drone pilots as of April 2020. Drone teams such as SM&I's have performed 366 operations in total, recording data in the fields of right of way/environmental, surveys, construction, geotechnical (difficult terrains) as well as bridge inspections.
In addition to safety and efficiency benefits, using drones also could deliver significant cost savings compared with traditional inspection methods. For some inspection areas, drone savings could range from 40 percent to 70 percent.
Caltrans initiated a research project with the California State University, San Jose — Mineta Institute in March 2020 to evaluate uses of unmanned craft for Caltrans functions and calculate a savings methodology for regional districts and individual programs.
Sources: James Drago, Caltrans Office of Structure Maintenance & Investigations, Erol Kaslan, Chief, SM&I North Investigations Office; Division of Aeronautics, Unmanned Aircraft System Program.
Bridge, Other Inspections Taking to the Skies