All Aboard to the Future
All Aboard to the Future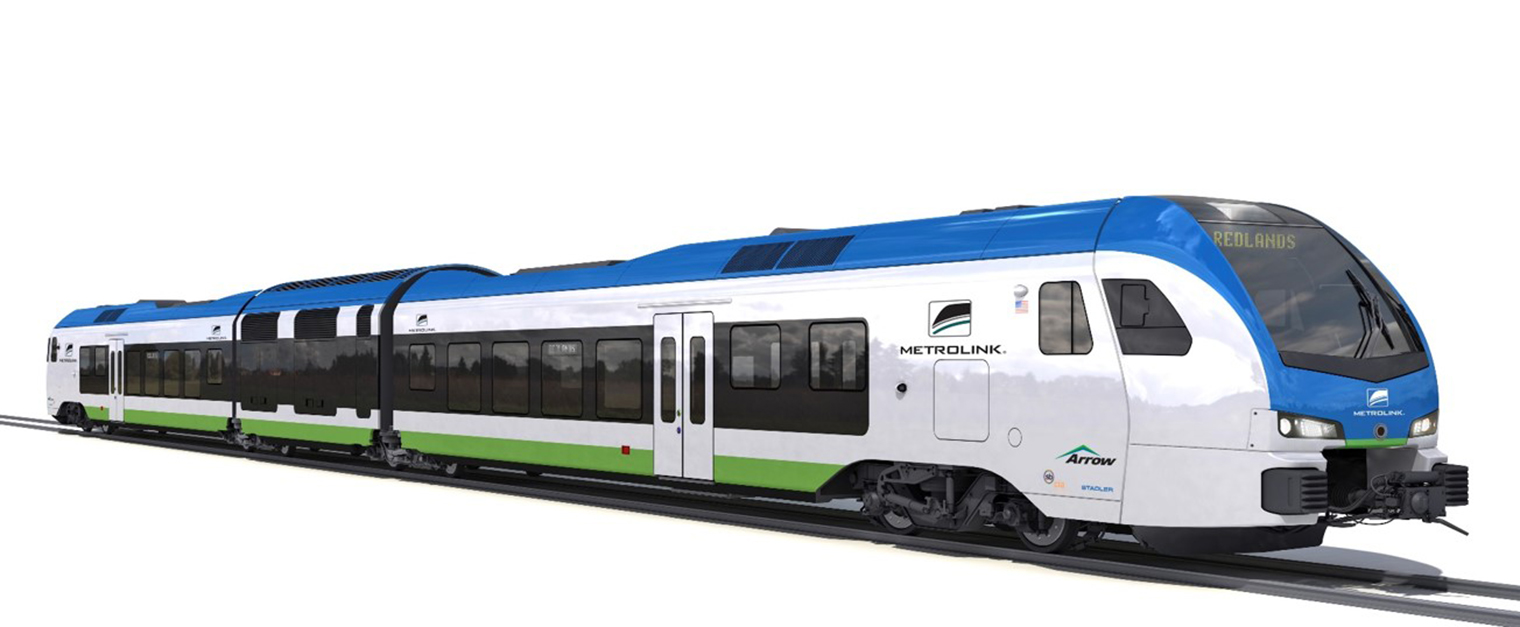 Hydrogen power is coming down the track for California's rail fleet
Through its Division of Rail and Mass Transportation, Caltrans is pushing to convert its full fleet of intercity locomotives to zero emission, or ZE, by 2035. Plans call for the trains operated by local transportation agencies to be powered by hydrogen, considered a sustainable, less-polluting and potentially cost-effective alternative to fossil fuels and other sources of energy.
Before a planned changeover to hydrogen power, Caltrans expects that by 2023, its entire locomotive fleet will run on renewable diesel, a relatively new fuel alternative that contains up to 85 percent less polluting sulfur than ultra-low sulfur diesel. By 2025, Caltrans hopes to reduce fuel usage per train mile by 15 percent and launch a two-year hydrogen pilot program. If the results meet expectations, the Department then could begin converting its fleet of locomotives that now use carbon-based fuel to hydrogen, or in some cases, replace old locomotives with new ZE locomotives and/or trainsets.
Caltrans has committed to these broad strategies for ZE trains in the intercity rail network:
Provide leadership and guidance and serve as a positive benchmark for other railways to act quickly in a coordinated manner.
Enable the launch of important initiatives and accelerate progress.
Set targets and provide a structured approach to move towards ZE, including setting technological cornerstones.
Respond to urgent needs and legislation/state mandates.
In addition to converting its locomotive fleet to hydrogen power, Caltrans plans on making investments in other areas of propulsion technology and procedures to make the fleet more energy-efficient, including:
Purchasing next-generation rail cars and multiple-unit trainsets.
Converting to regenerative braking that recovers and stores energy, reducing the demand of so-called head-end power such as heating/air conditioning systems and lighting.
Adopting energy-efficient driving techniques.
The Division of Rail and Mass Transit looks to lead and promote pioneering initiatives in ZE vehicles, integrate statewide efforts to accelerate implementation, partner with Caltrans' Division of Equipment and transit agencies to develop heavy-duty fueling infrastructure, and engage in public outreach that promote the benefits of rail.
Zero-emission trains are just one part of California's comprehensive strategy to reduce the release of carbon-based pollutants from the transportation sector. Other far-reaching zero-emissions mandates will take effect in the coming years, including requiring bus sales be ZE-only starting in 2029, followed by new passenger cars and trucks in 2035, conversion of bus fleets of public transit agencies to all-ZE by 2040, and medium- and heavy-duty vehicles to be fully ZE by 2045 wherever feasible. California also is building the nation's first electrified high-speed rail network that will be powered by renewable energy.
Source: Momoko Tamaoki, Assistant Division Chief, Caltrans Division of Rail and Mass Transit