Caltrans Helps Make Clean Sweep of State
Caltrans Helps Make Clean Sweep of State
Clean California, through engagement and partnerships, tackles trash to transform communities
An ever-increasing amount of litter and debris is tarnishing California's otherwise-beautiful landscape, creating roadside eyesores that require immediate attention and a substantial investment to prevent further degradation of the state highway system, local infrastructure, and natural resources.
Tackling the issue head-on, Governor Gavin Newsom launched Clean California as part of his California Comeback Plan, enlisting Caltrans, local governments, other partners and communities to clean up trash and debris statewide, beautify community gateways and public areas along highways, streets and roads, and provide good jobs to thousands of Californians. With $1.1 billion in funding over three years, Clean California is taking a holistic approach to significantly reduce trash from state and local roads, create jobs and beautify public spaces.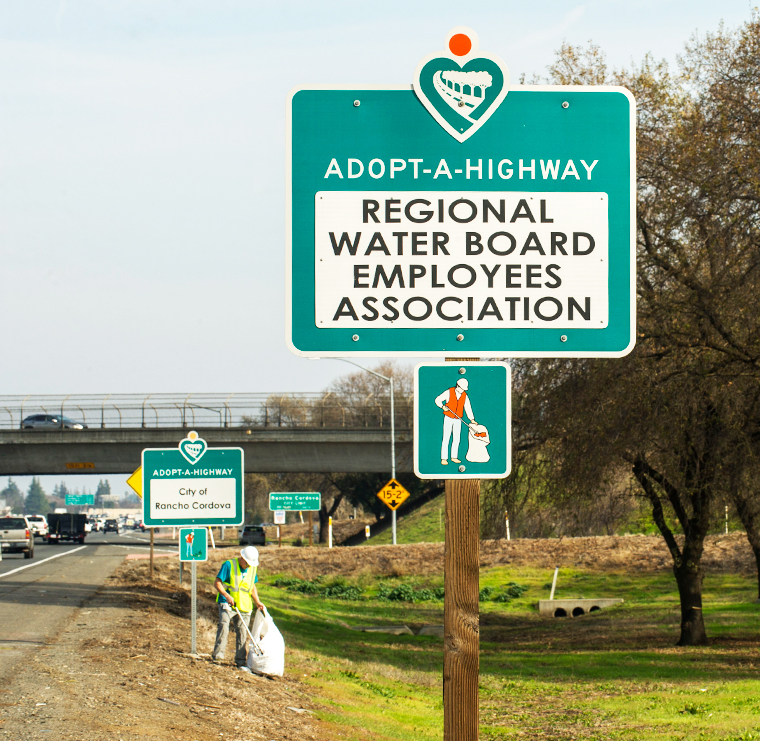 Caltrans has diverted more resources in recent years to meet its responsibility collecting trash discarded by drivers or strewn onto roadways by vehicles without a tarp, illegal dumping activities, and other sources that contribute to the unsightly roadsides.
In addition to being a potential threat to the environment, roadway litter poses a safety hazard to the traveling public and Caltrans maintenance workers. Clean California takes direct aim at this challenge with an investment of $418 million specifically for litter collection.
While Clean California directs significant funds to traditional trash collection, it also devotes nearly $600 million through two programs to clean up and beautify the state's travel network.
Clean California is projected to create approximately 11,000 jobs through state and local efforts, including low-barrier maintenance jobs for vulnerable populations, as well as opportunities for local artists. Notably, these hiring efforts are creating career opportunities for veterans, students, people experiencing homelessness, and those re-entering society from incarceration.
Gov. Newsom has asked Caltrans to meet the moment, and the department has responded with an ambitious slate of litter collection activities and by advancing projects that will connect and unify communities, demonstrated by the following highlights:
---
Litter Abatement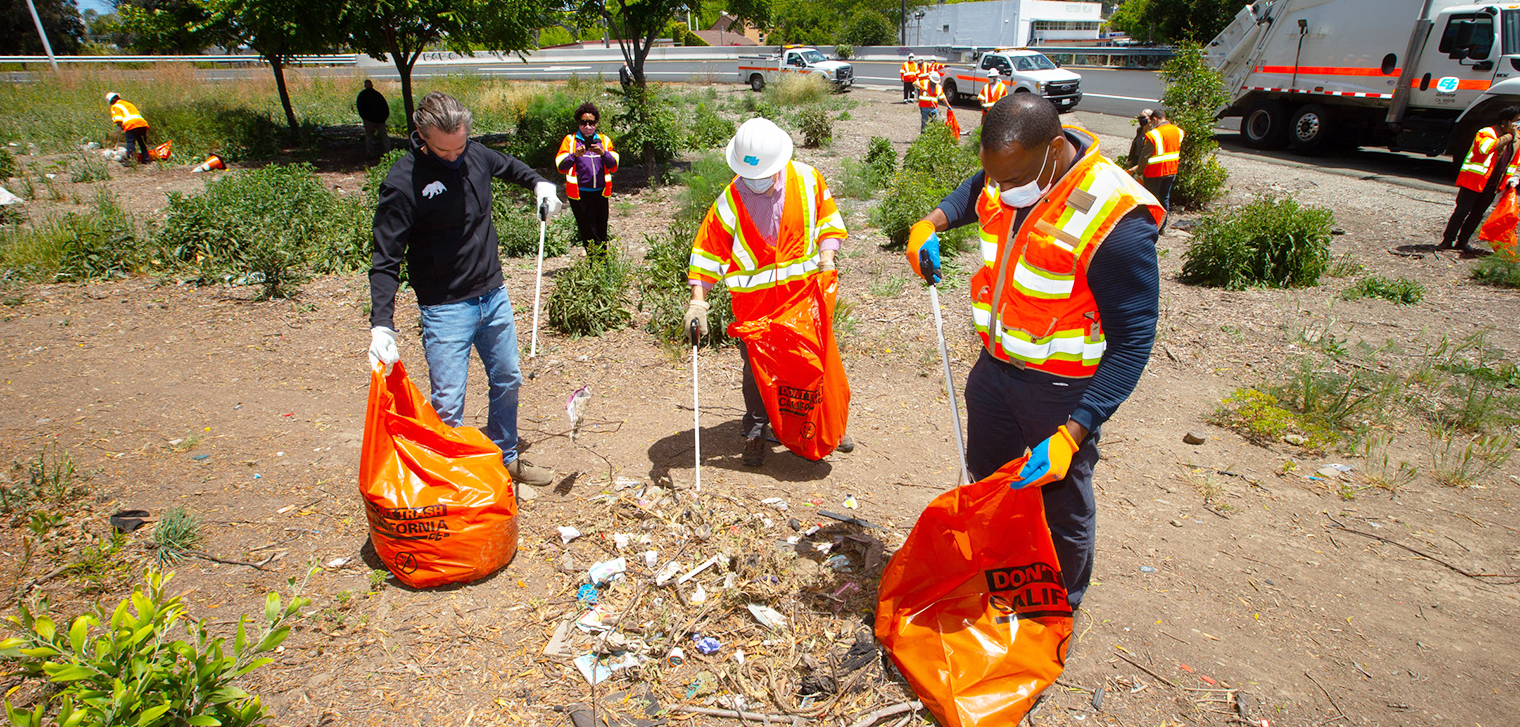 The program is already making a major, positive impact. As of June, Caltrans has collected nearly 646,000 cubic yards of litter, or more than 10,800 tons, from the state highway system, enough trash to fill 197 Olympic-sized swimming pools. Clean California also has provided much-needed funding to buy 269 pieces of equipment to sustain safe litter collection efforts.
Clean California has also led to more than 700 new Adopt-A-Highway sections. Caltrans announced a $250 monthly incentive stipend in October 2021 funded by Clean California for qualifying litter clean-up events that has further promoted volunteerism by groups and people dedicated to keeping California's roadsides clean.
Caltrans has also hosted 114 Dump Day Clean California events during the first 10 months of the program, collecting more than 34,600 cubic yards of litter, including 13,339 tires and more than 3,100 mattresses. Caltrans regional districts statewide continue to coordinate and plan additional events with the aim of holding monthly cleanup activities. Each of Caltrans' 12 regional districts held Dump Day events as part of a statewide effort for Earth Day on April 23.
Caltrans is evaluating technology to optimize data and decision-making processes, including a partnership with Google to use its Street View and artificial intelligence to enhance litter assessment accuracy, and pilot Adopt-A-Highway mobile applications to collect and analyze real-time data.
---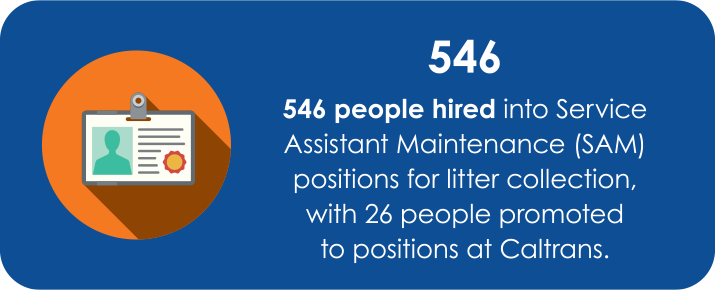 Job Creation
Caltrans has filled 546 litter collection maintenance positions. These entry-level jobs offer professional development and career opportunities for Californians, including people experiencing homelessness and the formerly incarcerated.
Clean California is partnering with the Butte County Office of Education (BCOE) to employ people overcoming barriers to work. The BCOE Back 2 Work Program is a transitional employment program for underserved and disadvantaged adults. Building on the success of this partnership, Caltrans significantly expanded the program in 2021, signing a $127 million contract with BCOE – funded by Clean California – to hire 82 additional Back 2 Work crews statewide. Each crew has an estimated 50 participants annually, providing more than 4,000 people with the opportunity to reintegrate back into the workforce. In addition to providing paying transitional employment, the program offers support services to help participants overcome employment barriers, get jobs, stay employed and build a better life.
Clean California Job Fairs
---
State Beautification Projects
Caltrans is launching more than 120 beautification and safety enhancement projects on the state highway system, investing $311 million to transform areas blighted by trash and debris, including neighborhoods divided by highways. The community-driven projects will improve public spaces, incorporate artwork, add trees and other green elements, and reconnect underserved communities. Advertisement of projects for construction began in April 2022.

---
Clean California Local Grant Program
Caltrans is funding nearly $300 million for 105 local projects throughout the state to beautify local streets, roads, parks and pathways. These projects will generate more than 3,600 jobs, with every project benefiting an underserved community.
Governor Newsom announced the recipients of the Clean California local grants on March 1. Following the drafting of guidelines and grant workshops, Caltrans received more than 300 applications totaling $758 million — more than double the available funding — which were scored by a team of 144 evaluators. The awarded projects were selected based on demonstrated community benefit and need. Gov. Newsom's California Blueprint proposes an additional $100 million to fund a second round of Clean California local grant projects.

---
Public Education Campaign
Clean California includes $33 million for a three-year, multi-faceted public education campaign to raise public awareness about the negative impact of litter and encourage Californians to do their part to keep our state clean.
Source: Caltrans Clean California program
Caltrans Helps Make Clean Sweep of State