Creating Safer Corridors
Creating Safer Corridors
Caltrans, Agency Partners Widen Defensive Perimeters Against Fire on State Highways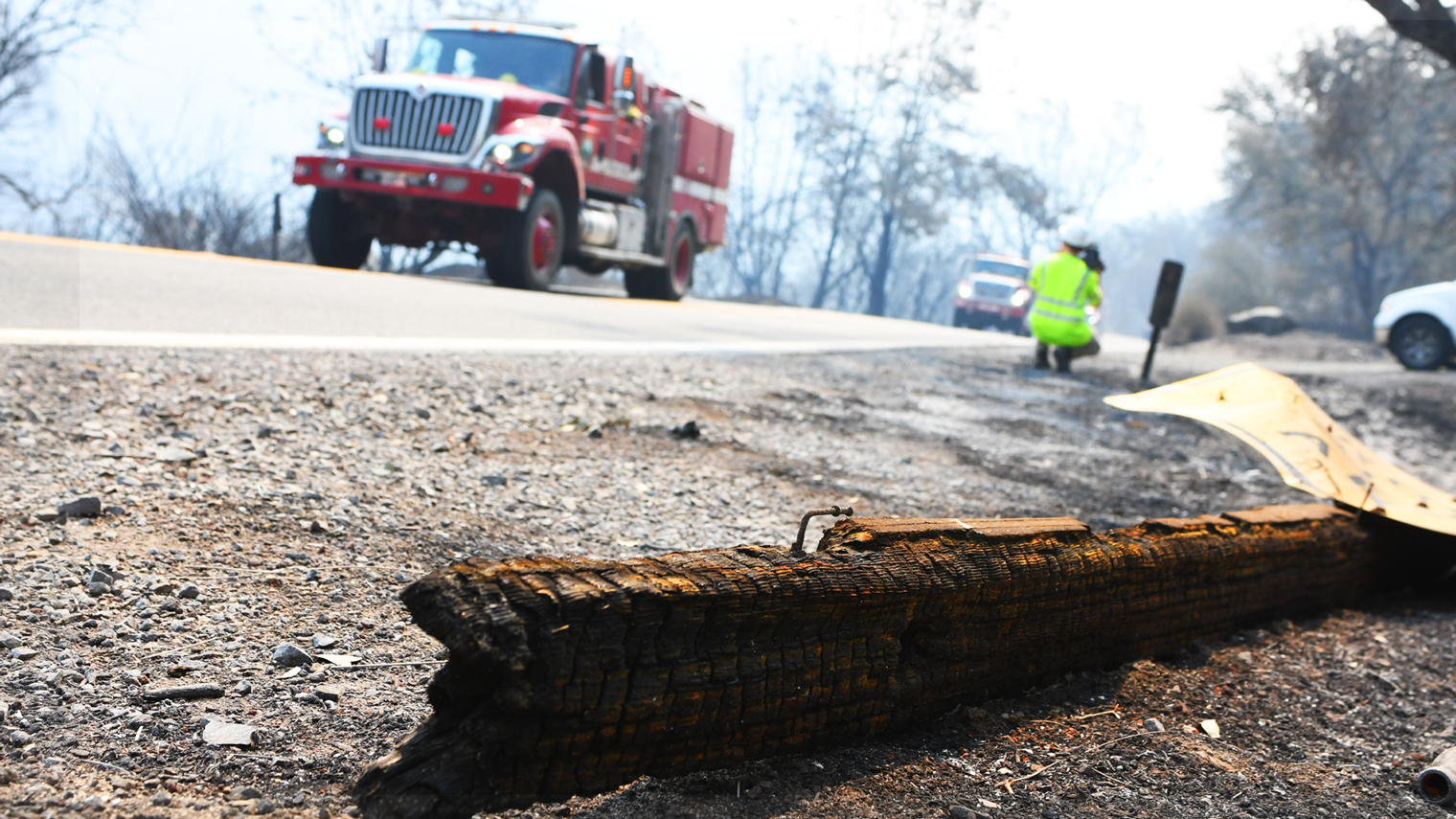 Caltrans and partner agencies have been moving aggressively to collaborate on projects to clear trees and vegetation from state highway corridors, creating a protective zone for the traveling public, vulnerable communities, and the ecosystem from fire.
Having identified where concentrations of brush and timber have grown near state highways, Caltrans is working with CalFire and the U.S. Forest Service on ways to reduce burnable materials. One such project, "Fire Adapted 50" along US 50 in the Eldorado National Forest, is creating a fire break for communities dependent on the critical corridor for access, and is expected to continue for several more years.
This effort to create "defensible space zones" is part of an overall strategy by Caltrans, state and federal agencies to reduce the chances of smaller fires exploding into mega-blazes, an all-too-frequent occurrence now. When overgrown vegetation and trees are pared back from highways and roads, there's less available fuel lying in the path of fires, and clearer evacuation routes are opened up for threatened communities.
The task has been made more urgent by Caltrans climate studies that predict hotter temperatures and changing rain patterns in California through this century will result in drier forests and foothills — raising the likelihood of catastrophic fires.
In Caltrans' case, the need to establish defensible space zones along state highways was reinforced last year by a roadway survey showing the vulnerability of the road network to fire.
Using geographic information services (GIS) software, state highways in all 12 Caltrans districts were mapped in one-mile segments. Researchers applied 20 different risk factors, including population, resources and emergency capacity, to determine each highway section's exposure to wildfires.
The results of the four-month study were sobering. More than 2,600 centerline miles of state highway, of the 14,993 centerline miles, are in critical need of a fuels reduction effort, according to the survey's weighted, GIS-generated scores. (Centerline miles are measured by road distance and don't take multiple lanes into account.)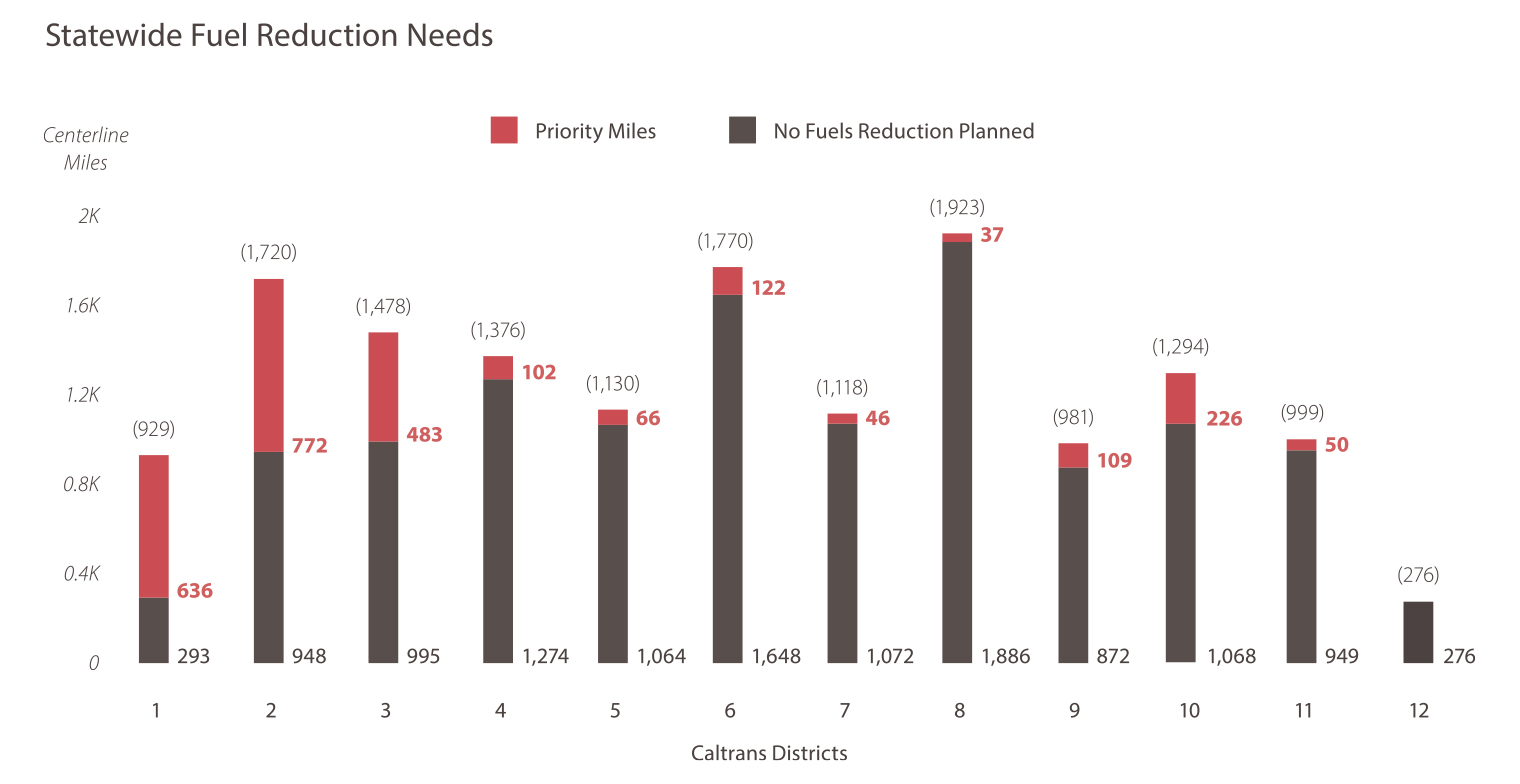 Heavily forested districts most vulnerable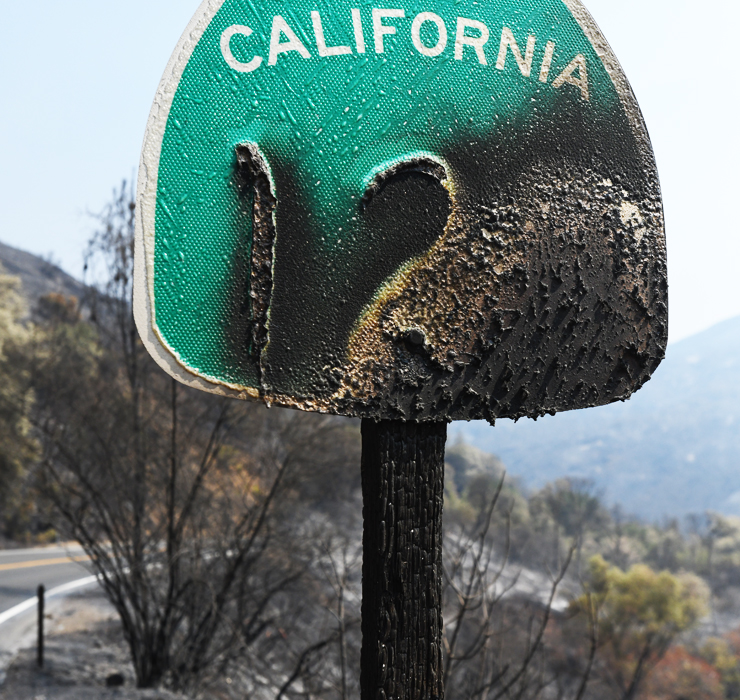 As expected, Caltrans districts with the most trees face greater fire threats to roadways. About 68 percent of the state highways in District 1, taking in much of the heavily forested North Coast, were identified as needing fire fuels clearing, the survey found — 621 of its 929 centerline miles.
Adjoining District 2, with headquarters in Redding, had the second highest percentage of state highways exposed to vulnerable acreage at 45 percent.
In Marysville-based District 3, which takes in the central-north Sierra Nevada range and foothills, one-third of the land adjoining state highways was declared in priority need of fuels clearing, about 487 centerline miles or 30,000 acres.
On the other end of the risk list, none of 276 surveyed acres along state-maintained routes in Caltrans District 12, encompassing the Orange County area, were found to be in critical need of fuels reduction.
That highly urbanized district is the exception, though. Statewide, the survey determined that almost 167,000 acres along highway corridors pose a fire threat to the traveling public, communities and the environment if left uncleared. The cost of reducing fuel sources along every vulnerable highway section was estimated at more than $400 million.
Enlarging protection zones against fires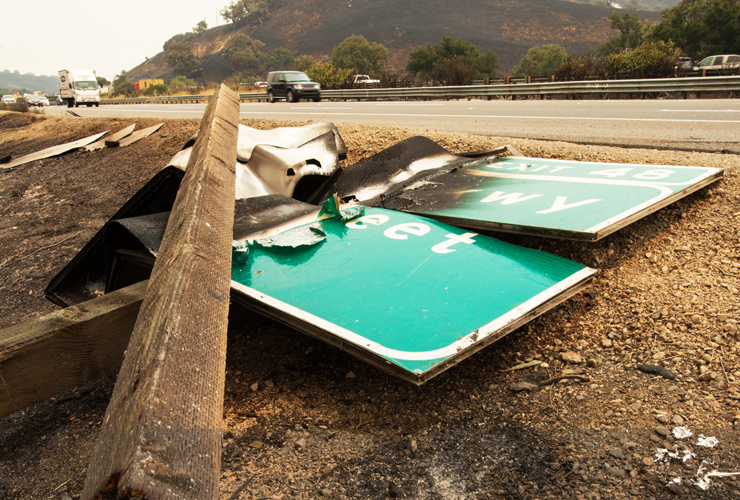 Defensible space zones carve out an additional layer of protection beyond highway rights of way that adjoin all state highway properties and vary in width. The space devoted to defensible space zones depends on factors that include amount and condition of the vegetation in the watershed, proximity to developed areas, topography, or weather.
This higher protection strategy was used as part of a fuels reduction program launched last year by CalFire and the Forest Service, aims to clear or thin 90,000 acres statewide.
Three state highway corridors were among the 35 projects chosen for the fuel reductions, based on information from Caltrans' risk analysis. Crews selectively thinned 30 miles of heavily-forested sections of State Route 44 (District 2), performed prescribed burns on 11 miles of combustible brush on SR 41 (District 6), and removed 6.5 miles of dense undergrowth and trees surrounding SR 17 (District 4), all heavily traveled routes.
Caltrans district offices coordinated road closures and restrictions on those selected highways, and CalFire provided the funding through the state Cap-and-Trade greenhouse gas reduction programs.
Caltrans also is working toward a "Good Neighbor Master Agreement" with the Forest Service to cooperate on fire fuel-reduction programs along state routes on Forest Service land in California. Federal funding would be available through the recently approved Agreement for Shared Stewardship of California's Forest and Rangelands that includes a commitment by the federal government to match California's goal of reducing wildfire risks on 500,000 acres of forest land per year.
Huge fires burn through budgets
In addition to being personal and ecological disasters, fire maelstroms have become incredibly expensive to fight. Caltrans has spent more than $524 million of its emergency funds in the last five years, through 2019, on wildfire and drought responses.
That amount is part of the $5.9 billion spent overall from 2014 through 2019, counting the contributions of CalFire and Forest Service.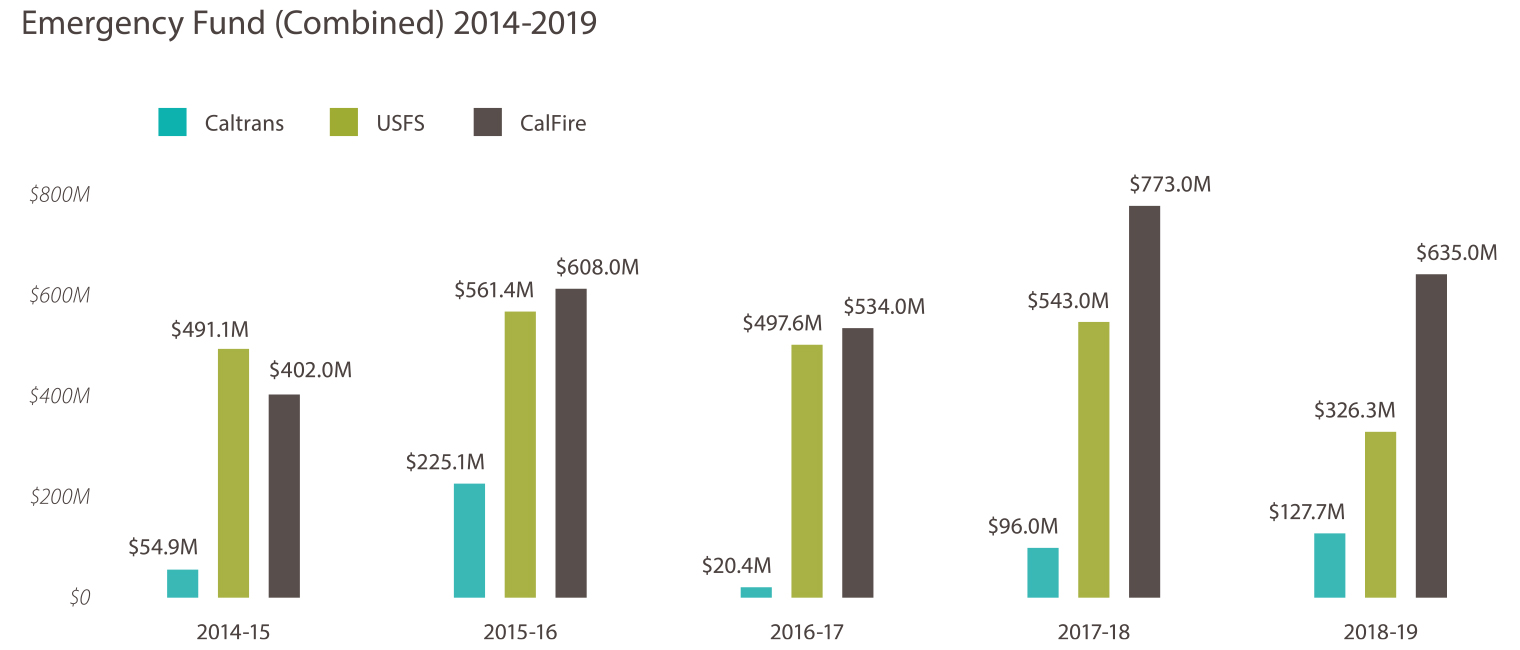 More clearance projects using a defensible space strategy are being scheduled. Caltrans also plans to take out more dead and stressed trees at risk of falling onto state highways.
A tree removal program that Caltrans has participated in since 2015 was the forerunner of the more comprehensive protection effort. The Department had been part of the multi-agency Tree Mortality Task Force formed to confront the massive die-off of trees due to prolonged drought and the infestation of bark beetles. As of May 2019, Caltrans and its contractors have removed almost 180,000 dead or dying trees that posed a public threat to travel along state highways. Those fallen trees still served a beneficial public purpose (see story below).
To this point, Caltrans has spent $153 million on the tree removal effort.
The tree mortality group was later folded into the California Forest Management Task Force overseen by the Governor's Office. The task force is in the process of choosing priority evacuation routes in the state where defensible space zones could be established.
Fallen Trees Feed State Power Need
Caltrans has been selectively removing hazardous trees and fire fuels from its right-of-way since 2016. The Forest Management Program seeks to increase safety along state highways, taking out dead or dying trees that pose a danger of falling, and clearing burnable material from roadsides.
The program also supports Caltrans' sustainability goals by hauling off many dead trees of little or no harvest value for energy production. Here are some program accomplishments and statistics through 2019:
63 percent of all felled trees taken to biomass power plants in a "chips-to-watts" process.
114,600 low-value, dead trees used, amounting to 80 million board-feet of timber.
218,332 megawatts of energy produced from 218,332 dry tons of wood, enough to power 31,190 homes in California for a year.*
81 percent of trees were removed from mountainous routes, and 19 percent from urban corridors.
43 of California's 58 counties are experiencing tree mortality due to drought and beetle infestations along 87 different highways.
*Average California home uses seven megawatts of energy per year
Source: Lisa Worthington, Caltrans Senior Landscape Architect, Division of Maintenance.