Project Spotlight: Washed-Out Roads Isolate Town, Put Caltrans to the Test
Washed-Out Roads Isolate Town, Put Caltrans to the Test
On Valentine's Day 2019, Storm Damage to State Routes 74 and 243 Dealt Big Blow to Idyllwild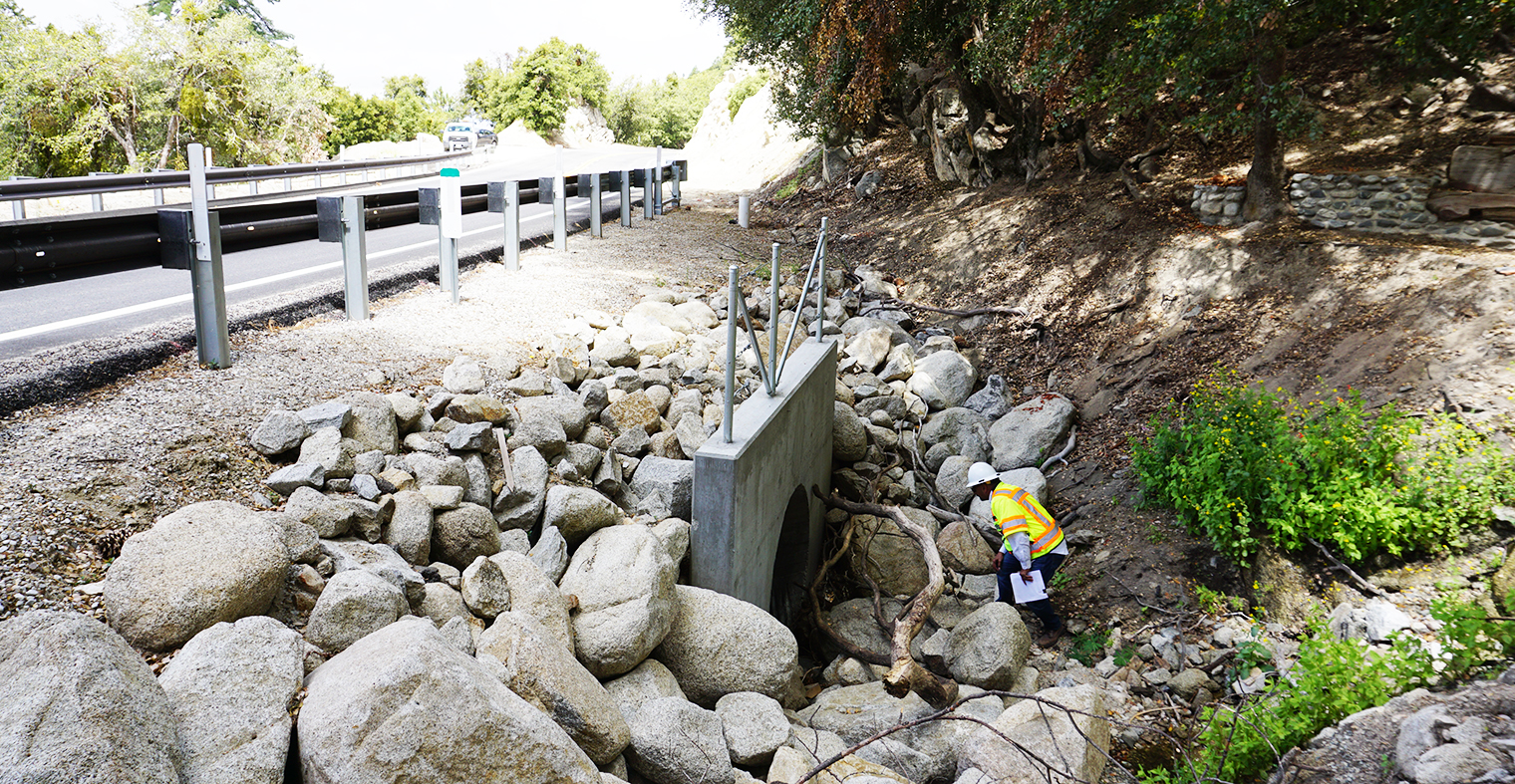 Residents of the town of Idyllwild, located in the San Jacinto Mountains southwest of Palm Springs, will long remember Valentine's Day 2019. Not for the cards or flowers, but the winter deluge that washed out parts of State Routes 74 and 243, isolating the mountain resort and cutting off its economic lifeblood: tourists.
On Feb. 14, 2019, the two roadways sustained significant storm damage, rendering them unsafe for public use. It was initially determined that more than 25 locations on SR 243 needed replacement or repair, including two locations that sustained complete road loss. SR 74 had 40 locations that required reconstructive work at that time.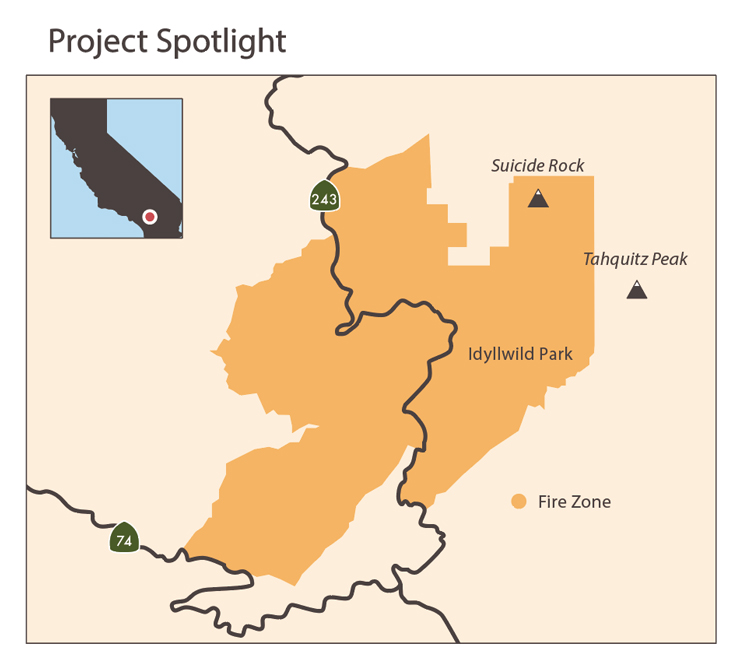 Two sections of SR 243 were totally washed away by water and debris gushing down the mountainside. A dramatic video of the destructive torrent was shown numerous times on media reports.
Idyllwild, at about 5,400-foot elevation in Riverside County, suddenly was cut off from its two main approach routes. Travelers who had been able to drive 23 miles from Hemet to Idyllwild on SR 74 were forced to detour 58 miles on State Route 371 to the south. What had been a 25-mile drive from Banning to Idyllwild on SR 243 became an 81-mile slog via Palm Desert and the undamaged portion of SR 74.
Caltrans regional District 8 quickly mobilized to begin repairs and restore the vital lifelines. On Feb. 15, 2019, the day after the initial damage, Caltrans authorized an $8 million Director's Order (an emergency declaration to immediately hire help and allot money) to perform repairs on both routes, contracting with Ames Construction. The damage list was long, and included failed culverts, washouts caused by cascading rocks and debris, sinkholes, slope instability resulting in rockfall, mud and debris flows, and compromised pavement.
Subsequently, weeks of continuous storm activity — rainstorms along SR 74 and snowfall along higher-elevation stretches of SR 243 — prompted pauses in the work and caused further damage, and even washed out some initial repairs. The repair timetable, along with its price tag, grew accordingly. Two other director orders were issued to make long-term repairs to the damaged highways to protect against future storm damage and road loss.
By April 2019, repair crews were working 24-hour shifts. Debris and potential hazards were removed from the slopes along SR 74 to rebuild embankments and improve motorists' lines of sight. On SR 243, Caltrans and Ames found uses for some 160,000 to 170,000 cubic yards of materials (e.g., dirt, broken concrete) generated from the slope repairs on SR 74, boosting efficiency and lowering costs.
One of the reasons that Caltrans went with a single contractor to fix the two roadways was to achieve the "seamless operation" of being able to transfer those materials from SR 74 to SR 243.
To facilitate repairs to SR 243, Caltrans and the contractor had to first tame the flow or water over, under and even through the roadway. A number of diversions were employed, including the laying of linoleum in "V" ditch formations to aid in the flow of water and debris, and a technique that field workers refer to colloquially as a "burrito drain."
Burrito drains are pipes strapped with pea gravel and geofabric that are buried underground. They collect and flush away water from the sodden ground, creating a drier surface that that trucks can roll over.
By early June 2019, Caltrans revised the damage assessment upward, listing 129 damaged locations (rather than the original 40) on SR 74 and 37 (up from 25) sites on SR 243. Nineteen locations had been repaired on SR 74 and six on SR 243, and the contractor's workers had clocked 44,000 hours.
Meanwhile, the residents of Idyllwild and other nearby mountain communities grew anxious for the work to be completed and the two roads to reopen. Long bus trips to and from school in Hemet using the detour routes were making parents and children weary. Caltrans hosted multiple town hall meetings to give updates and address concerns, sharing drone videos and pictures of the work. Most residents were appreciative, although a few expressed dismay at what they thought was the slow pace of repairs.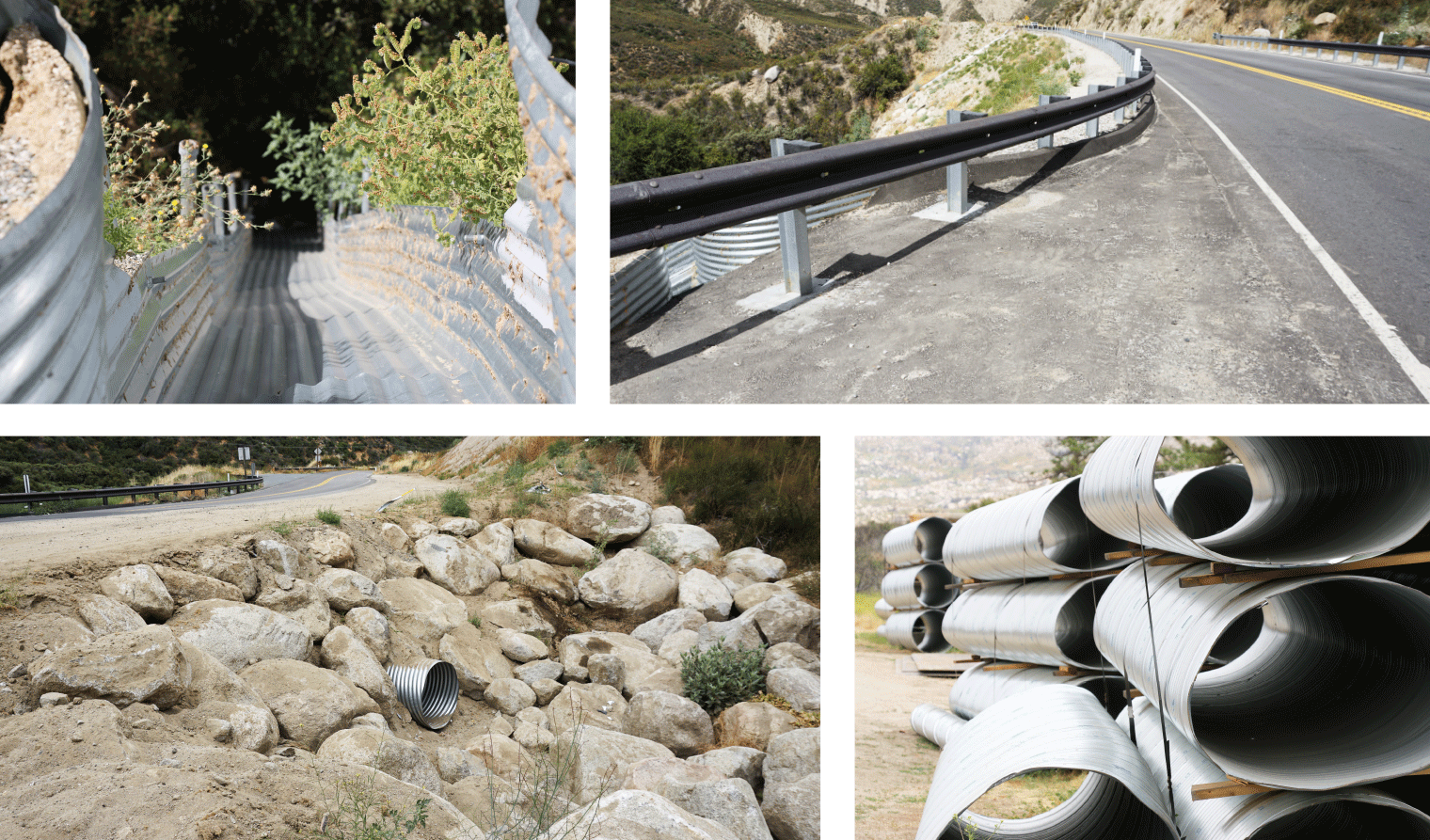 By the end of August 2019, Caltrans opened SR 74 to escorts, although SR 243 remained closed. By this time, $20 million had been spent and 30 culverts (17 of them under SR 74, 13 under SR 243) had been replaced.
On Nov. 1, 2019, Caltrans announced that SR 243 would open between Interstate 10 and Idyllwild. That roadway had been repaved during the emergency closure with a $10 million that was previously allocated before the storm damages occurred. Isolated flagging was anticipated for the next six to nine months to complete all the remaining work, which included restriping and dead tree removal.
The new year arrived with SR 74 subjected to partial closures with pilot vehicle traffic control, due to construction of new culverts. Pilot vehicles took vehicles up and down SR 74 between Mountain Home Center and Hemet during the work hours, with up to 30-minute traffic holds.
Both routes are now fully open with the final emergency project expected to be complete by the end of November. Pilot vehicles are still be used to complete the final repairs.
All told, the 2018-19 year took its toll on District 8 highways. There were three Director's Orders totaling $66.5 million issued to repair the damage from the Cranston Fire that burned through the mountain communities in summer 2018, the Feb. 14, 2019, deluge, and the destructive series of storms that followed.
Source: Amgad Benjamin, resident engineer for the SR 74 and SR 243 emergency repairs project; Caltrans District 8 Office of Public Affairs.
Project Spotlight: Washed-Out Roads Isolate Town, Put Caltrans to the Test