Mileposts
Mileposts
Reports Forecast Climate Change Impact on Highway System

Caltrans has completed the last of its Climate Change Vulnerability Assessments for its 12 regional districts. The reports released over the last two years are designed to provide the Department with a comprehensive database to evaluate, mitigate and adapt to the impact of increasing extreme weather events upon the state transportation system.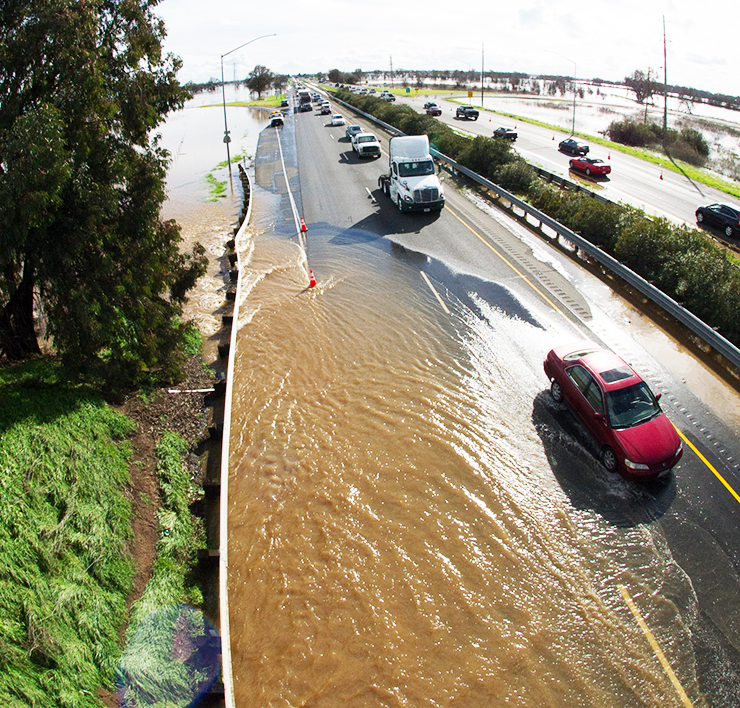 The final two reports cover Caltrans' coastal districts 1 (based in Eureka) and 5 (Salinas south to Santa Barbara). The climate effects examined include rising average temperatures, higher sea levels, storm surge, and precipitation. These in turn increase the incidence of flooding, drought, wildfires, coastal erosion and mudslides.
The completed assessments cover all 58 counties in the state, taking in 16 distinct climate zones. Caltrans is now integrating the findings into its planning process statewide.
Understanding these impacts helps Caltrans assess physical climate risk to the transportation system and work towards adapting highway infrastructure to be more resilient in harsher conditions.
The reports project that by the end of this century, if weather trends continue:
Sea levels may rise as much as 5.5 feet along the California coast — affecting 130 miles of state highway by accelerating soil erosion and cliff retreat.
Increased severity and frequency of wildfires could threaten more than 7,000 miles of state highway.
High temperatures on the Central Coast and in the northwest part of the state could rise by 6 to 12 degrees, increasing drought and wildfire potential.
---
Ramp Deflectors Deter Wrong-Way Drivers, Study Finds

A pilot program aimed at preventing rare but often deadly collisions involving wrong-way drivers found that one measure was so successful that it's been immediately implemented on state highways. Reflective markers are being installed on hundreds of miles of exit ramps to alert errant drivers they are entering the roadway in the wrong direction.
The installation of two-way reflectors was one of the prevention measures tested in the wrong-way sponsored by Caltrans and the UC Davis Advanced Highway Maintenance and Construction Technology Research Center. In San Diego, the number of wrong way drivers decreased by 44 percent after the reflectors were installed.
During the pilot program, Caltrans installed and tested different ways to deter wrong-way drivers along exit ramps in Sacramento and San Diego, including:
Two-way reflective pavement markers that show white or yellow to right way drivers, and red to wrong-way drivers;
"Wrong Way" signs at the off-ramp;
"Do Not Enter" signs equipped with LED lights flashing 24 hours a day; and
Active monitoring systems that use radar to detect wrong way drivers. These systems activate a secondary set of LED signs when a wrong way driver enters the ramp and sends real-time alerts and photos to Caltrans and the California Highway Patrol.
Caltrans is installing reflective pavement markers on exit ramps as it performs maintenance or repaving.
The flashing LED signs showed promise at preventing wrong-way collisions, and Caltrans will continue to monitor their impact to determine whether to expand use at exit ramps across the state.
The pilot was developed following 10 wrong-way driver-related collisions on Sacramento and San Diego area freeways in the first six months of 2015.
Wrong-way collisions on divided highways in California are rare, accounting for about 1 percent of all crashes on the state highway system. But when they occur, they are often deadly. On average, 37 people are killed in wrong-way collisions each year on state highways.
---
Projects Clear Obstacles for Fish Migration at Highway Crossings

Caltrans continues to make progress improving access to habitat for threatened salmon and steelhead trout in waterways that cross the State Highway System. In its fish passage report on remediation efforts for those species, Caltrans said it removed or eased barriers at five fish passage locations in 2018, opening up an estimated 31 miles of salmon and steelhead habitat.
Caltrans is currently developing projects to remediate 27 active fish passage barriers, which are expected to improve access to an estimated 166 miles of salmon and steelhead habitat, the report said. Multi-agency committees that work with Caltrans on the issue have identified 68 salmon and steelhead barrier locations for priority remediation, with an estimated 374 miles of high-quality salmon and steelhead habitat lying beyond the existing barrier.
In 2018, Caltrans completed 167 assessments at road/stream crossings for fish passage. Of those 167 assessments, 14 were identified as new barriers, 85 were determined to be non-barriers and 68 locations are potential barriers, which need additional surveys.
Since the enactment of Senate Bill 857 in 2005, Caltrans has remediated a total of 47 locations where fish access was limited. Those measures are currently functioning as designed. The 47 locations have improved access to estimated 792 miles of salmon and steelhead habitat. This includes 10 full (permanent) remediations, which allow access to an estimated 197 miles of habitat and 37 partial/hydraulic remediation locations, which have opened up an estimated 595 miles of habitat.
During the past five years, Caltrans has improved coordination with the California Department of Fish and Wildlife, National Marine Fisheries Service, and other remediation partners to further fish passage barrier remediations in the state.
---
Caltrans Report Reviews Business Logo Signs on Highways

The state law that allows business logo signs along state routes in sparsely populated areas of California should be left intact, Caltrans is recommending. Caltrans submitted a status report on the business logo program to the Legislature earlier this year.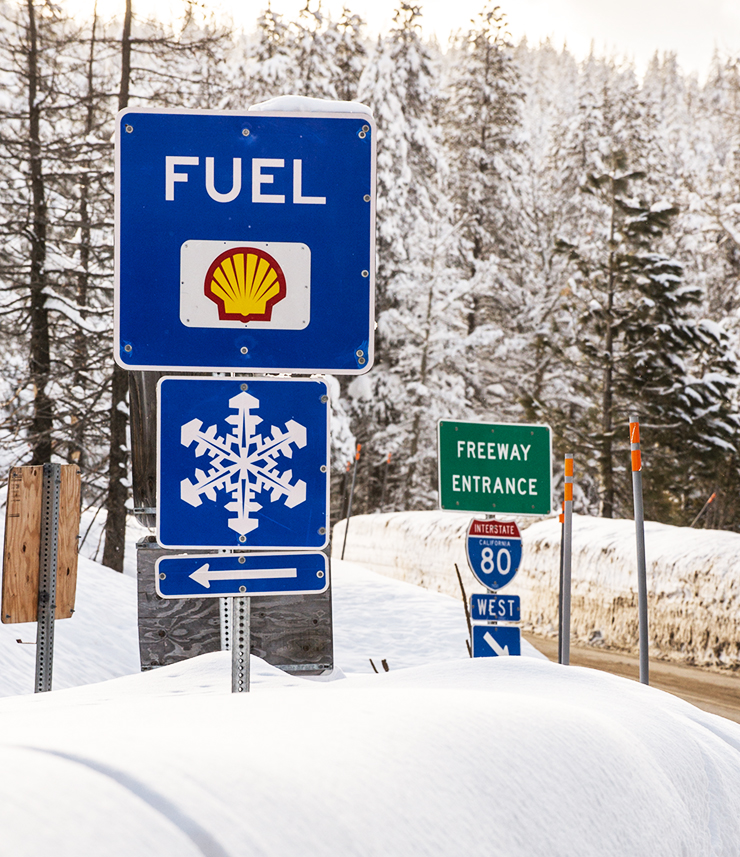 Originally established in 1978, the program was initially limited to rural areas located along Interstate 5. It was intended to aid motorists in identifying the relatively few or far between services. Since then, the law has been modified to include all highways in the state, but with a 10,000 person population cap on the towns where businesses can participate. The only exceptions are the cities of Truckee along Interstate 80, and Lincoln on State Route 65 where each area's population grew past the 10,000-person limit.
Caltrans currently has 38 locations across the state where businesses pay to post their logos on freeway signs. These participating locations account for 236 individual business logos. The proceeds go into a highway safety fund. Caltrans installs and maintains many more general services signs on state routes.
Because of the concern over visual sign congestion and driver distraction along state highways, Caltrans concluded, the program should not be allowed to expand. The Department has issued a moratorium on the removal of business logos pending a review of the policy with stakeholders.