COVID-19 Update
As Pandemic Persists, Caltrans Adapts
With Safety at the Forefront, New Procedures Help Get Work Done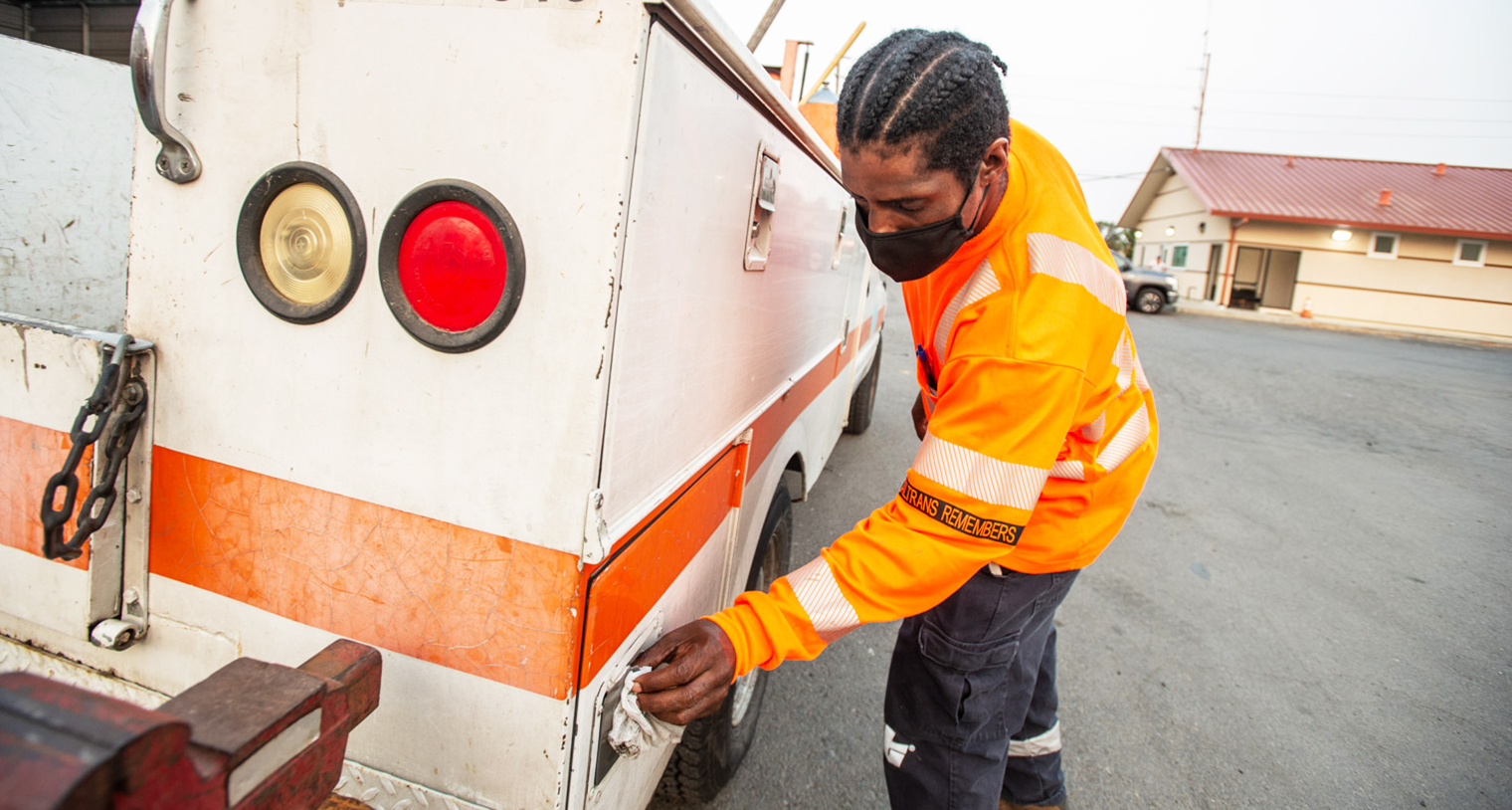 Caltrans has continued to adapt its highway and administrative operations in response to the COVID-19 pandemic.
Due to the stay-at-home directive and related slowdowns in commuting and traveling, mid-April weekday traffic on state highways in California averaged 40 percent lower than the same period a year before. Caltrans' Project Delivery division took advantage of that drop to move up the start date of major projects, and adjusted and extended construction work windows to complete more work in less time. In cases where contractors changed from night work to daytime shifts, work windows grew as much as four hours each day.
Among the biggest projects launched earlier was the bridge replacement of U.S. Highway 101 at San Francisco's Alemany Circle. Scheduled to start in July and take 18 days, the work instead began in late April and was completed in nine days. Not only did the accelerated work ease the negative impact on commuters, it lessened the amount of time nearby residents were subjected to construction noise.
Similarly, the North Coast Corridor project on Interstate 5 in Encinitas in San Diego County moved up two 55-hour weekend closures, which minimized impact to travelers.
The Interstate 5 carpool lane project in Los Angeles benefited from the expansion of work windows. Rather than sticking with Plan A — 30 closures of four hours each for six weeks to demolish the Burbank Boulevard overcrossing — the bridge was taken down over one weekend in late April.
As of late August, Caltrans had contractors working on 804 active construction projects around the state with a value of $10.4 billion.
Traffic volume has rebounded considerably from April levels, when Caltrans was able to tackle the Alemany and Burbank projects so efficiently. Traffic in August was measured by Caltrans to be about 15 percent lower than the same period the year before.
As coronavirus restrictions continue, the Department's Division of Maintenance has focused on keeping its staff safe while they do their jobs.
Caltrans signed 13 contracts — one in every regional district plus a second one in sprawling District 8 (Riverside and San Bernardino counties) — worth a total of $2.3 million to disinfect 312 maintenance stations, 16 warehouses and 27 equipment shop facilities.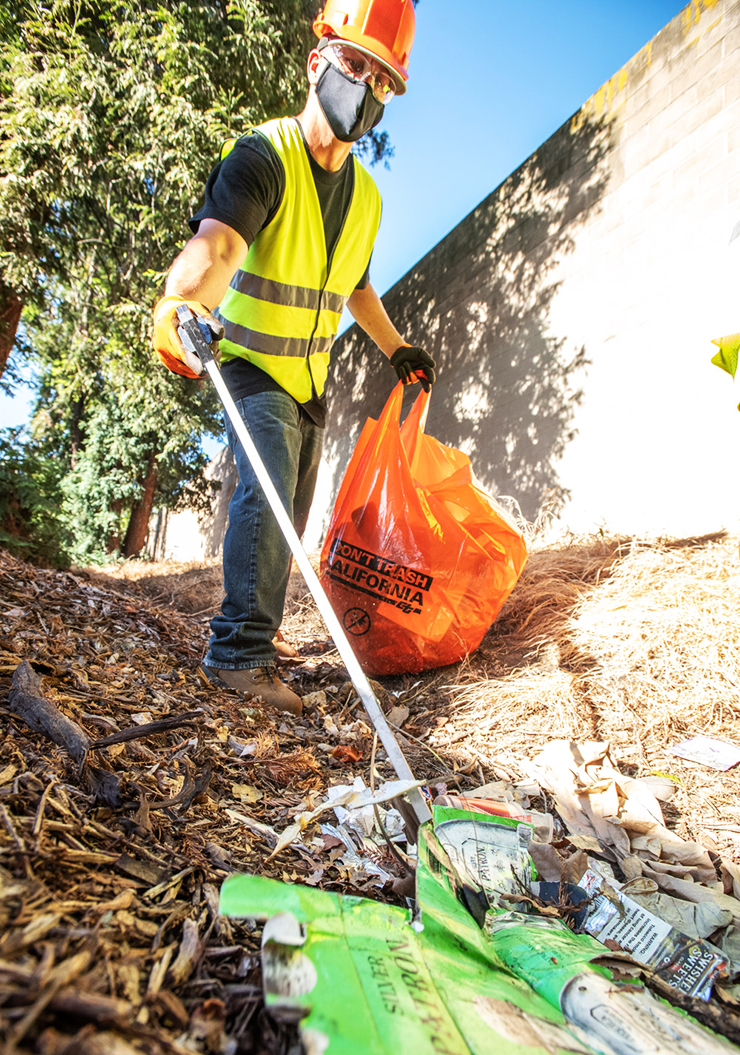 To further protect employees, the Maintenance division suspended litter-removal efforts for much of the spring. That pause also extended to Caltrans' Adopt-A-Highway volunteer program and other trash collection groups.
Caltrans signaled it was resuming litter operations when it conducted a Litter Day Media Event on June 1 in Sacramento.
Maintenance personnel were able to complete an annual task, the Level of Service (LOS) evaluations on key state highway system components, by the end of July due to reduced congestion. In a normal year, LOS evaluations are conducted from March through August.
The division's warehouse is keeping Caltrans workers supplied with cloth face coverings, N-95 masks, hand sanitizer, nitrile gloves and disinfectants.
Meanwhile, the Division of Equipment pilot-tested handheld foggers and sprayers that use a low-toxicity chemical to kill germs. Those approved devices are now used to disinfect equipment used in Maintenance division operations.
Caltrans' Division of Rail and Mass Transportation (DRMT) is administering $95 million from the recent federal stimulus package to go to rural transit operators throughout California.
Funds from the $2.2 billion Coronavirus Aid, Relief, and Economic Security Act have provided about three times the level of funding that is distributed through the rural transit program in an average year. The stimulus money was desperately needed by those operators because of the loss of almost all other revenue sources since mid-March. Buses, light-rail and public transit services have seen drastic reductions in ridership, but had to maintain service levels since many still rely on public transportation for work or personal travel.
In partnership with the Federal Transit Administration (FTA), DRMT is working to allow smaller public-transit operators to use their vehicles and drivers to perform duties outside of the normal transit operations, such as delivering meals to homebound persons. DRMT also has teamed with the FTA to distribute face masks to the small and rural transit operators with 40 or fewer employees.
In the spring, Caltrans' Division of Traffic Operations introduced an emergency program to allow food truck operators to set up business in roadside rest areas, providing travelers the opportunity to buy hot meals. However, the program ended in August after food-truck operators said that business was not that profitable anymore. During the last week of this temporary program, there were 13 active permits issued to eight food truck operators to serve 11 rest areas.
Caltrans took another step to respond to the pandemic in April when it raised highway weight limits from 80,000 to 88,000 pounds for trucks carrying essential goods such as medical supplies and food. There were 103 permits issued before the program ended in July.
The Department continues to aid people experiencing homelessness by setting up portable toilets and handwashing stations.
Sources: Caltrans Divisions of Project Delivery, Maintenance, Rail and Mass Transportation; Traffic Operations.