Zero-emission vehicles
Caltrans looks to lead the way to an electrified future
Spurred by governor's orders, climate change and air pollution, department embraces zero-emission vehicles
The evolution of what powers transportation is – no doubt about it – electrifying. Caltrans is busy making plans for and implementing changes that are transforming how people and goods make their way about the Golden State.
The era of ZEV (zero-emission vehicles) is upon us.
Through executive orders issued in 2018 and 2020, Governors Edmund G. Brown Jr. and Gavin Newsom decreed that the following goals be pursued and met:
Since then, the state has enacted policies setting these goals into law.
In May, Caltrans Director Tony Tavares reinforced the department's commitment to making this electrifying change happen.
"California is at the forefront of policies that encourage the adoption of ZEVs, support the maturation of the industry, improve access, and ensure communities most impacted by vehicle pollution benefit," Tavares said in a department-wide email.
"As we all know, the economy relies on mobility, and the future of mobility is emission-free, whether e-bike, transit bus, or semi-truck. Fortunately, we are already seeing significant progress in California."
"California is at the forefront of policies that encourage the adoption of ZEVs, support the maturation of the industry, improve access, and ensure communities most impacted by vehicle pollution benefit."
Mile Marker recently asked Jimmy O'Dea of the Director's Office of Equity, Sustainability & Tribal Affairs to discuss what Caltrans is doing to pave the way for an all-ZEV future.
He began with a clarification.
"When we say electric vehicle, we mean both battery and hydrogen fuel cell vehicles," O'Dea explained. "Some people interpret electrification as only batteries, but the technology of a hydrogen fuel cell vehicle also uses an electric drive train powered by electricity, once the chemical energy in hydrogen is converted to electrical energy by the fuel cell."
Then O'Dea launched into the big picture.
"Of the four big buckets of our work, one is our own fleet. We have 11,000 vehicles ranging from sedans to snowplows, and we want to electrify them all over time. In the words of Division of Equipment lead Bob Meyers, we want to be the 'greenest fleet in the country.'
"Some vehicles are easier to electrify than others and we're making progress on the low-hanging fruit already. Over the last year, we've added roughly 400 electric sedans to our fleet. We'll begin getting electric SUVs this year. We have several hundred electric pickup trucks on order that we're also hopeful to begin taking deliveries of soon. So, we're starting to make progress on our fleet and we want to be a leader in this area not only for other state DOTs but also large, private fleets of similar size. We're among the largest transportation fleets in the country, and electrifying our fleet is a really exciting opportunity.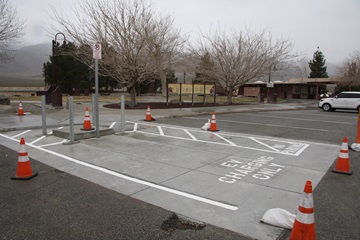 "The second big bucket is supporting charging for the public. This is done largely through funding programs that we're administering, or with funding that we're seeking on behalf of the state. A big program that we're helping to administer is the National Electric Vehicle Infrastructure Program, a formula-funded program that is part of the Bipartisan Infrastructure Law and provides funding to all states to invest in charging infrastructure for long-distance intercity and interstate travel.
"We're working with the California Energy Commission, which is the national expert in delivering charging infrastructure grant funding, to get this program out the door. This program is going to support charging on over 6,000 miles of California interstates and highways. With this funding, there will be at least four fast chargers every 50 miles on these corridors, and in many cases a lot more. …
"So it's a $384 million project [$5 billion nationally] that we're really excited about, and hope to formally kick off with release of the funding this year.
"There's also $2.5 billion in discretionary funding that we're interested in bringing to the state from the federal infrastructure bill. We worked with the California Energy Commission, Oregon Department of Transportation, and Washington State Department of Transportation to develop a proposal to support truck charging and hydrogen fueling along I-5 and major freight corridors from Mexico to Canada.
"The next big bucket is our rail and transit effort. From the rail side, we provide locomotives for three intercity corridors, the Capital Corridor, San Joaquin and Pacific Surfliner rail lines. We're committed to transition those rail fleets to zero-emission technology. Our rail team is in the exploratory stage right now, working with potential manufacturers on vehicle specifications and to take our goals from paper to practice. Rail will also be an area where Caltrans can emerge as a national leader, as we transition these vehicles to zero-emission technologies.
"On the transit side, we're one of the largest funders of zero-emission bus efforts through both state and federal funding that we direct to transit agencies. Transit agencies have state requirements for transitioning their fleets to zero-emission buses, so we're very interested in providing as much support as we can to achieve these standards, which are beginning to take effect this year.
"The last big bucket is our freight work. And here, again, we're trying to support the freight industry's transition to zero-emission technologies, namely by supporting charging and hydrogen fueling infrastructure along truck corridors. We've been both an applicant for state funding for these types of projects, and we're also the administrator of programs that can potentially fund these types of programs. Given the funding that's available, our position as technical leaders in the freight industry, and our relationships across private and public stakeholders in the freight industry, I expect us to play a large role in support freight's transition to zero-emission technologies."
There will be at least four fast chargers every 50 miles on these corridors, and in many cases a lot more.
Does O'Dea see anything in particular being especially difficult, or challenging, to overcome?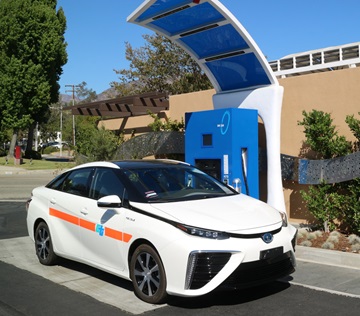 "A theme through all of these efforts is change. The further you are on the leading edge, the more barriers and challenges you'll encounter. We want to be on the leading edge and are comfortable facing these new challenges.
"So of those (four main "buckets"), none, I would say, is any more challenging than the others. The lessons we're learning in transitioning our own fleet to electric technologies are similar to what private fleets are experiencing with their vehicles and operations. Some of our vehicles, such as our snow plows, operate on as strenuous of duty cycles as any vehicle out there.
"Public charging – we want to deliver a really good product to the public, which means chargers that are reliable, which hasn't been the case to date for all companies. There's a spectrum of reliability in the market right now. We hope to solve that with reliability requirements for funding we administer."
Are there political forces at play in terms of what individual states do to bring about a national ZEV landscape?
"Before the infrastructure bill," O'Dea responded, "there were tax credits for passenger electric vehicle purchases and tax credits for charger installations at the federal level. In California we've had hundreds of millions of dollars in projects for vehicle incentives both on the passenger side and the commercial side. The California Public Utilities Commission has also adopted landmark policies to bring the investor-owned utilities into the mix.
"It's very encouraging and exciting, the federal funding that is available right now. It is bringing in states that haven't been as committed to electrification as California and that's a great thing. California has been driving the market for several years and it's going to be great to have investments across the country that will ultimately benefit us with economies of scale and lessons learned from more people, more companies, and more states in the mix.
"There's been some really great interstate planning, particularly on the West Coast, that's been going on for over a decade that is starting to bear fruit with charging for cars along Interstate 5 in Washington, Oregon, and California. The next step is to build out that infrastructure for trucks."
Learn more about Caltrans' ZEV efforts on the Director's Office of Equity, Sustainability, and Tribal Affairs webpage. Find updates on statewide ZEV progress via the California Energy Commission.
Source: Jimmy O'Dea, Assistant Deputy Director of Transportation Electrification in the Director's Office of Equity, Sustainability & Tribal Affairs