Winners
Excellence in Transportation Awards
EIT Award Winners
Caltrans Excellence in Transportation (EIT) Awards Program is in its 34th year. This program honors the best of California's transportation projects from across the state. The EIT awards program is open to Caltrans districts and programs, local and public transportation agencies, and private engineering and consulting firms.
Congratulations to those who have worked hard to make these projects a reality and provide positive and measurable improvements in transportation, resulting in a lasting benefit to the state of California.
Intermodal Transportation System
SMART Pathway and Rail Project
Sonoma-Marin Area Rail Transit District (SMART) Partner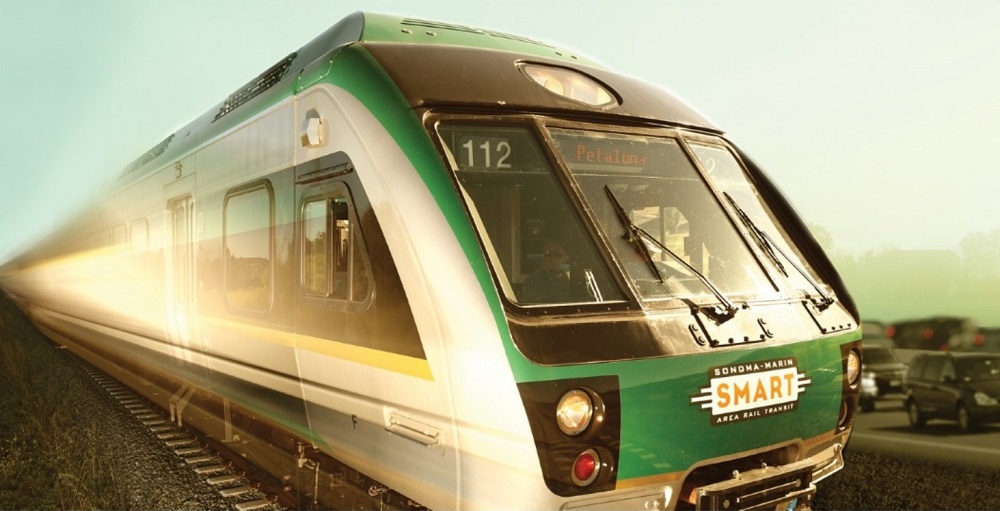 SMART built an integrated system of rail and Class 1 pathway to place the railroad corridor into the highest and most effective transportation use possible.
Photo courtesy of SMART Partner.
SMART is a transit district in Marin and Sonoma counties, formed in 2002 to manage a publicly owned rail right-of-way. Supported by a voter approved ¼ cent sales tax in 2008, SMART has built an integrated system of rail and Class 1 pathway to place the railroad corridor into the highest and most effective transportation use possible, maximizing the public investment. Rail service started in late 2017 on a 43-mile first segment. SMART and local/state partners have completed 18.2-miles of SMART Pathway. An additional 14.5-miles of SMART Pathway are funded for construction. SMART has carried 1.2 million passengers and 105,000 bicycles.
The Highway (Rural)
State Route 76 and Valley Center Road Roundabout
Caltrans District 11

LB Civil

Kleinfelder
Aerial view, looking southwest, of State Route 76 and Valley Center Roundabout in San Diego County.
Photo by RJ Colunmna, LB Civil.
The State Route 76 and Valley Center Road Roundabout project reduces the severity of collisions at the intersection of SR-76 and Valley Center Road. This portion of the route is designated as a conventional highway and is located at a rural portion of the county. The intersection was flagged as experiencing a higher-than-average number of collisions. This was attributed to limited sight distance and a high-speed differential at the intersection. Sight distance was improved by increasing the radius of the curve at approach and realigning the intersection. The project development team concluded that installing a roundabout at the intersection was the best alternative for this location. With the proposed roundabout improvements, the approaching speed differential at the intersection was eliminated, and conflict points were greatly reduced. Roundabouts have demonstrated to reduce fatalities by 90 percent and injuries by 76 percent. Additional improvements included complete streets elements such as sidewalks, ADA ramps, and improved public transit facilities.
The Highway (Urban)
SR-99 CM/GC Freeway Realignment
Caltrans District 6

Granite Construction Company

California High-Speed Rail Authority

City of Fresno
SR-99 CM/GC Freeway Realignment Ashlan Ave. Interchange.
Photo by Randy Lucchesi, Granite Construction Company
Realigning State Route 99, the Central Valley's transportation backbone and one of California's busiest truck routes, was no simple task. It took a committed team, strategic planning, and extensive coordination with multiple stakeholders. Working closely with the construction manager/general contractor, local stakeholders, and public, Caltrans successfully realigned two miles of SR-99, demolished and reconstructed the Clinton Avenue Interchange, rebuilt structures over SR-99 and Union Pacific Railroad tracks, installed long-life pavement, and constructed 17 retaining walls, while maintaining all through lanes on SR-99. Extensive outreach and continued interaction with property owners were key to minimizing the project's effects on the local business community. This created a sense of ownership among all stakeholders and the traveling public. This project is a testament of what can be achieved when the owner, contractor, local stakeholders, and public come together to solve a transportation problem.
Major Structures
Gilman Drive Bridge
Caltrans District 11

San Diego Association of Governments

University of California San Diego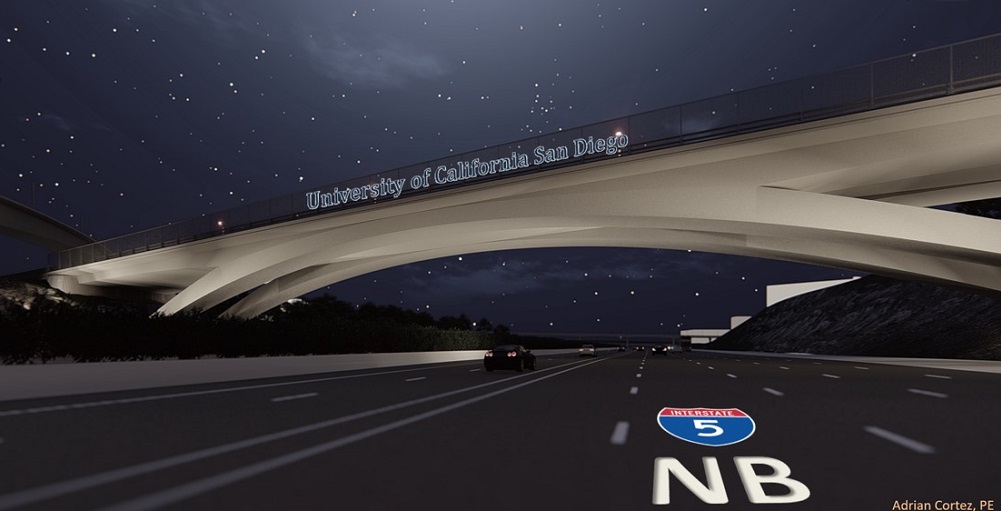 The Gilman Drive Bridge accommodates pedestrians, bicyclists, buses, passenger vehicles, and future expansion of the Interstate 5 North Coast Corridor.
Photo by Adrian Cortez, Caltrans District 11.
Linking the east and west ends of the University of California San Diego campus, the 400-foot-long, 65-foot-wide Gilman Drive Bridge, arching over the Interstate 5 North Coast Corridor (I-5 NCC), accommodates pedestrians, bicyclists, buses, passenger vehicles, and future expansion of the I-5 NCC, completing the long-awaited UC San Diego "Campus Loop" and alleviating traffic congestion from Voigt Drive, La Jolla Village Drive, and Genesee Avenue. In coordination with UC San Diego and San Diego Association of Governments, Caltrans delivered a project that not only provides congestion relief and connectivity but beautifies the community and the I-5 NCC with its "…graceful arch and elegant massing," as eloquently stated by Mark Armao from the Daily Transcript. The Gilman Drive Bridge will live for many years past our time as an iconic structure to be used and enjoyed by generations to come.
Stewardship of the Environment
Collier Safety Road Side Rest Area Wastewater Improvements
Caltrans District 2

Timberworks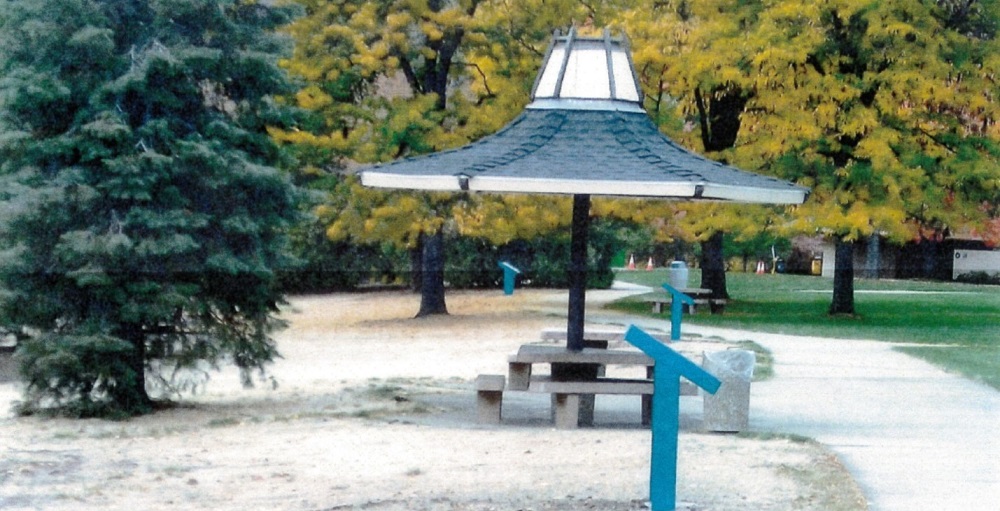 Collier Rest Area.
Photo courtesy of Caltrans District 2.
The Randolph Collier Safety Roadside Rest Area located on Interstate 5 in rural Siskiyou County had been experiencing problems with the wastewater system because of increased usage. The system required frequent pumping and had sewage backups on three occasions. If the system could not be upgraded, then the rest area would have to be closed. In addition, new environmental requirements required a 95 percent reduction in the amount of nitrogen allowed in the discharged effluent, since the rest area was located along the banks of the Klamath River. Caltrans responded by designing and installing one of the first Advanced Onsite Wastewater Treatment Systems at a California roadside rest area. Along with other improvements, the system uses an engineered wetland with plants to remove the nitrogen from the effluent. These innovative and sustainable technologies help protect groundwater and the surface water resources — improving the environment for fish and other natural resources.
Transportation-Related Facilities
Johnny Cash Trail
City of Folsom

City of Folsom - Parks and Recreation Department

Dokken Engineering

Westcon Construction
Johnny Cash Trail Bridge Overcrossing.
Photo by Brett Bollinger, City of Folsom.
The Johnny Cash Trail is a 2.5-mile trail located within the city of Folsom and Folsom State Prison property. The new trail also included construction of two bike/pedestrian bridges, Robbers' Ravine Bridge and the Johnny Cash Trail Overcrossing Bridge, and a bike/pedestrian tunnel undercrossing at the Prison Road intersection with the trail. The Johnny Cash Trail links two adjoining counties and adjacent communities with Folsom's Historic Sutter Street corridor and its Regional Transit Folsom Sutter Street light rail station. The Johnny Cash Trail provided the city of Folsom with an opportunity to unify two distinctive elements that make the Folsom community unique. First, it expanded upon the existing Folsom trail system, providing a multicounty and communitywide trail network that makes connections within the region. Second, it offers the community an unmistakable civic gateway into Folsom that forever preserves the linkage between the city of Folsom, Folsom Prison and Johnny Cash's legacy.
Transportation System Operations Improvements
Cajon Pass Design-Build
Caltrans District 8 Project Management Program

Parsons Transportation Group

California Highway Patrol, San Bernardino Area

Coffman Specialties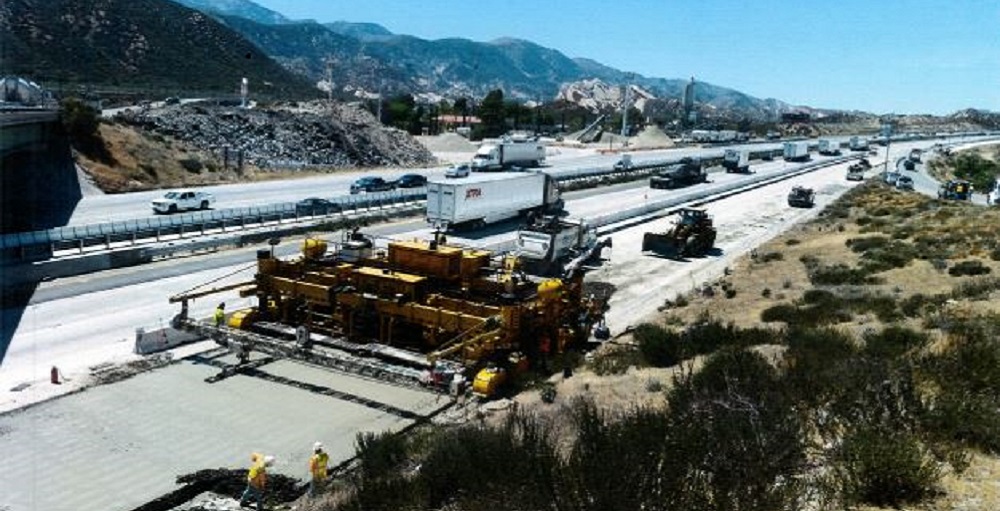 Cajon Pass Design-Build Project.
Photo by Caltrans District 8.
Caltrans District 8 used the design-build process to reconstruct a 15.6-mile section of Interstate 15. The project restored the structural integrity and ride quality for the mainline and ramps by replacing the deteriorating Portland Concrete Cement Pavement. The new lanes were constructed to provide 40 years of service life. This means reduced maintenance in frequency and in cost. This is very good news for the traveling public, as this stretch is highly used for recreation destinations such as Las Vegas and is vital for goods movement from the ports of Los Angeles and Long Beach to the rest of the nation. The contractor developed an alternative technical concept using innovations to manage traffic while providing safety. The design-build approach allowed a lower cost of $122 million compared to the $158 million engineer's estimate. Ultimately, 126.5 lane miles were reconstructed/rehabilitated while maintaining traffic flow.
Traveler and Worker Safety
Route Shield Pavement Markings
Caltrans Division of Traffic Operations
Caltrans' new route shield pavement markings help travelers on complex highway interchanges.
Photo Caltrans Division of Traffic Operations.
Caltrans is helping travelers negotiate unfamiliar or complex freeway interchanges with new pavement markings in the shape of the familiar route shields that the travelers are used to seeing posted as signs on posts along the highways. The route shield pavement markings, placed on highways and local streets around the state, are intended to give another visual aid to travelers who are more accustomed to looking up or to the side of the highway for traditional route shield signs. These route shield pavement markings are large enough to be viewed with a quick glance at the road surface. They are approximately 6-foot-wide reproductions of route shield that identify highway numbers. These are placed in the middle of the traffic lanes.
Community Enhancement
Greenville Combine
Caltrans District 2

Plumas County Department of Public Works

Greenville Streetscape Committee

Knife River Construction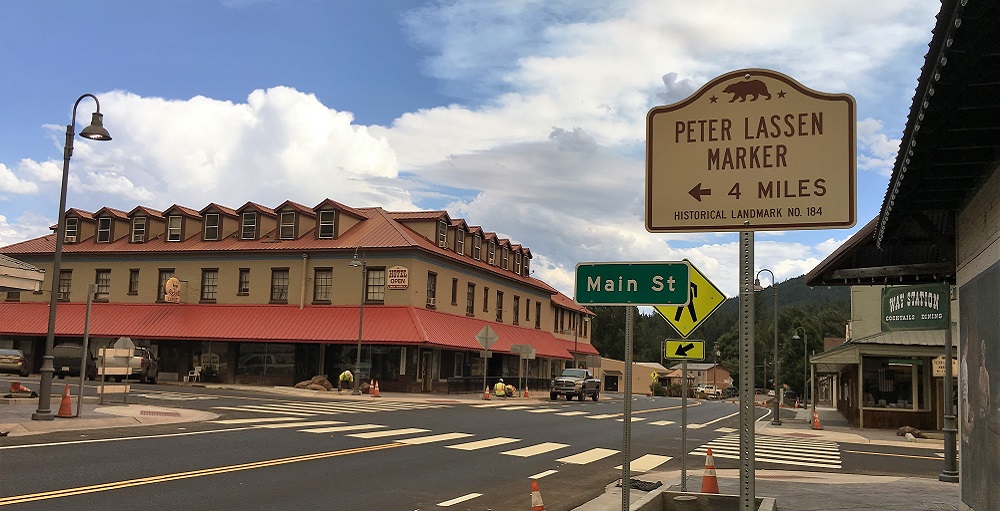 The Greenville Combine gave the small community of Greenville in Plumas County transformed the town while preserving the motif of the historic community.
Photo by Caltrans District 2.
The Greenville Combine was the result of many years of community and government planning and partnership. The finished product provided the small community of Greenville in Plumas County with a desired outcome of visual enhancement, improved drainage facilities, new pavement, modified intersections, Americans with Disabilities Act upgrades, improved street lighting, and other context sensitive solutions—all while overcoming significant design challenges to bring the town to current highway and ADA design standards. Safety issues were addressed, and motorists and pedestrians now have improved visibility with safe crossing opportunities. Although the town was transformed, the motif of the historic community was preserved, which is expected to benefit the economic vitality and improve visitor attraction.
Transportation Innovations to Improve Mobility Across California
Southbound Border Wait Time Pilot Project
San Diego Association of Governments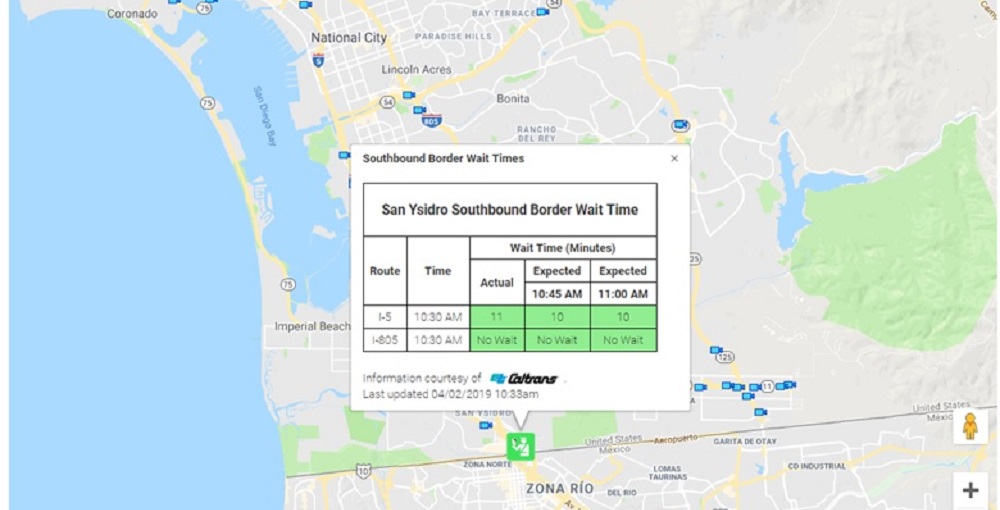 Caltrans QuickMap with Southbound Border Wait Pilot Project.
Photo courtesy of Caltrans District 11.
The Southbound Border Wait Time Pilot Project is a critical element in enhancing traffic management capabilities, operations, and functions within the United States and Mexican border region. It is an innovative way of improving mobility within the border region. It improves the border crossing experience in terms of efficiency, reliability, time, and comfort. Using Wi-Fi signature detection from multiple points, the time it will take to cross the border is calculated. This give travelers decision-quality information to make educated choices on when and where to cross the border. The project successfully provides real-time southbound border wait times updated every 15 minutes and a 15- and 30-minutes predictive wait times. The data is currently be provided to the travelling public via Caltrans QuickMap website and the QuickMap mobile application.
Public Awareness Campaigns
Carr Fire Public Awareness Efforts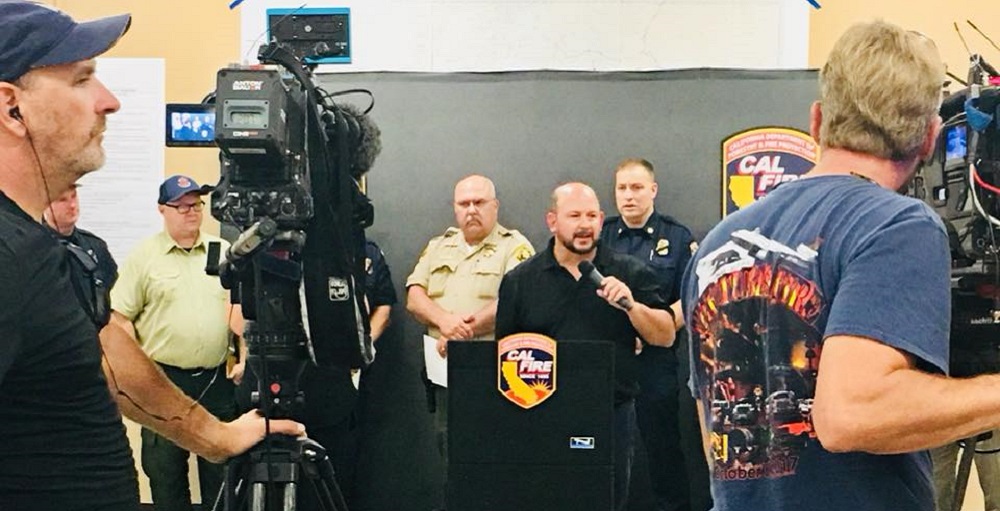 Caltrans District 2 Director Dave Moore participates in a CalFire press conference during the 2018 Carr Fire.
Photo by Caltrans District 2.
When the Carr Fire broke by State Route 299 near Whiskeytown July 23, 2018, nobody expected it would become one of the worst disasters in California. Caltrans' District 2 Public Information Office responded to the catastrophe while dealing with their own losses, and the public found Caltrans to be a reliable source of information. They also found empathy as staff listened to the public's despair and reassured them everything was going to be okay. Through social media, community engagement, media relations and outreach, advertising, flyers, a newsletter and plenty of pictures and videos, District 2 public information officers worked tirelessly to provide accurate information to the public. From July through December 2018, District 2 consistently communicated with the public and media, raising awareness about what Caltrans does and how it serves the public—not just during business hours but also during enormous crises, such as the Carr Fire.
Intermodal Transportation System
State Route 89 Mousehole Pedestrian and Bicycle Improvement Project
Town of Truckee

Caltrans District 3
State Route 89 Mousehole Pedestrian and Bicycle Improvement Project Ribbon Cutting Event.
Photo courtesy of Sefan McLeod, Stefan McLeod Photography.
The State Route 89 Mousehole Pedestrian and Bicycle Improvement Project constructed a 12-foot wide pedestrian and bicycle tunnel under the Union Pacific Railroad (UPRR) railway for bicycles and pedestrians who were previously sharing the railroad undercrossing with vehicle traffic. The project is located in the Town of Truckee in Nevada County and is immediately adjacent to the unincorporated portion of Placer County within Caltrans and UPRR right of way. Built in 1928, the existing 24-foot wide concrete vehicle tunnel is locally referred to as the Mousehole because of its arch shape. With two travel lanes of traffic and virtually no roadside shoulders, the absence of any pedestrian or bicycle facility through the Mousehole was of great concern to the community and the region. SR-89 is a heavily used access point connecting Interstate 80 to Lake Tahoe and Truckee.
The Highway (Rural)
Young's Bar Wall
Caltrans District 1

Steelhead Constructors, Inc.

Yurok Culture Committee

Yurok Tribal Chair

Young's Bar Wall on State Route 169, in Humboldt County, is designed to resemble the outside of a traditional redwood plank house.

Photo courtesy of Phil Frisbie Jr., Caltrans District 1.

In northeastern Humboldt County, approximately 10 miles west of Weitchpec, State Route 169 bisects the Yurok Indian Reservation. At that location, Caltrans worked with the Yurok Culture Committee, the Tribal Heritage Preservation Office, the Yurok Transportation Department, and various tribal members to develop a wall façade. This was a collaborative project intended to educate traveling motorists about the history and culture of the Yurok Tribe and to give a visual sense of the area. The wall is intended to resemble the outside of a traditional redwood plank house and required a safety rail and included a 'sturgeon back' design as a runner at the base.

The Highway (Urban)

SR-91 Corridor Improvement Project

Riverside County Transportation Commission

State Route 91 Improvement Project has enhanced the quality of life for commuters, local businesses and residents in Riverside County.

Photo courtesy of Steve Jacobs, Jacob's Media Services.

State Route 91 ("the 91") in Riverside County ranks among the nation's worst commutes. Its 280,000 daily users and news reporters have dubbed it the "Corona Crawl," due to its reputation for heavy traffic congestion. The Riverside County Transportation Commission began constructing the $1.4 billion SR-91 Corridor Improvement Project in 2014. Using a first-of-its-kind design-build delivery method authorized by the state legislature, the project added the first express lanes to Riverside County, as well as general purpose lanes, auxiliary lanes and an express lane connector between the 91 and Interstate 15. The 91 Project is more than a transportation infrastructure investment, it has enhanced the quality of life for commuters, local businesses and residents. Since opening day, SR-91 Express Lanes users have been experiencing significant time savings. During fiscal year 2017/18, toll revenue of $24.6 million has far surpassed projected revenue of $9.2 million.

Major Structures

Pfeiffer Canyon Bridge

Caltrans District 5

Golden State Bridge, Inc

XKT Engineering, Inc.

Somerset Engineering

The new Pfeiffer Canyon Bridge on Highway 1 in Monterey County that replaced the original bridge after it was damaged in a landslide during the 2017 storms.

Photo courtesy of Caltrans senior photographer Scott Lorenzo.

State Route 1 (SR-1) in Big Sur is designated an All-American Road under the National Scenic Highways and Byways program. While roads designated within this program are all unique, SR-1 through Big Sur is considered one of the crown jewels of the program. A landslide that followed the heavy January 2017 rains severely damaged the Pfeiffer Canyon Bridge on SR-1 in Monterey County. The original concrete structure, built in 1968, was beyond repair and needed replacement. By February 15, Pfeiffer Canyon Bridge was closed, and SR-1 access to the Big Sur community was cut off from the north. Caltrans quickly determined that a single-span steel girder bridge would replace the structure spanning the 310-foot wide and 100-foot deep canyon. Incredibly, the initial bridge design was completed in just under three weeks, and the seamless partnership between Caltrans and the contractor helped complete processes quickly. To expedite construction, steel girders were pre-fabricated and assembled on site, then "launched" across the canyon. This was California's first bridge launch on the state highway system. The new $24 million single-span steel girder bridge was opened to the public just eight months after the original concrete structure was condemned, a process that would normally take about 8 years.

Stewardship of the Environment

Elkhorn Highland Reserve Mitigation Site - Prunedale Improvement Project

Caltrans District 5

Elkhorn Slough Foundation

Transportation Agency for Monterey County

US Fish and Wildlife Service, Ventura Fish and Wildlife Office

Elkhorn Slough Foundation, Caltrans and Transportation Agency for Monterey County staff Elkhorn Highlands Reserve Mitigation Site, Dedication Ceremony on February 12, 2018.

Photo credit: Nicoletta Lanese with the Monterey Herald (February 12, 2018)

Today's complex environment frequently requires offsite mitigation to balance environmental effects from transportation projects. The Prunedale Improvement Project improved safety and traffic operations along a highly congested stretch of U.S. Highway 101 in northern Monterey County. The project was years in the making and a welcome improvement for the Prunedale community. It also required offsite mitigation for maritime chaparral, oak woodlands and wetlands that are habitat to several rare and endangered plants and animals. Finding a site that conserves natural resources can be difficult, so can finding partners willing to take on the long-term management responsibilities for a mitigation site. New legislation in 2011 and 2012 allowed Caltrans to transfer to the Elkhorn Slough Foundation land and the endowment for long-term management of the offsite mitigation. Caltrans' partnership with the foundation resulted in permanent protection of 167 acres of wildlands known as the Elkhorn Highlands Reserve. Conserving the native plants at the reserve benefits the region, by playing an important role in reducing greenhouse gas emissions and protecting water quality by reducing or eliminating soil erosion into the waterways. The Elkhorn Highlands Reserve shows how transportation projects can offer opportunities to expand the conservation value of a site by partnering with community organizations and promoting stewardship of California's environment.

Transportation Related Facilities

Corning State Roadside Rest Areas

Caltrans District 2

California Highway Patrol, Red Bluff

Kimley-Horn and Associates, Inc.

Randy Hill Construction, Inc.

The new Americans with Disabilities Act-compliant Corning State Roadside Rest Areas on Interstate 5 replaced facilities originally constructed in 1971.

Photo courtesy of Caltrans.

The traveling public rightfully expects a place to take care of basic needs, rest, and recharge when traveling California's highways. Caltrans strives to provide safe, comfortable, convenient, and accessible rest area facilities to meet the ever-growing needs of highway users. The Interstate 5 Corning northbound and southbound rest areas no longer served that purpose and needed to be rehabilitated. Originally built in 1971, these facilities long outlived their expected 20-year design life and were unable to meet the needs of all users. After struggles with funding and awarding a construction contract, the project was finally completed in November 2017. The reconstructed comfort stations should meet drivers' needs for at least the next 20 years. The areas incorporate recycling and reuse, simplistic cost-effective design, drought tolerant features, low maintenance landscaping, and eye-catching architectural features. Additional lighting and shared office space for the California Highway Patrol further enhance the safety and security of the facilities. Americans with Disabilities Act accessible facilities and compliant walkways make the entire facility accessible to all users.

Transportation System Operations Improvements

Holman Highway 68 Roundabout

City of Monterey

Omni-Means, a GHD Company

Harris & Associates

Transportation Agency for Monterey County

The Holman Highway 68 Roundabout in the city of Monterey.

Photo courtesy of Ronald Boyle, PE, Omni-Means, a GHD Company

The Holman Highway Roundabout represents a new paradigm in transportation design. No longer is it necessary to consider only traffic signals for highly congested intersections. The roundabout solution addressed all of the unique characteristics of the area while relieving congestion, improving emergency response times, and creating a sustainable gateway to the Monterey Peninsula and Pebble Beach Community. The designers maximized roundabout design principles and leveraged the more efficient operations and superior capacity of roundabouts to minimize upstream and downstream roadway improvements. This project cost $8.5 million and replaced a previously approved widening project that had an estimated cost of $21 million and included a bridge replacement, signalized intersection, and a significant visual impact on a scenic corridor. The project was completed in September 2017 within the intended time frame and on-budget with no claims during construction and is a new jewel on the Monterey Peninsula, albeit a much more affordable one.

Traveler and Worker Safety

Route 101 Calabasas Precast Panel Roadway Rehabilitation

Myers & Sons Construction

Caltrans District 7

On the Scofield Bridge Deck Replacement Project, Myers teams encountered a Honda Civic neatly parked within the falsework.

Photo courtesy of Kurtis Frailey, Myers and Sons.

Wrong-way and impaired drivers are an increasing risk in highway work zones. Nationally, about 355 people die each year in wrong-way crashes. The Federal Highway Administration estimates 96,626 crashes happened in work zones in 2016, an increase of 7.8 percent over 2015. On the Route 101 Calabasas Precast Panel Roadway Rehabilitation project, Myers & Sons focused on using the Early Action Barrier System approach. This system was originally developed by field superintendents and craft workers who witnessed the sharp increase of wrong-way and impaired drivers entering work zones from the end of the barrier. The system is designed to protect people from errant drivers trying to enter the zone. The key elements in protecting workers from a vehicle threat is establishing appropriate distance between workers and vehicles and slowing entering vehicles to give workers more time to react and move from the area. The barrier system approach exceeds standard Caltrans closure guidelines, has no effect on the driver experience within the work zone, and has minimal effects on vehicles exiting a work zone parallel to traffic.

Community Enhancement

Marin County State Route 1 Repair Guidelines

Caltrans District 4

California Coastal Commission Golden Gate National Recreation Area Marin County

Storm Damage Repair nearing Completion at Marin State Route 1 Showing Buried Retaining Wall and Revegetation in Progress.
Photo courtesy of Caltrans District 4.
State Route 1 draws visitors to state and national parks, natural food farms, and ranches. The natural forces that formed this unique landscape also imperil it. The recurring need for storm and landslide repairs endangers both the beauty and economy of the region. The "Marin County State Routes 1 Guidelines" streamlines repair projects in a complex regulatory environment. State Route 1 serves as a vital corridor along the California coastline for local residents as well as millions of visitors who tour the region. Closure on this highway from frequent storms and landslides threaten residents and businesses, and inconvenience visitors. The Guidelines provide a corridor-centric approach that ensure consistent, accelerated repairs, maintains public safety, and respects the region's exceptional scenic and environmental qualities.
Maintenance – Operations or Equipment
Swarm Maintenance/GSA 57-Hour Closure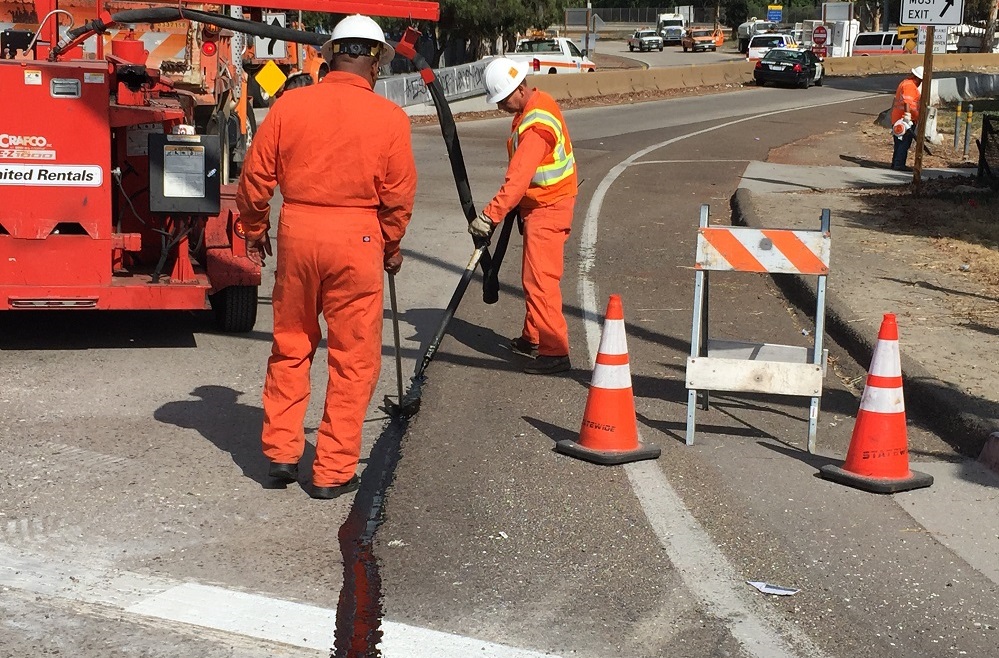 Swarm Maintenance crews in Caltrans District 11 in San Diego.
Photo courtesy of Hayden Manning, District 11
As a result of a planned 57-hour closure of southbound Interstate 5 and southbound I-805 by the U.S. General Services Administration (GSA) in San Ysidro and the international border with Mexico, Caltrans maintenance crews developed and used a swarm maintenance operation to address routine and needed maintenance activities on the closed segments of both interstates on September 23 and 24, 2017. The crews of the south bay area of District 11 San Diego worked closely with internal and external partners to perform swarm maintenance. This effort involved coordination with internal Caltrans partners, as well as external partners, including the GSA, GSA contractor Atkinson-Clark, and the California Highway Patrol. More than 10 maintenance crews helped accomplish maintenance tasks that would have required over 25 separate closures. The super closure was completed ahead of schedule, with no delay to the prime contractor, using over 80 Caltrans maintenance employees and over 40 public service workers.
Highway as a Main Street
Fulton Street Reconstruction Project
City of Fresno

Royston, Hanamoto, Alley & Abbey American Paving Company Provost & Pritchard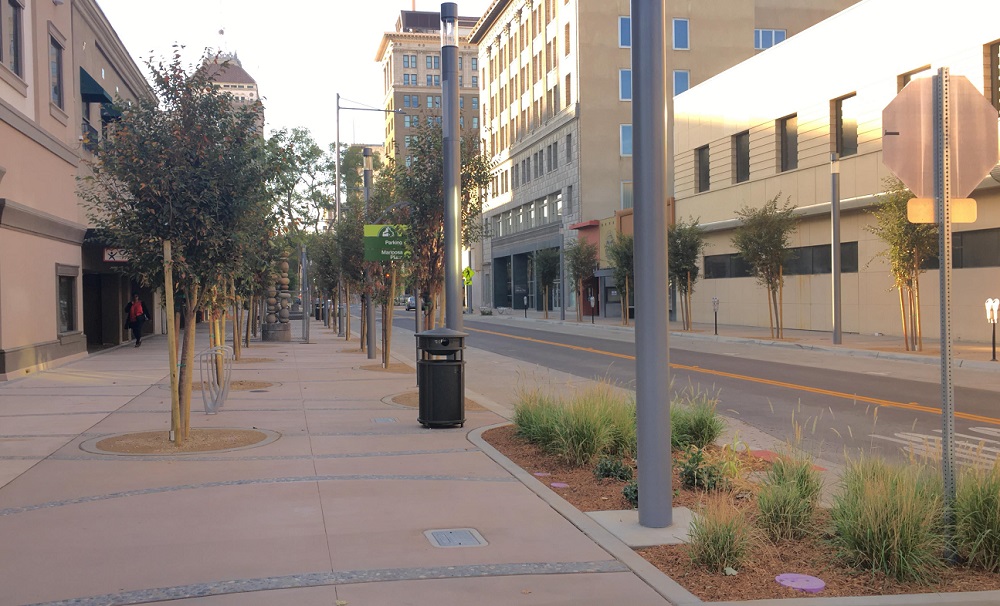 September 29, 2017, Fulton Street is open for business.
Photo courtesy of Randall Morrison, City of Fresno.
The Fulton mall was the historic site of Fresno's "main street" and the soul of its downtown. In its heyday, Fulton was the central urban destination for a four-county region in California's San Joaquin Valley that is now home to over 1.6 million people. Closed to vehicle traffic in 1964, these six blocks of Fulton and three cross streets suffered economic decline for over four decades, reaching a state of total decay. Today the Fulton mall no longer exists; in its place is a rejuvenated "main street" with a complete street design using modern technologies and a remarkably nostalgic preservation of the key features and designs of the Fulton mall. The $20 million dollar Fulton street reconstruction project improved the half-mile stretch of the Fulton mall between Tuolumne Street and Inyo Street. The old pedestrian mall was completely removed and reconstructed with a complete streets design that included reintroducing two-way vehicular traffic balanced by pedestrian-oriented amenities.
Transportation Innovations to Improve Mobility Across California
MacArthur 580 On/Off Ramp Reconstruction
West MacArthur on-ramp/off-ramp reconstruction to Interstate 580 at San Pablo Avenue in Alameda County.
Photo by Caltrans District 4 Photographer John Huseby
The Interstate 580 MacArthur Ramp Structure Trench Section was constructed in 1936 and consists of two concrete retaining walls with a concrete seal slab between them. The 2016 storms caused increased groundwater seepage, and investigations revealed this was likely due to failed water seals and a failed system designed in 1947 to capture groundwater that passed the seals. Caltrans fixed the issues without cutting the seal slab or compromising the structure. An innovative solution used a permeable subsurface fabric to capture water at the slab joints. New horizontal drains were designed to dewater up to 20 feet behind the walls, and a hollow curb section captures groundwater and storm water. District 4 also worked closely with the City of Oakland to improve bicycle safety at the ramp exit by reducing the lanes from two to one in the eastbound direction, allowing for an 8–foot shoulder for maintenance within the trench section. This unique solution created a safer road for motorists, maintenance workers, and bicyclists and greatly reduced cost and time compared with replacing the retaining structure.
Public Awareness Campaigns
91/Perris Valley Line
Riverside County Transportation Commission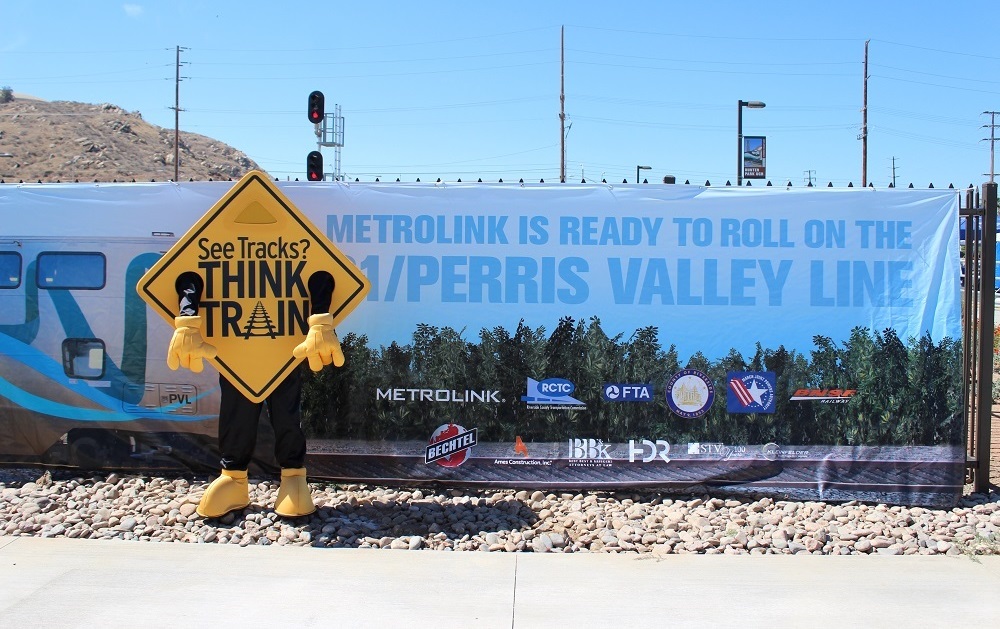 Through its extensive public awareness campaign, RCTC made the public aware of the new service being offered and educated communities about the dangers around railroad tracks.
Photo courtesy of Ariel Alcon Tapia, Arellano Associates.
The Riverside County Transportation Commission and Metrolink began passenger rail service on the 91/Perris Valley Line, a 24-mile extension from Downtown Riverside to South Perris, on June 6, 2016. The first Metrolink extension since 1994, this new line added four new stations, and commuters in the Perris Valley and Temecula Valley are now connected to the 538-mile network that Metrolink operates in Riverside, Los Angeles, Orange, Ventura, San Bernardino, and northern San Diego counties. Riverside County is one of the nation's fastest growing areas, and with housing and business booming, the vehicle traffic on local roadways is expected to increase significantly. The 91/Perris Valley Line is helping relieve traffic congestion along its entire route, while offering a new transportation alternative to the community. Since opening the new line, ridership has significantly increased and has introduced communities to a new form of travel. Ridership the first month exceeded expectations and has consistently increased.
Intermodal Transportation System
US-101 HOV Project with Class I Bike Path
Caltrans District 7

Caltrans District 5

Santa Barbara Association of Governments
US-101 HOV Project with Class I Bike Path
The first commuter-period, high-occupancy vehicle lane in Ventura County was built in the median in each direction of US-101 to relieve congestion in this growing region. The lane is open to all traffic during off-peak times. A scenic Class I bike path/pedestrian trail with aesthetic design features along the southbound shoulder was also constructed, upgrading the existing Class III bike path. The bike path/trail completes a 4-mile gap in the California Coastal Trail, providing a connection between Ventura and Santa Barbara counties. The path also offers four new vertical accesses to the beach. An ADA-compliant pedestrian undercrossing at La Conchita gives the public access to the beach where none existed. New intelligent transportation system elements such as vehicle detectors, closed-circuit TV camera and changeable message sign have also been added within the project limits.
The Highway (Rural)
Willits Bypass
Caltrans District 1

Caltrans Division of Engineering Services

Caltrans North Region Design

Caltrans North Region Environmental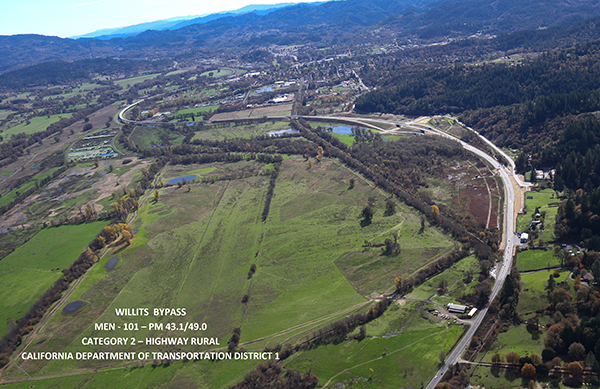 Willits Bypass
The Willits Bypass Project moved US-101 to a new 6-mile alignment on the east side of the city of Willits. It opened to traffic in November 2016 and eliminated the final traffic signals between San Francisco and Eureka. Through partnerships, primarily between Caltrans, Mendocino Council of Governments, the County of Mendocino, and the City of Willits, the project came to fruition—almost 60 years after its conception. The project significantly reduced travel time, improved highway access, and restored downtown Willits from a major highway to the center of a livable rural community. The alignment and design give motorists woodland and pastoral views from start to finish and was chosen to minimize effects to the numerous cultural and natural resources in the Little Lake Valley. A mile-long floodway viaduct significantly minimized wetland impacts and allows exceptional elevated views of the valley. Endangered plant rhizomes were relocated, and over 2,000 adjacent acres of wetland/pasture/woodlands are being restored, enhanced, and protected to mitigate for 80 acres of wetland impacts. This unprecedented effort will help restore the significant hydrologic functions and aquatic habitat of the scenic valley, which for more than a century have been altered by agricultural activities designed to drain it. Many severely degraded stream channels within the project footprint have also been reconstructed and planted with native vegetation to restore historic migratory fish habitat.
The Highway (Urban)
State Route 4 East Widening Project
Caltrans District 4

Contra Costa Transportation Authority

Bay Area Rapid Transit

Metropolitan Transportation Commission/Bay Area Toll Authority
State Route 4 East Widening Project
To address one of the worst commutes in the nation, the Contra Costa Transportation Authority (CCTA), Caltrans, and other project partners completed the State Route 4 East Widening Project, which expanded SR-4 from four to eight lanes along a 7-mile stretch between Loveridge Road in Pittsburg to State Route 160 in Antioch. The project also provided a wide median with bridges, pedestrian overcrossing, station platforms and a tunnel to accommodate a BART extension to Antioch. Designed and developed in five segments, the project included reconstructing five interchanges, one overcrossing and one undercrossing and constructing auxiliary lanes between interchanges. In close partnership with CCTA, Caltrans administered the construction contracts for four of the project's segments. Through extensive outreach, the team kept about 250,000 residents informed of construction activities and more than 130,000 vehicles moving each day while replacing every inch of pavement along this regionally-significant segment. The project created approximately 13,000 jobs and is expected to stimulate permanent employment – a boon to a local economy that was decimated during the Recession. Successful collaboration among all project partners ensured the project's on-time and on-budget completion.
Major Structures
Antlers Bridge Replacement
Caltrans District 2

Tutor Saliba Corp.

Lakehead Community Development Association
Antlers Bridge Replacement
In northern California, Interstate-5 follows a historic north/south route through the Sacramento River Canyon. For 74 years, a 1,328-foot-long long steel deck truss carried I-5 traffic across the Sacramento River arm of Shasta Lake, the largest reservoir in California. Its active fatigue cracks and degrading deck made the bridge an annual drain on the state's maintenance resources. It lacked shoulders and had a steep, tightly curved approach roadway that some say resembled a ride down a luge run. In September 2016, the aging structure was retired and traffic was moved to a new 1,942-foot-long cast-in-place, pre-stressed concrete box girder constructed adjacent to the old bridge. The of the bridge, marine environment, recreation, environmental constraints, stakeholders and access constraints created many challenges for the project team and contractor. Once the challenges were overcome and the bridge was complete, it was clear that this $131,000,000 project will, for many years, provide exceptional service for the movement of people and goods in the West.
Stewardship of the Environment
OCTA's Measure M2 Environmental Mitigation Program
Orange County Transportation Authority

U.S. Fish and Wildlife Service

California Department of Fish and Wildlife

Environmental Coalition
OCTA's Measure M2 Environmental Mitigation Program
Orange County Transportation Authority's (OCTA) Measure M2 Environmental Mitigation Program allocates funds to acquire land and fund habitat restoration projects in exchange for streamlined biological permits for 13 freeway improvement projects. The conservation properties, or preserves, are purchased and permanently protected as open space. Funded restoration projects restore open space lands to their native habitat and include removing invasive plant species. To date, OCTA has acquired 1,300 acres of preserves and funded 11 restoration projects (350 acres) throughout Orange County. The mitigation program has provided an opportunity for local and regional stewardship that benefits critical habitats and native species. With early support from regulatory and permitting agencies, as well as engagement with the public, OCTA finalized the M2 Natural Community Conservation Plan/Habitat Conservation Plan along with an environmental impact report/statement in November 2016 by integrating the preserves and restoration projects in exchange for the streamlined approval process.
Transportation Related Facilities
San Diego International Airport Rental Car Center
San Diego County Regional Airport Authority

Austin-Sundt

Kimley-Horn and Associates, Inc.

Demattei Wong Architecture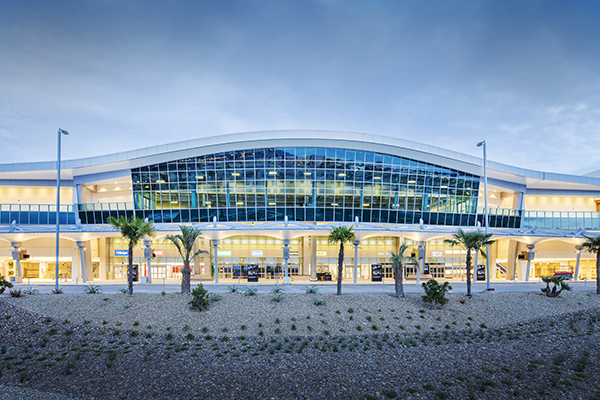 San Diego International Airport Rental Car Center
The new San Diego International Airport Rental Car Center houses rental car companies, including national brands, as well as local, independent and small business rental car companies in one location. The center is designed to enhance the customer experience. The airport-branded shuttle bus system brings rental car customers to and from the airport terminals on an on-airport roadway that bypasses busy city streets. The center is aesthetically pleasing. It features stunning architecture and purposeful, yet playful public art that creates a uniquely San Diego experience that welcomes visitors to the region. The project's construction was also good for the local economy. Of the total $316 million cost, more than $186 million in construction contracts were awarded to local businesses, with $70 million of that going to small businesses. The project generated about 4,600 jobs, and no local taxes were used to build or operate the center. Construction was completely funded by the Airport Authority using customer facility charges, and the facility's sustainable design earned it Leadership in Energy and Environmental Design (LEED) Gold certification from the U.S. Green Building Council. The Rental Car Center at San Diego International Airport is a true model for the airport industry. It sets the standard for customer service, intelligent design, environmental sustainability and efficiency. The project was within budget and opened on schedule in January 2016.
Transportation System Operations Improvements
Yellow Pedestrian Border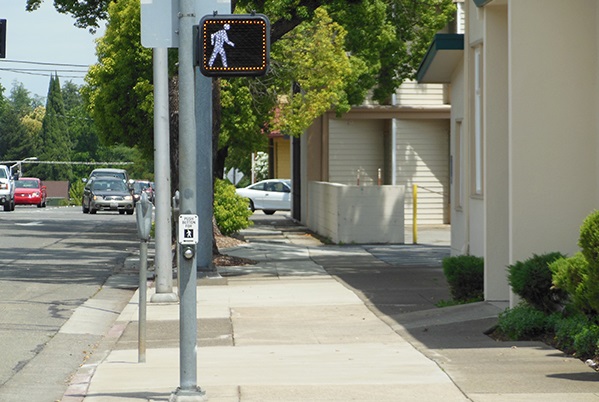 Yellow Pedestrian Border
At thousands of signalized intersections throughout the country, a potential for conflict between pedestrians using a crosswalk and turning vehicles exists when the two moves happen together. This type of encounter occurs when waiting pedestrians go unnoticed by motorists because they are standing off to the side and out of the direct line of sight. Supplementing a standard pedestrian signal head module with an actuated yellow LED border provides the ability to advise both vehicular and pedestrian traffic that the signal has received a call to serve a specific crosswalk. The Yellow Pedestrian Border, or YPB, has been studied at five intersections in the city of Redding as part of Federal Highway Administration Experiment 4(09)-13(E). The YPB was found to be a positive enhancement at signalized intersections, providing useful information to both vehicular traffic and pedestrians. Before and after treatment results for the five intersections showed an overall reduction in conflicts, crossing violations, and repeated pedestrian button pushes. Most importantly, the yellow border is most noticeable to motorists during low light and inclement weather conditions when pedestrians are difficult to see and the potential for conflict is most serious.
Traveler and Worker Safety
Cable Barrier Safety Project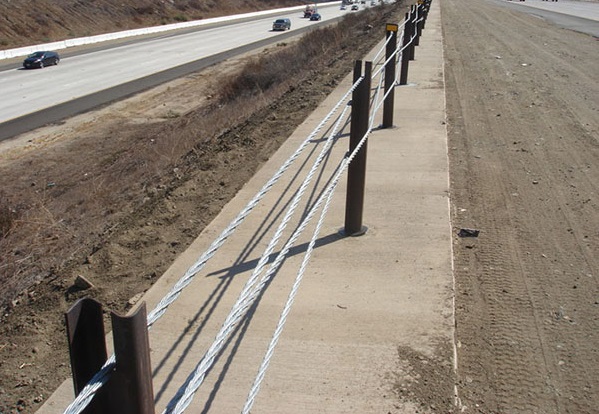 Cable Barrier Safety Project
The Interstate 15 High Tension Cable Barrier (HTCB) System Safety Project was constructed on a stretch of I-5 that is a divided eight-lane freeway and is a heavily traveled commuter route that provides access to growing residential communities to the north. This corridor has a rural setting with rolling hillsides and steep slope embankments along the median and outside shoulders. To reduce the frequency and severity of incidents where vehicles leave the traveled way, District 11 installed its first four-strand HTCB systems in the median and along the outside shoulders. The HTCB systems were stained a brown to blend in with the rural setting of this corridor, and a brown-colored concrete vegetation barrier was constructed under the HTCB systems.
Community Enhancement
Healdsburg Bridge over the Russian River
Omni Means, Ltd. (A GHD Company)

City of Healdsburg

Cornerstone Structural Engineering Group
Healdsburg Bridge over the Russian River
The Healdsburg Avenue Bridge over the Russian River project consisted of rehabilitating and seismically retrofitting a historic two-span steel Parker truss bridge in Sonoma County. Constructed in 1921, the bridge is listed on the National Register of Historic Places and holds a special place with the local community. After nearly a century of service, the existing bridge was plagued with several structural and functional issues and complete replacement was initially considered. Through public outreach, it became apparent that the community strongly desired to rehabilitate the bridge in place as a vehicular bridge, even when presented with options of repurposing it as a pedestrian/bicycle bridge alongside a new modern concrete bridge. After hearing the strong public feedback, the city and design team proceeded to preserve, rehabilitate, and seismically retrofit the existing bridge in place. Special design features were required to restore historic elements while strengthening and seismically retrofitting truss members, maintaining pedestrian and bicycle access critical to the local economy, and improving public health and safety during and after the project. Through a collaborative effort with project stakeholders, including local community members, Caltrans, the Federal Highway Administration and the State Historic Preservation Office, the city and its design team successfully delivered the desired project on schedule and within budget.
Maintenance – Operations or Equipment
Campo Creek Bridge (Replace)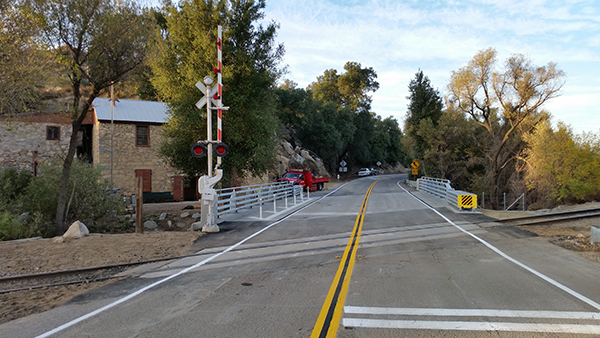 Campo Creek Bridge (Replace)
The Campo Creek Emergency Bridge Replacement Project is located on State Route 94, in San Diego County, about 30 miles east of San Diego and 1-1/4 miles north of the United States/Mexico Border. A Director's Order was initiated to replace the bridge and ensure the safety and reliability of the principal route in this rural area and the only link to the international border at Tecate, Mexico. The original bridge was a three-span structure constructed in 1942 with a concrete deck on timber stringers and supported by spread footings. Caltrans Structures Maintenance & Investigation engineers recommended immediate replacement of the structure, due to extensive deterioration of the timber stringers and concrete bridge deck, rendering the bridge structurally deficient and in threat of collapse. Water infiltrated through deck cracks on and excessive scour caused the structure to be temporary supported with falsework bents. The bridge replacement was a 58-foot single-span structure over Campo Creek. Accelerated bridge construction methods were used to minimize construction time impacts. Prefabricated bridge deck eliminated the need for falsework, and although this is a small bridge, there were many restrictions the project team had to overcome. They had to be extremely resourceful and innovative to deliver the project within the environmental constraints and community impacts. Caltrans worked closely with all stakeholders to complete the new bridge and reopened the highway in less than 10 weeks.
Highway as a Main Street
Port Access Improvement: Tenth Avenue Terminal
Caltrans District 11

San Diego Association of Governments

Quality Infrastructure Corporation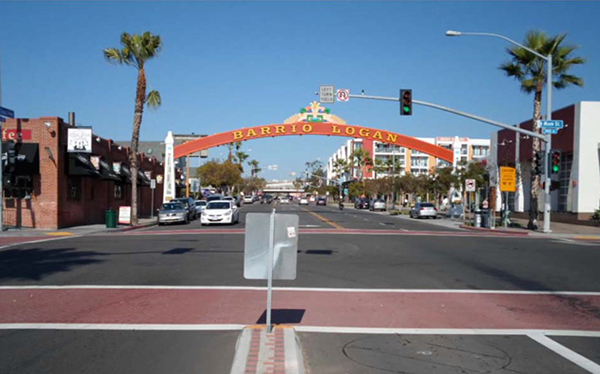 Port Access Improvement: Tenth Avenue Terminal
Caltrans collaborated with the community and multiple agencies to integrate an innovative, "context sensitive" and economical solution to deter truck traffic from Cesar E. Chavez Parkway. In addition to operational improvements, a gateway sign, upgraded decorative sidewalks and crosswalks, and landscaping were added along Cesar E. Chavez Parkway and Harbor Drive, developing a parkway concept. The project will improve air quality, reduce noise, and bring safety benefits to Barrio Logan, an "environmental justice" community. The resulting well-defined truck route from Tenth Avenue Marine Terminal to and from the freeway network minimizes negative effects on the community, improves traffic circulation in Barrio Logan and improves the overall quality of life in the neighborhood.
Transportation Innovations to Improve Mobility Across California
Flying Wedge Bicycle Pavement Marking
Caltrans District 2

Shasta Wheelmen

Shasta Living Streets
Flying Wedge Bicycle Pavement Marking
One of the challenges for bicyclists traveling along California's roadways is identifying hazards that can pop a tire or cause a wreck. Drainage inlets, recessed utility box lids, and ground-in rumble strips are common obstacles a cyclist may encounter when riding on a paved highway shoulder. These features are often difficult to see due to shadows, low-light conditions, or the angle of the sun is such that it's shining in the rider's eyes. Rumble strips can be hard to distinguish because the depressions tend to blend with the surrounding pavement. These situations create unexpected surprises for cyclists who unknowingly run over them. An easy solution that will help cyclists and improve safety is delineating a path around these hidden obstacles. That is the purpose behind the "Flying Wedge" pavement marking used on State Route 44 between the city of Redding and Palo Cedro. The triangular wedge detail is formed with six-inch white stripes to form a modest taper, starting at the highway edgeline or the outside edge of pavement, to the front edge of the object to be avoided. A perpendicular stripe is placed immediately in front of the hazard to highlight exactly where it is located. This simple striping detail safely guides bicycles away from the hazard, eliminating any guesswork on the part of the rider. The result is improved safety and a better riding experience for the cyclist.
Public Awareness Campaigns
511 Carpool Program
Metropolitan Transportation Commission

Bay Area Air Quality Management District

WSP/Parsons Brinkerhoff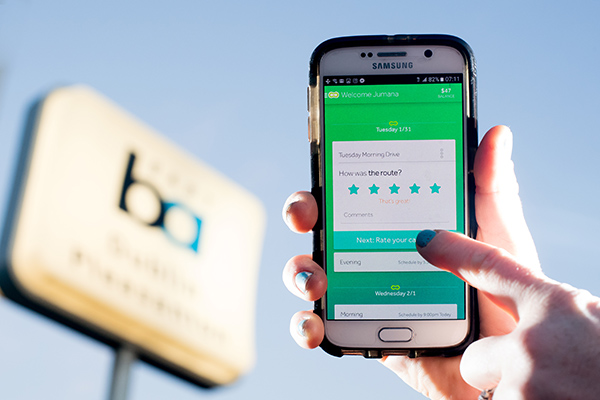 511 Carpool Program
The Metropolitan Transportation Commission (MTC) manages the 511 Carpool Program, which encourages carpooling and vanpooling to shift travel from single occupant vehicles. A key aspect of the 511 Carpool Program is conducting direct-to-consumer marketing to build awareness of carpooling, increase registrations in its carpool matching database, and increase carpooling trips. In 2014, MTC established formal, first-of-its-kind, no-cost partnerships with private sector carpool matching apps to encourage their proliferation and use. These efforts have already increased use of these apps and grown their databases so that they can enable consistent, mid-to-long-distance commute carpooling from origins and destinations outside the urban core. The program developed unique campaigns to build public awareness and increase carpooling behavior, including short-term incentives that award Scoop carpool app users $5 - $500 for scheduling a ride on a randomly selected day, an outreach blitz at an Oakland A's game, wrapped cars promoting carpooling, sarcastic messaging on billboards, and Pandora ads. It has also used targeted emails, phone calls and in-person outreach at employers, coffee shops, and other retail locations to inform people of their carpool options. Recently, the 511 Carpool Program partnered with BART and Scoop to develop a "Carpool to BART" program, where BART provides guaranteed parking spaces until 10 a.m. for people carpooling to Dublin-Pleasanton BART station with the Scoop app. As a result of these and other campaigns, the 511 Carpool Program is responsible for more than 40,000 carpool trips since January 2015.