Caltrans Workers Memorial and Worker Safety
Caltrans Workers Memorial and Worker Safety
Since 1921, 189 California Department of Transportation employees have been killed in the line of duty. One of the biggest hazards is from motorists who do not exercise caution while driving where highway workers are present.
Each spring on statewide Workers Memorial Day, Caltrans honors these employees during a memorial tribute at the State Capitol and by placing any new names on a memorial plaque in the lobby of the Caltrans Headquarters building in Sacramento.
2019 Caltrans Statewide Workers Memorial Ceremony
Honoring Our Fallen Workers
Caltrans held its annual statewide Fallen Workers Memorial on April 25, 2019 on the west steps of the State Capitol. This year, we paid special tribute to William "Cas" Casdorph, District 11 Highway Maintenance Leadworker, who suffered fatal injuries after falling 60 feet off a transition ramp while working along State Route 163 in San Diego. The observance also highlighted safety awareness for employees in work zones, as well as the traveling public.
Past Memorials
Worker Safety
Caltrans is committed to providing safe and efficient work zones, both for the traveling public and employees working on the state highway system. The Mission, Vision, and Goals, for the Department place safety highest among its commitments.
"Every day, thousands of highway workers put their lives in danger just by going to work and serving the public... Californians can help keep our highways safe by slowing down in the 'work zone' and complying with the Move Over law."
The Department's safety goal is to achieve the best safety record in the nation. Help us accomplish this goal by learning more about Worker and Work Zone safety below.

California's Move Over Law: "Slow or Move Over for Workers, It's the Law." When you see amber flashing lights, move over to protect highway workers.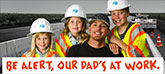 Be Work Zone Alert: The children of Caltrans highway workers remind drivers to "stay alert, our parents are at work" and keep our workers safe.

Slow for the Cone Zone: Tips to help you stay safe while traveling through maintenance and construction work zones.