NALB Resources
NALB Resources
NALB Links
County Map and Websites
Click on a county to go directly to their website.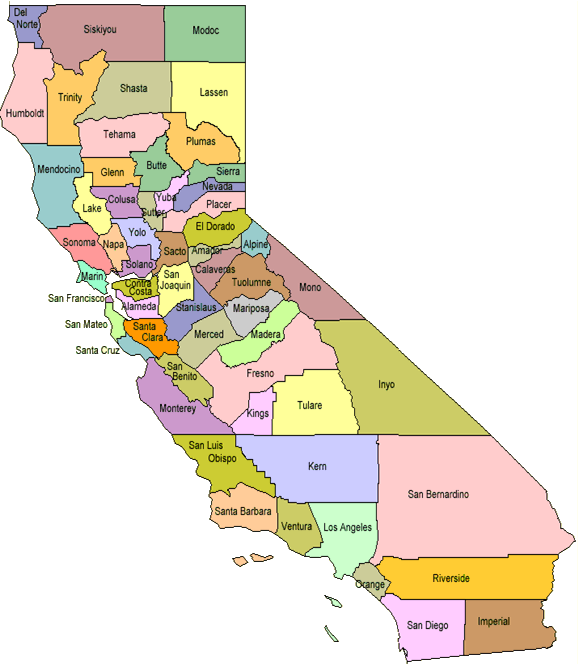 Educational Sources
American Indian Science & Engineering Society - Since 1977, AISES, the American Indian Science and Engineering Society, has worked to substantially increase American Indian/Alaska Native representation in science, technology, engineering and math (STEM) fields - as students, professionals, mentors, and leaders. AISES employs a "full circle of support" model that begins with pre-college programs, progresses into collegiate life, and then into the professional years of members into retirement.
Bibliographies of Northern and Central California Indians - The California Indian Library Collections has collected, duplicated, assembled, and shipped more than 11,000 textual documents, nearly 25,000 photographs, and over 3,400 audio tapes. There is reward and satisfaction in having prepared over 17,000 manuscript pages for finding guides to the collections and publishing these in 44 volumes. Now a Native Californian in a remote area of northern California may find a photograph of his or her grandmother or hear, for the first time, his grandfather sing or tell a story. Researchers in rural areas are using the collections for legal defense as well as research material for documentation of an important period in California history. The California Indian Library Collections (CILC) was funded from 1988 through 1994 by the federal Library Services and Construction Act, administered by the California State Library in Sacramento. CILC is now located at the Native American Studies Library, University of California, Berkeley.
UCLA Native American Indian Studies Center - The American Indian Studies Center is an Organized Research Unit (ORU), and as such, its mission is to promote research, education, and community service within an academic framework. As an ORU, the Center is headed by a Director who is a tenured member of the UCLA faculty. The Center's goals are accomplished by assisting campus departments with recruiting American Indian faculty and supporting research by faculty and students. The Center acts as a focal point for faculty, pre and post doctoral fellows, and students to conduct research on issues about Native Americans. Institute of American Cultures (IAC) grants, external grants, committees, and teaching bring faculty and students to the Center from a variety of departments. In addition, the AISC maintains a reference library, publishes books as well as the American Indian Culture and Research Journal, provides academic counseling and support to students, actively promotes student recruitment and retention, supports academic programs in American Indian Studies (AIS) and administers postdoctoral and predoctoral fellowships and research awards through the Institute of American Cultures.
Tribal Technical Assistance Program (TTAP) - The Local Technical Assistance Program (LTAP) and Tribal Technical Assistance Program (TTAP) are composed of a network of 58 Centers – one in every state, Puerto Rico and regional Centers serving tribal governments. The LTAP/TTAP Centers enable local counties, parishes, townships, cities and towns to improve their roads and bridges by supplying them with a variety of training programs, an information clearinghouse, new and existing technology updates, personalized technical assistance and newsletters.Through these core services, Centers provide access to training and information that may not have otherwise been accessible. Centers are able to provide local road departments with workforce development services; resources to enhance safety and security; solutions to environmental, congestion, capacity and other issues; technical publications; and training videos and materials.
Alliance of Tribal Tourism Advocates- The Alliance of Tribal Tourism Advocates was organized in 1993 by Tribal governments in South Dakota and chartered under the Rosebud Sioux Tribe as 501 © (3) nonprofit corporation. ATTA membership includes the nine tribes in South Dakota. The nine tribes in South Dakota are the Oceti Sakowin, or seven council fires of the Great Sioux Nation. ATTA, through its member tribes, provides the visitor a rich cultural authentic experience; while providing balanced tourism development and protecting our cultural resources/sites. We strongly believe that diverse tour packages and itineraries need to be woven into the fabric of mainstream South Dakota tourism marketing and promotion.
Native American Internet Community - NativeWeb is a project of many people. Our vision touches ancient teachings and modern technology. Our purpose: to provide a cyber-place for Earth's indigenous peoples. As access to the Web grows and indigenous peoples reach out through cyber-space, NativeWeb will grow also. Through NativeWeb, indigenous people (and peoples) become visible to each other and themselves and organize actions in a multitude of local, national, and international institutions. The shape of indigenous social action changes as wider audiences are created and especially as the means of creating audiences become the means by which audiences become actors. From Chiapas to Nunavut and from Samiland to Thailand, indigenous communities widen, coalesce, and interact as they work, communicate, and organize via the Internet.
Environmental Links
Advisory Council on Historic Preservation - The Advisory Council on Historic Preservation (ACHP) is an independent federal agency that promotes the preservation, enhancement, and productive use of our nation's historic resources, and advises the President and Congress on national historic preservation policy. The goal of the National Historic Preservation Act (NHPA), which established the ACHP in 1966, is to have federal agencies act as responsible stewards of our nation's resources when their actions affect historic properties. The ACHP is the only entity with the legal responsibility to encourage federal agencies to factor historic preservation into federal project requirements.
California Native American Heritage Commission - The Mission of the Native American Heritage Commission is to provide protection to Native American burials from vandalism and inadvert destruction, provide a procedure for the notification of most likely descendants regarding the discovery of Native American human remains and associated grave goods, bring legal action to prevent severe and irreparable damage to sacred shrines, ceremonial sites, sanctified cemeteries and place of worship on public property, and maintain an inventory of sacred places.
EcoJustice Network
FHWA Native American Coordination - The FHWA Tribal Transportation Planning Program delivers products and services that provide information, training, and technical assistance to the transportation professionals responsible for planning for the capital, operating, and maintenance needs on Tribal lands. On this website, you will find planning news, regulations, policies, training information, technical resources, and contact information. FHWA will frequently update this website with relevant information, guidance, case studies as well as links to other pertinent websites.
Institute for Tribal Environmental Professionals - ITEP - The Institute for Tribal Environmental Professionals (ITEP) was created to act as a catalyst among tribal governments, research and technical resources at Northern Arizona University (NAU), various federal, state and local governments, and the private sector, in support of environmental protection of Native American natural resources. ITEP was established at NAU in 1992, in cooperation with USEPA. ITEP accomplishes its mission through several programs.
Native Americans and the Environment -
US DOI Bureau of Land Management - The Bureau of Land Management (BLM) was established in 1946 through the consolidation of the General Land Office (created in 1812) and the U.S. Grazing Service (formed in 1934). The functions of the BLM are also addressed in the Federal Land Policy and Management Act of 1976 (FLPMA). (For more details, please see BLM and Its Predecessors ). To see a comprehensive list of legislation that BLM operates under, click here . And, to see videos describing the early history of BLM, click on "Fractured Land Patterns."
US DOI National Park Service American Indian Liaison Office - The American Indian Liaison Office (AILO) is a small office that was created in 1995, to improve relationships between American Indian tribes, Alaska Natives, Native Hawaiians and the National Park Service through consultation, outreach, technical assistance, education, and advisory services. The American Indian Liaison Office provides advice on Indian Self-Governance and Self Determination, environmental review, environmental justice, land restoration, free exercise of religion, sacred sites, and traditional cultural properties. The office assists in reconciling programs, policies, and regulations, with traditional uses of Service lands by American Indians, Alaska Natives, and Native Hawaiians.
US DOI National Archeological Database: NAGPRA Documents Native America - National NAGPRA maintains several online databases designed to provide access to information on a variety of NAGPRA-related topics. All of the databases have search capabilities that allow the user to locate specific information. The databases are updated regularly by National NAGPRA staff.
US DOI National Park Service National Register of Historic Places - National Park Service archeologists, architects, curators, historians, and other cultural resource professionals work in America's nearly 400 national parks to preserve, protect, and share the history of this land and its people.
US DOI National Park Service Tribal Preservation Program - The National Park Service (NPS) Tribal Preservation Program assists Indian tribes in preserving their historic properties and cultural traditions. The program originated in 1990, when Congress directed NPS to study and report on preservation funding needs. The findings of that report, the Keepers of the Treasures--Protecting Historic Properties and Cultural Traditions on Indian Lands, are the foundation of the Tribal Preservation Program. Based on that report, Congress has appropriated annual grants for tribal preservation.
US EPA American Indian Environmental Office - The EPA Tribal Portal was created as a gateway to EPA environmental information specifically related to tribal governments, such as environmental policies, practices and laws. Within EPA, the American Indian Environmental Office (AIEO) coordinates the Agency-wide effort to strengthen public health and environmental protection in Indian country, with a special emphasis on helping tribes administer their own environmental programs.
USGS Environmental Affairs - As a Federal agency with special expertise in the earth sciences, the U.S. Geological Survey (USGS) is required to evaluate, review, and prepare technical comments on environmental impact statements (EIS) and associated documents prepared by other Federal agencies. In addition, through its Environmental Affairs Program (EAP), the USGS has established policies to implement the National Environmental Policy Act (NEPA).
US EPA Region 9 Tribal - Through collaborative efforts across all program offices, EPA Region 9 will implement the 1984 American Indian Policy, with the goal of protecting and enhancing ecosystems, human health, and cultural resources in Indian Country. Region 9 will work to ensure that its trust responsibility to federally recognized tribes is carried out and will work with tribes on a government-to-government basis. Region 9 envisions a partnership and an "environmental presence" with every federally recognized tribe.
Department of Water Resources - Tribal Water Summit 2009 - The California Tribal Water Summit Planning Team, in partnership with the California Department of Water Resources (DWR), convened a statewide California Tribal Water Summit on November 4 and 5 at the Radisson Hotel in Sacramento. The Tribal Water Summit Planning Team consists of over 30 tribal leaders and members and staff, as well as representatives from state agencies, and together we are designing and hosting the Summit. The theme of the Summit is "Protect Our Sacred Water." The Summit will provide an opportunity for the highest Tribal and State government officials to explore common interests, discuss policy issues, identify solutions, and promote dialogue among agencies and programs responsible for water resources management in California. A desired outcome is a "roadmap" with strategies for preserving Native water rights and providing for the sustainable management of California's sacred waters.
Federal Sources
Rural & Small Community Transportation Planning
Public Lands Highways
Tribal Transit Provisions of SAFETEA-LU FAQ
Funding
New Funding Opportunities (Deadline 5/25)

Please share this time-sensitive announcement with bicycle and pedestrian contacts at MPOs, local governments, tribal governments, and State agencies searching to fund bicycle and pedestrian planning, implementation, and/or research. Many of the Discretionary Programs fund bicycle and pedestrian projects. http://www.fhwa.dot.gov/discretionary/memo2011.htm
The Transportation, Community, and System Preservation Program specifically seeks to improve relationships among transportation, community and system preservation, while encouraging private sector investments. http://www.fhwa.dot.gov/discretionary/tcsp2011info.htm
Eligible use of funds: http://www.fhwa.dot.gov/discretionary/tcsp2011selc.htm
1. Improve the efficiency of the transportation system of the United States.
2. Reduce the impacts of transportation on the environment.
3. Reduce the need for costly future investments in public infrastructure.
4. Provide efficient access to jobs, services, and centers of trade.
5. Examine community development patterns and identify strategies to encourage private sector development.
FHWA 2011 Solicitation (http://www.fhwa.dot.gov/discretionary/memo2011.htm) for ALL Discretionary Programs including:

Ferry Boat
Innovative Bridge Research and Deployment
National Scenic Byways
Public Lands Highways
Rail Highway Crossing Hazard Elimination in High Speed Rail Corridors
Transportation, Community, and System Preservation
Truck Parking Facilities

All applications can be found athttp://www.fhwa.dot.gov/discretionary/(Click on the program name to retrieve the application).
Federal Highway Administration: Tribal Transportation Funding Resources
Office of Traffic Safety, California

Grants - General information
Grants Program Manual
Click it or Ticket, Sobriety Checkpoint Mini-grants
E-Grants

Caltrans - Community Based, and Environmental Justice Transportation Planning Grants
Health and Human Services
California Department of Health Service
California Department of Housing and Community Development Indian Assistance Program
California Rural Indian Health Board, Inc.
Native American Economic Development
History
Laws
News
Publications
State Sources
California Bay Delta Authority Tribal Home Page
Tribal
Contact
For more information, contact the Native American Liaison Branch in the Office of State Planning.