6. Heavy-Duty Trucks
6. Heavy-Duty Trucks
Heavy-duty trucks include Cargo Bodies larger than 9-ft., Dump Bodies, Utility Bodies with Personnel Hoist, and other truck vehicles as listed in the Caltrans Equipment Catalog. Trucks make up approximately 14% of the Caltrans equipment fleet.
6.1 Color
Truck cab, hood, and fenders shall be factory standard fleet white color. Painted portions of truck chassis and underbody components shall be black in the manufacturer's paint and finish. Other components may be finished according to the factory standard finish. Bodies and accessories above the frame and behind the cab shall be white.
6.2 Striping
Truck striping shall include a 5" or 6" orange stripe of the material specified in 1.3.A. The body striping shall consist of a continuous level horizontal stripe from front of cab to back of body. The level and width of the stripe shall be determined by the body rail as shown in their respective drawings, included in 4.7. Orange White Diagonal Reflective Striping specified in 1.3.B shall be applied across the rear of the vehicle.
6.3 Door Decals
Front side doors shall have a 'CT' decal specified in 1.4.A and sized to fit the available space, preferably centered on the orange stripe. A black 'Caltrans' script decal specified in 1.4.B shall be affixed below the 'CT' decal.
6.4 'Caltrans' Script Decals
A reflective orange 'Caltrans' script decal specified in 1.4.D shall be affixed to the rear of the vehicle near the left side.
6.5 'Cone Zone' Decals
All trucks shall have the "Slow for the Cone Zone" decal specified in 1.4.E affixed to the rear of the vehicle in the lower, left corner.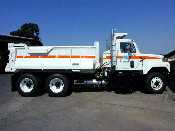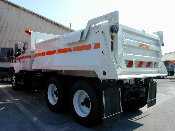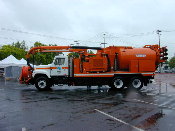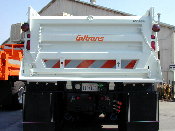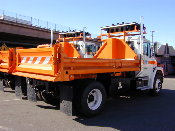 Note: Since March 2002 cab and bodies are all white with striping and decals as noted in drawings. White truck bodies have horizontal orange stripes. Refer to drawings for most recent updates.
6.6 Striping and Decal Drawings
When available, drawings take precedence over text and photos. Contact Engineering Design at (916) 227-9673 for most recent drawing updates or for full size drawings.