Better Historic Preservation through Tribal Engagement and Collaboration
Better Historic Preservation through Tribal Engagement and Collaboration
Native Voices are Key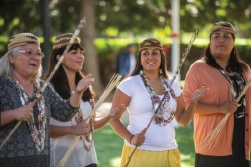 Tribal input and engagement are key parts of the cultural resources studies conducted for transportation projects. Caltrans seeks to ensure that the unique knowledge and expertise of tribal people are integrated into the process.
Fostering Trust Relationships
It is important to discuss the concerns, priorities, and issues of our tribal partners. Early coordination with interested tribal officials and representatives helps cultivate better trust and mutual understanding toward the preservation of tribal heritage resources.
Balancing Public Transportation Needs and Resource Management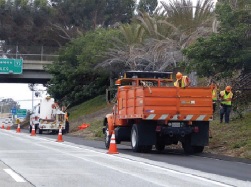 Caltrans is responsible for the safety and mobility of the traveling public. Some tribal heritage resources—archaeological sites, traditional gathering areas, and sacred/ceremonial sites—are vulnerable to potential harm during Caltrans' construction or maintenance projects.
Working Together to Preserve California's Tribal Heritage
Caltrans welcomes and encourages tribal input and participation in our project planning and development processes. Together, through early coordination and collaboration, Caltrans and California tribes can better plan and strategize the management of important tribal resources to promote the preservation of California's rich tribal heritage.
Protecting Tribal Cultural Heritage in the Context of Public Transportation Development
Tribal heritage resources, some non-renewable and disappearing, are essential to the survival of thriving tribal communities.
Caltrans, in carrying out its mission to address the safety and mobility of the traveling public, also seeks to protect or minimize effects to tribal heritage resources.
This requires early coordination and collaboration with our tribal partners.
Contact Us
Caltrans welcomes opportunities to meet with tribal councils, tribal preservation committees, traditional tribal leaders/elders, Tribal Historic Preservation Officers (THPOs), and tribal consortia. The Caltrans Native American Cultural Studies Branch is available to assist tribes with questions or to schedule meetings.
Caltrans Native American Cultural Studies Branch
Sarah Allred, Branch Chief
nacs.info@dot.ca.gov
1120 N. Street, Sacramento, CA 95814
Caltrans Offices Statewide
Caltrans has a headquarters office in Sacramento and 12 District Offices throughout the state.
Learn more about Caltrans and your local District office.