Roadway Management Toolbox: Organic Mulch
Roadway Management Toolbox: Organic Mulch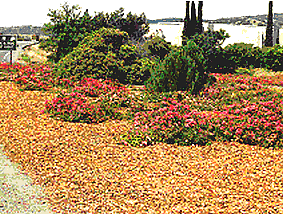 What is This Treatment?
Organic mulch is generally a plant by-product such as bark, wood chips, or a recycled material such as chipped construction waste applied as a loose material to slopes and flat areas within the right of way.
When to Use This Design Concept?
Organic mulch for vegetation control may be used in all areas but, is a temporary solution requiring periodic reapplication every 2-5 years. This treatment should only be used where a roadside planting or another highway improvement project will immediately follow a highway construction project or on highway planting projects where plant masses will fill in within three to four years.
Benefits
Organic mulch may reduce maintenance effort by temporarily reducing the need for mechanical or chemical weed control.
Mulch also helps retain soil moisture, reduces irrigation requirements and can enhance soil structure over time.
Wood chips and shredded bark provide a finished appearance to planting areas and slopes.
Organic mulch provides erosion control and in some cases be substituted for erosion control seeding to provide temporary slope stabilization.
Mulching is a constructive use of recycled materials.
Limitations
The use of mulch on slopes greater than 3:1 usually requires additional treatment such as a tackafier Long fibrous or shredded bark, not chips, should be used on slopes.
Do not use organic mulch in drainages or areas with concentrated flows.
Mulch is a temporary solution. A 4" mulch depth must be reapplied every 2-3 years (3" 3-4 years).
Wood chips and bark are susceptible to burning and should not be used without curb or inert material at the road's edge.
Specification(s) and Details(s)
2010 Standard Specification section 20-7.02D(6) Mulch (Establishes particle size and quality requirements)
Specify the mulch type (tree bark, wood chips, shredded bark, etc.) on the plans.
No detail necessary - show mulch areas and mulch depth on project plans.
Cost
$40/ yd3 installed. Varies based on quantity, slope access and type of mulch.
BEES Item 202011 MULCH
Updated May 24, 2012