Roadside Management Toolbox: Patterned Concrete
Roadside Management Toolbox: Patterned Concrete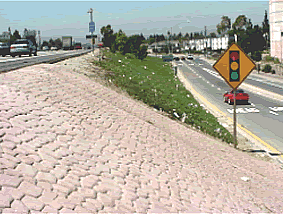 What is This Treatment
Patterned (or stamped) concrete is standard concrete pavement that is colored and/or stained and imprinted with a pattern prior to curing. The mix used for patterned concrete shall conform to 2010 Caltrans Standard Specification section 90-2, Minor Concrete.
When to Use This Design Concept ?
Best uses for patterned concrete pavement are in urban and suburban areas at high visibility locations including road edges, median strips and slope paving. Concrete is a good choice when longevity, visual quality and context adaptability outweigh initial cost considerations.
Benefits
When designed and constructed correctly, patterned concrete has one of the lowest life cycle costs.
The designer may choose from a wide variety of colors and patterns to match existing community elements.
Integral color and surface treatments may be combined to add variation and depth.
Patterned concrete is better suited to slopes than stamped asphalt.
According to FHWA Report No. FHWA/TX-04/0-4162-2, Dynamic Response of Guardrail Systems Encased in Pavement Mow Strips (PDF) , concrete paving areas under guard railing that include grout filled leave-outs at posts are considered to have a high probablilty of passing NCHRP Report 350
Limitations:
Repairs are difficult to match to original color and pattern
Construction is more labor intensive and expensive than stamped asphalt.
Placement under guardrail requires a "leave-out" section the post. See Vegetation Control (Minor Concrete) for more information.
Specifications and Details
2010 Standard Specification section 90-2, Minor Concrete
2010 Nonstandard Special Provision (NSSP) - Patterned Concrete - Under Development
2010 Standard Specification section 73 Concrete Curbs and Sidewalks
2006 Nonstandard Special Provision (NSSP) - Patterned Concrete (DOC)
Nonstandard Details Patterened Concrete 1, and Patterned Concrete 2
Costs
$100 - $125/yd2 Slope work and traffic control requirements require unit price adjustments.
Updated May 24, 2012