Roadside Management Toolbox: Asphalt Composite Vegetation Control
Roadside Management Toolbox: Asphalt Composite Vegetation Control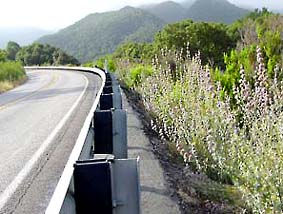 What is This Treatment?
Asphalt Composite is a single step vegetation control treatment that consists of cold, spray applied, bentonite asphalt emulsion, reinforced with 24 inch long intertwined fiberglass strands. The resulting solid structure eliminates the joints, seams and cracks which commonly allow weed penetration in other systems. This treatment provides a solid barrier durable enough to withstand machine traffic, yet flexible enough to move during guardrail impact. This treatment naturally adheres to asphalt, concrete, wood and metal. A penetrant coat of dilute emulsion and water is applied to adhere to loose soils, and provide extra erosion protection at the leading edges. Site preparation consists of general grubbing, compaction and application of pre-emergent to provide a relatively smooth surface to place the product.
When to Use This Vegetation Control?
The most advantageous use of seamless asphalt composite is under existing guardrails, or in new guardrail projects where placing Minor Concrete Vegetation Control is not feasible or too costly. Seamless asphalt composites rapid application time provides advantages in situations where lane closure time is critical. Asphalt composite can also be used to strengthen stormwater drainage structures.
Benefits:
Seamless construction eliminates openings that typically allow vegetation penetration.
Quick, single step, high rate application allows minimal lane closure period.
Materials pass NSF ASTM E 729 toxicity tests for animals and fishes - safe for use by workers and near water runoff areas.
Constructed correctly, life cycle costs are low.
Sustainable system that can be reinforced without removal.
Easily installed by using simple work practice and equipment.
Easily repaired from pre-manufactured containers of composite.
Limitations:
Once dry, the composite can an withstand freezing climate environments, but the system needs to be planned for application during temperatures above 50 degrees F.
Estimated Costs:
$52/ yd2
BEES Item(s) - no standard bid item.
Updated March 28, 2017