District: 7 — (Los Angeles and Ventura counties)
Contact: Michael Comeaux
Phone: (213) 500-5840
Now Streaming: Watch Caltrans' Progress to Open I-10 by Tuesday
Los Angeles — The California Department of Transportation (Caltrans) remains on track to open Interstate 10 between Alameda Street and the East Los Angeles interchange by Tuesday, Nov. 21, weeks ahead of schedule and reducing the disruption to Los Angeles commuters by three to five weeks. Six newly installed video cameras are providing live coverage of construction operations 24/7 at fixthe10.ca.gov.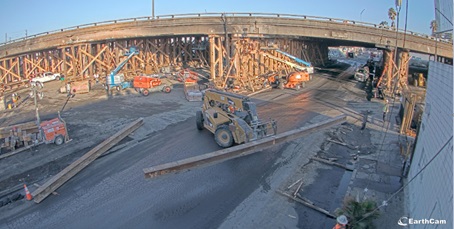 Construction Update:
More than 250 people are working at the jobsite on 12-hour shifts, 24 hours a day, 7 days a week.
To shore up damaged pillars, crews are placing additional wood posts and steel beams, and brought in extra 100-ton hydraulic jacks for the shoring operation.
While I-10 is closed between Alameda Street and the East Los Angeles interchange, workers are repairing concrete in freeway lanes.
Security is providing around-the-clock coverage at the jobsite to minimize the economic impact on nearby businesses so they, their employees, customers, and suppliers can safely continue their activities.
When I-10 reopens, all five lanes in each direction will be open for traffic while the westbound I-10 Alameda Street off-ramp will remain closed for use as a staging area.
For more about this emergency project, live construction video and tips for motorists, visit fixthe10.ca.gov.
Security Paving Co. of Westlake Village and Griffith Co. of Brea are the contractors working on repairs. Caltrans recommends motorists avoid the closure area or take alternate routes, plan for closures by checking the Caltrans QuickMap, or taking public transit to their destination.