Trophy Case
District 3's Camp Fire coverage is a winner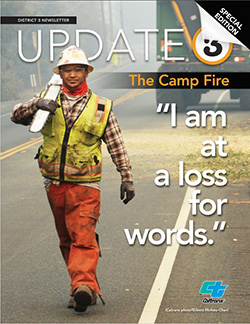 District 3's Public Affairs staff this summer received a prestigious national award. Its special-edition Update 3 newsletter about the Camp Fire late last year was judged to be the best internal publication among transportation departments by the American Association of State Highway Transportation Officials.
To commemorate the triumph, the AASHTO Committee on Transportation Communications presented the District 3 office with a plaque that is pictured within this article.
"California's most destructive and deadliest wildfire tested the mettle of Caltrans District 3 employees personally and professionally," the district's entry form for the competition reads. "Nearly two dozen employees lost their homes in the Camp Fire while construction and maintenance forces sprung into action to staff road closures and repair widespread damage to state infrastructure.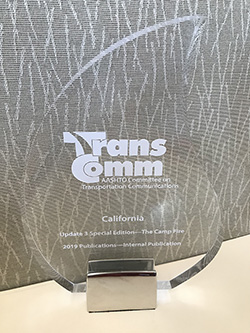 "District 3 created a special edition of its Update 3 newsletter devoted to the Camp Fire, providing some 2,000 employees with vital information about the District 3 response, tales and photos of unsung acts of courage and compassion, heartbreaking stories of personal losses, and valuable information about resources for the dozens of employees forced to evacuate.
"District 3 PIO Gilbert Mohtes-Chan and Graphic Designer Ngan Bui took the lead on the project. The PIO/Graphics team involved in the special edition included PIO Chief Deanna Shoopman, PIOs Raquel Borrayo, Steve Nelson and Dennis Keaton, Customer Service Liaisons Diana Conger and Stevey Sparks, Graphic Designers Meredith Slack and Rainier Arguelles and Trina Kelly of Reprographics."
"Everyone's contribution was beyond valuable," Shoopman said upon hearing of the victory. "It's a heartfelt moment in more ways than one."
According to AASHTO, "the contest is considered the premier competition in the transportation industry and the awards have become a standard of public relations excellence among state departments of transportation. Winners demonstrate the very best examples of innovation, planning, production, execution, and evaluation of results and budget."
On its website, transportation.org, AASHTO describes itself as "a nonprofit, nonpartisan association representing highway and transportation departments in the 50 states, the District of Columbia, and Puerto Rico. It represents all transportation modes, including air, highways, public transportation, active transportation, rail, and water. Its primary goal is to foster the development, operation, and maintenance of an integrated national transportation system."