Director's Corner
Director's Corner
Caltrans comes through in an unprecedented time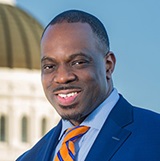 Hello, team Caltrans.
We have experienced a wildfire season in 2020 like no other before it. Five of the largest six blazes in the recorded history of California ignited this summer, burning millions of acres, destroying thousands of structures and claiming more than 30 lives.
In this special edition of the CT News, we highlight how Caltrans districts and employees in fire-stricken areas rose to the challenge of keeping the public safe during these crises.
Our brave and diligent workers made sure that roads were cleared, repaired and reopened as soon as they were safe to traverse. Residents forced to evacuate from their homes and emergency responders such as firefighters counted on us to do our work as quickly and effectively as possible.
We worked closely with CalFire, CHP and other state and local agencies to keep travelers and others apprised of the latest developments through media outlets, social media and changeable message signs. Many of our employees went above and beyond their required duties by helping wildfire-affected citizens in ways that are not reported on TV, on radio or in newspapers, but that reflect well on our department and speak to our humanity.
In a testament to that commitment, a handful of Caltrans employees continued working and serving the public even while they and their families were being evacuated from their own home.
Our work during this wildfire season is far from over, but I wanted to take this opportunity to thank you. Together, as Californians for all, we are strong and we will get through this.