Director's Corner
Director's Corner
Caltrans answered the call of the quakes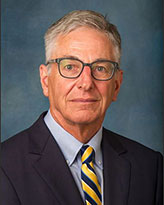 Hello to my new Caltrans colleagues. I am proud to have been designated by Governor Gavin Newsom to serve as the Acting Director of Caltrans.
The length of my time here is not set, but I do know it's a priority of Governor Newsom and new CalSTA Secretary David Kim to find the best match to lead Caltrans into the future. Until then, my job is to enable you to continue your important work.
Your professionalism and competence were on ample display during the Ridgecrest-area earthquakes earlier this month. I saw firsthand how impressively this organization responds to major events.
At the time, we did not know how extensively the 6.4 magnitude and 7.1 magnitude quakes damaged our infrastructure, but Caltrans' immediate and effective response, assessment and recovery were everything the state has come to expect from the department. In the hours after the quakes struck, Caltrans cleared rock slides and initiated emergency road repairs to get the roadway open quickly to the public, and soon delivered permanent repairs to State Route 178.
I know this kind of commitment is typical for Caltrans even when the media spotlight isn't as intense. Thank you, everyone, for your public service. Let's all continue to do our best to make California's transportation system safe, efficient and reliable.
Bob Franzoia
Acting Director, Caltrans