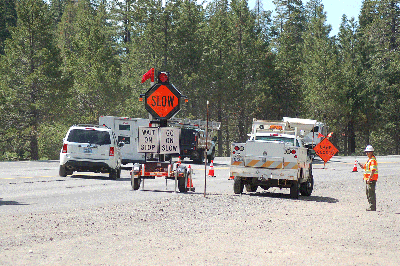 By Erin Gallup von Tersch
Caltrans Public Information Officer
Controlling traffic through highway work zones is one of the most important – and hazardous – jobs in construction and maintenance, according to the National Safety Council.
Retired Caltrans Los Flores Maintenance Station Supervisor Henry Harris said flaggers stand in a highway traffic lane, usually in the heat of the summer construction season, for hours.
"Drivers don't pay attention," said Harris. "They can hit you if you're not paying attention. I've had to jump out of the way to avoid being hit."
As California's, and the nation's, half-a-century-old highway infrastructure ages, agencies like Caltrans are focusing on rebuilding and improving existing roadways. At Caltrans, we call it the "fix-it-first" approach.
This means Caltrans employees and contractors are doing more roadwork on highways that are open to traffic. Meanwhile, traffic counts climb, congestion grows and drivers become more impatient.
So Caltrans has been researching different ways to increase highway worker safety with training, more visible clothing, and innovations such as the Automated Flagger Assistance Devices (AFAD).
Caltrans' Division of Maintenance is piloting mechanically operated traffic control devices that, like human flaggers, signal drivers to stop. AFADs increase worker safety and reduce employees' exposure to traffic. An employee can operate the flagging device safely from behind guardrail, but should be available to step in if the device malfunctions.
Caltrans Maintenance Safety Liaison Theresa Drum said districts 2, 3, 4, 7, and 10 have tested AFADs and had positive feedback.
"I like that it would take the hit before me," said Caltrans District 7 Maintenance Supervisor Rodolfo Camacho, who currently has two AFADs for his crew.
The National Safety Council requires AFADs to satisfy crashworthiness standards based on their weight, and they can only be used when there is one lane of approaching traffic to control.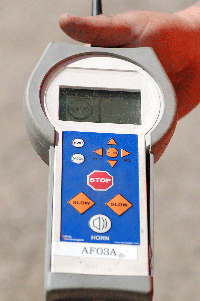 Caltrans Maintenance Division is testing two styles of AFADs. One is a Remotely Operated Safety Attendant (ROSA) with a stop and slow sign mounted on a pedestal with sounds and light alerts. The other automated flagger is a trailer with a slow and stop sign with a remotely controlled mechanical arm that raises and lowers a gate to direct traffic around work zones.
Caltrans has successfully piloted ROSA on flagging operations in Topanga Canyon and Mt. Shasta.
Harris said his Topanga Canyon Maintenance Crew in District 7 had two ROSAs on each end of a work zone, which really got the attention of motorists. "People don't read the signs and stop, but with the machines out there, they do because they've never seen them before."
He also said the 180-pound device was easy to move and lift because it had a dollie hand cart built into it.
Truckee North Maintenance Supervisor Charlie Harrington said he and his crew had positive things to say about the trailer-mounted AFAD.
"Since a flagger is not standing in the travel-way, there is less exposure to traffic and there is also less exposure to heat because we can stand in the shade," said Harrington. "They also make it easier to communicate with the public in the traffic queue."
Caltrans plans to continue to use both kinds of AFADs throughout this summer.
"The Division of Maintenance is always looking at how we can improve worker safety with technology, innovations, better procedures, and by working together," said Maintenance Safety Liaison Theresa Drum. "Controlling traffic through highway work zones is an important job, and if a device gets drivers' attention and improves worker safety, we will continue to research and pursue this technology. This is why our slogan in Maintenance is 'Safer, Smarter, Together.'"
"We loved it," said Harris. "Instead of standing two feet from traffic, flaggers are standing 30 feet from traffic, operating ROSA. It's not meant to take away our job, but keep the flagger out of traffic."