Rock Creek Pavement Project
Rock Creek Pavement Project
Project Information
The Rock Creek Pavement Rehabilitation project will restore the pavement to good condition, to extend the service life, improve ride quality and reduce maintenance costs. The project limits will be on U.S. Highway 395 in Mono County between 0.5 miles north of Lower Rock Creek Road to 1.3 miles south of the Crowley Lake Drive overcrossing.
Project Map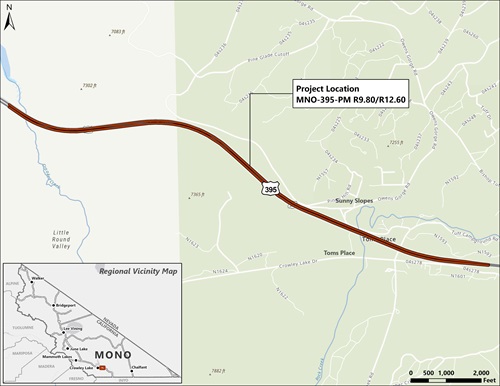 Draft Environmental Document
The Draft Environmental Document was made available Monday, December 6, 2021. A digital copy of the document is available on the California Environmental Quality Act Web Portal. A hard copy is available at the Caltrans District 9 main office in Bishop and the Crowley Lake Library.
Project Costs
The approximate total cost of the Rock Creek Pavement Rehabilitation project is $13.7 million.
Project Timeline
Project schedule (Subject to change):
December 2021: Draft Environmental Document Circulation
May 2023: Right of Way Certification
October 2023: Advertise
April 2024: Contract Approval
June 2024: Begin Construction
For More Information
Title VI
For Title VI information, click here: Caltrans Title VI