Keene Pavement Project
Keene Pavement Project
Project Purpose
This 11.3-mile project, currently in the design stage, will upgrade existing pavement, guardrail, bridge rail, median barrier, drainage, and lighting, and realign curves in four locations on State Route 58 from Bealville Road to approximately two miles west of the junction with State Route 202 in Tehachapi. Additionally, the project could potentially include a wildlife crossing between Bealville Road and Hart Flat Road.
Project Map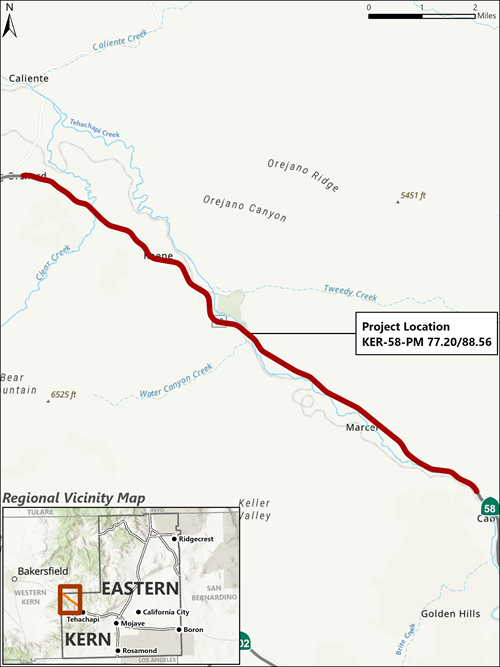 Project Documents
On March 28, 2022, Caltrans issued a new Draft Initial Study with Proposed Mitigated Negative Declaration. It is available for review here: Keene Pavement DED. Public Comments are no longer being accepted on the Draft Environmental Document.
Project Costs
The estimated cost of this project is $165.5 million.
Project Timeline
Project Schedule (subject to change):
March 2022: DED circulation
June 2022: PA&ED
October 2024: Ready to List
June 2025: Begin Construction
For More Information
Michael Lingberg, Caltrans District 9 Construction Public Information Officer (760) 920-0280
Title VI
For Title VI information, click here: Caltrans Title VI