Bishop Pavement Project
Bishop Pavement Project

Project Information
The Bishop Pavement project will:
Rehabilitate pavement on U.S. Highway 395 and State Route 168 West in Bishop.
Construct a multiuse path.
Upgrade drainage and replace sidewalk facilities.
Relocate traffic signal poles.
Upgrade and construct pedestrian facilities.
Replace Transportation Management Systems (TMS) count stations.
Project Map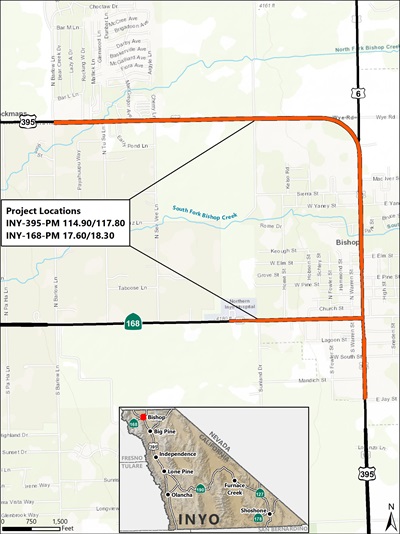 Project Public Meeting
A virtual public meeting was held July 13, 2021.
To view a recording of the public meeting, click here: Bishop Pavement Public Meeting.
Enter vU6JpxNM for the password.
Environmental Document
The Draft Environmental Document is now available for review. To obtain a copy:
Send a written letter to Caltrans Attn: Jill Tognazzini, 500 S. Main Street, Bishop CA, 93514
Project Purpose
The purpose of this project is to extend the life of the road by restoring it to a state of good repair, and upgrading chosen facilities to comply with Americans with Disabilities Act of 1990:
The pavement within the project limits is aging and will continue to deteriorate if left unchecked. Some pedestrian facilities and ADA ramps need to be upgraded to meet the current regulated standards. Drainage improvements will eliminate standing water.
Project Costs
The total cost of the Bishop Pavement Project is approximately $25 million.
$2.4 million is funded by Senate Bill 1.
$18.4 million comes from federal funds.
$4.1 million comes from state funds.
Project Timeline
Project Schedule (Subject to change):
August 2021: Project Approval and Environmental Document
June 2023: Design Complete
November 2023: Advertise Project
March 2024: Begin Construction
December 2024: Complete Construction
For More Information
Title VI
For Title VI information, click here: Caltrans Title VI