Six Bridges addendum
Six Bridges addendum
I-80 Six Bridges Project
Tennessee St Overcrossing closure begins Wed, Feb, 2, 2022
Georgia St Overcrossing closed to traveling public Jan. 20, 2022
SOLANO COUNTY – Caltrans Bay Area-District 4 is accelerating its work on the I-80 Six Bridges Project in Vallejo with the start of the dual bridge closure. Last month, Caltrans announced the closure of Georgia Street Overcrossing and Tennessee Street Overcrossing, which would complete the project two months earlier than the original timeline. It would also improve safety, reducing construction impacts and detour route improvements.
The Tennessee Street Overcrossing will be closed off to the traveling public on Wednesday, February 2, 2022.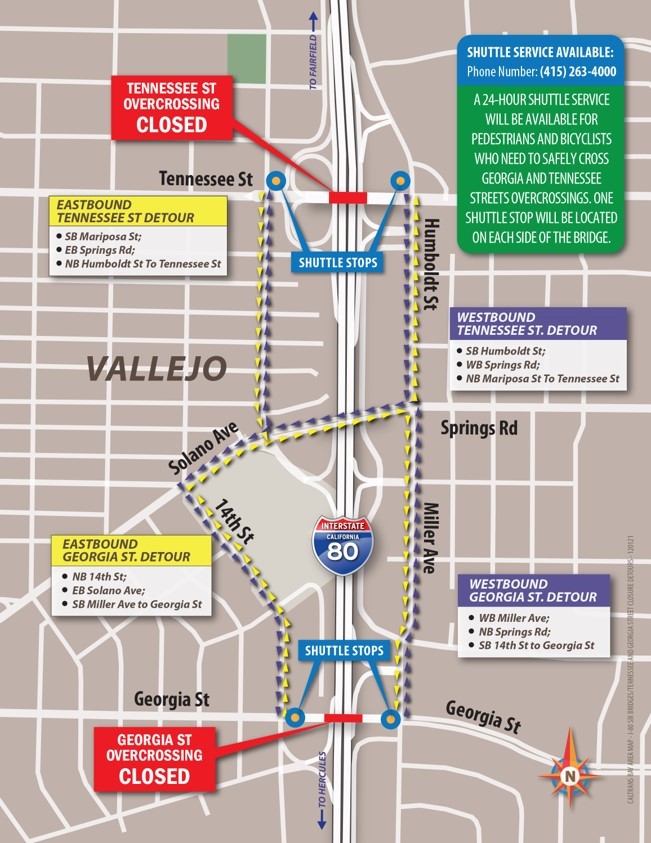 The Georgia Street Overcrossing was closed on January 20, 2022.
Georgia and Tennessee Streets Overcrossing Closed at Interstate 80
Beginning January 2022
To ensure worker and public safety, westbound and eastbound Georgia Street and Tennessee Street will be closed at Interstate 80 for 4 months in
January 2022 until April 2022. Caltrans will provide additional information as soon as specific dates are known for reopening each bridge.
Tennessee Bridge Detour Route:
Westbound Detour: Motorists traveling WB on Tennessee Street will need
to travel SB on Humboldt Street, turning right onto WB Springs
Road, turning a left onto NB Mariposa Street to Tennessee Street.
Eastbound Detour: Motorists traveling EB on Tennessee Street will need to travel SB on Mariposa Street, turning left onto EB Springs Road, turning right onto NB Humboldt Street back onto Tennessee Street.
Georgia Street Bridge Detour Route:
Westbound Detour: Motorists traveling westbound (WB) on Georgia St. will need to travel northbound(NB) on Miller Avenue, turning onto WB Springs Road,and turning left onto southbound (SB)14th Street to Georgia St.
Eastbound Detour: Motorists traveling eastbound (EB) on Georgia St. will need to turn left onto NB 14th Street to EB Springs Road to SB Miller Avenue back onto Georgia St. travel EB on Benicia Road to SB Lemon Street, take EB I-780/Curtola Parkway, exit-off ramp to Spruce Street, head WB Spruce Street to NB Laurel Street to Benicia Road.
SHUTTLE SERVICE AVAILABLE
A 24-hr shuttle service will be available for pedestrians and bicyclists who need to safely cross BOTH the Georgia Street and Tennessee Street Overcrossings. One shuttle stop will be located on each side of both bridges.
I-80 Overnight Full Highway Closures in Vallejo- Periodically as Needed
Caltrans may also schedule periodic full overnight closures of eastbound and westbound Interstate 80 in Vallejo. The Department will provide information on these I-80 overnight closures ahead of scheduled times and will also post messages on its Changeable Message Signs (CMS). As needed, I-80 overnight full highway closures will use the following detours;
WB/EB I-80 Detours:
Motorists traveling eastbound on I-80 will need to access I-780 to State Route 29 to State Route 37 back onto EB I-80. Motorists traveling westbound on I-80 will
need to take State Route 37 to State Route 29 to I-780 to WB I-80.You can also learn more about I-80 Six Bridges project on our Caltrans Bay Area webpage.
Project Webpage: i80sixbridgesvallejo.com
For 24/7 traffic updates, please visit 511.org: https://twitter.com/511SFBay
For real-time information, please visit Caltrans QuickMap: http://quickmap.dot.ca.gov
Or follow Caltrans on Twitter at: https://twitter.com/CaltransD4
#BeWorkZoneAlert
###