Paving on Route 12 in the City of Sonoma
Paving on Route 12 in the City of Sonoma
Caltrans Begins Paving and Sidewalk Upgrade Project in the City of Sonoma
Work includes paving, upgrading curb ramps, and adding pedestrian beacons
Caltrans began a roadway and sidewalk upgrade project on a 3.8-mile stretch of State Route 12 in the City of Sonoma, between Leveroni Road and Boyes Boulevard.
Highway 12 is also known as Broadway and W. Napa Street where it travels through the City of Sonoma.
Bay Cities Paving and Grading of Concord, Calif. is the contractor on the $7 million project that includes paving, modifying traffic signals and streetlights, installing curb ramps and pedestrian beacons.
Caltrans will grind and repave the 3.8-mile stretch of roadway as one of the last orders of work, probably starting in September 2021.
As part of the project, Caltrans will install two overhead pedestrian beacons on W. Napa Street: one at Third Street, and another located mid-block between Riverside Drive and 7th Street.
To bring the sidewalks into compliance with the Americans with Disabilities Act of 1990 (ADA), Caltrans will replace 25 curb ramps with new ADA-approved ramps.
Update: January 6, 2022
After some delays cause by cold, rainy weather, Caltrans has began installing and activating traffic loops in the pavement. Traffic loops are wires installed in the pavement that sense, and often count, cars as they travel over them.
In this case, the traffic loops send information to traffic signals, alerting them to the presence of cars in the left turn lanes, which activates the left turn signals.
The newly placed traffic loops replace the old loops that were destroyed when the old pavement was ground away in preparation for paving.
As of this writing, Caltrans has replaced the loops on Route 12 between Boyes Boulevard and Riverside Drive.
The signals on this stretch of highway are now operating on the timing pattern that existed before paving began.
During the week beginning January 16, Caltrans will reinstall the loop detectors on W. Napa Boulevard at 3rd W., 5th W., and 7th W. streets. Those signals will also be re-timed to their prior settings.
Update: November 23, 2021
Caltrans has already the northernmost third of the project, between Vallejo and Riverside Drive. Although the schedule is not set in stone, we will probably begin striping the middle third – from the Riverside Drive to the W. Napa Street/Broadway junction – in early December.
The last third, from the W. Napa Street/ Broadway junction to Four Corners will be the final section of work. Caltrans hopes to have that striping completed by the end of December.
However, the weather can seriously affect the schedule.
Per the project plans, we will use thermoplastic striping which cannot be applied to pavement when outside temperatures deep below 50 degrees.
The paragraphs above refer to lane striping. A follow-up crew will come behind and stripe crosswalks and places where words will be written on the pavement. We don't have a definite schedule on that, but Caltrans hopes that can be completed in December/early January. Again, weather dependent.
Update: September 9, 2021Caltrans has upgraded several curb ramps, bringing them into compliance with ADA standards.
Utility covers and conduits have been lowered. Many utilities run beneath the highway and their controls boxes and access points lie beneath covers in the pavement. As part of the paving project, the old asphalt will be ground off, then covered with a fresh layer.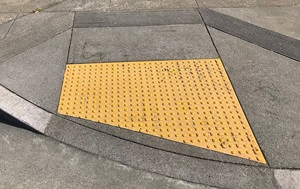 If the utility boxes, covers, pipes, etc., were not lowered several inches they would be destroyed by the grinder.
Work crews have replaced traffic poles, light standards, and signals lights along Broadway, W. Napa Street, and along Hwy 12 near the Springs.
The Agua Caliente Bridge has been upgraded. Caltrans has replaced the old guardrail with new guardrail, bring the bridge up to today's safety standard.
The bridge will also be more pedestrian-friendly after Caltrans narrows each traffic lane by one foot and widens the shoulders by one foot. This should slow traffic on the bridge and give pedestrians a wider berth.
Pedestrian Hybrid Beacons
As part of the project, Caltrans will install two overhead pedestrian beacons on W. Napa Street: one at Third Street, and another located mid-block between Riverside Drive and 7th Street. The pedestrian signals are called HAWK beacons, an acronym for High-Intensity Activated Crosswalk beacons.
Below are photographs of HAWK beacons that were recently installed on Sloat Boulevard in San Francisco along with an explanatory chart. To view a video on how the HAWK pedestrian signals work, click the link below.
Video: HAWK Pedestrian Signals Explained