I-80 Six Bridges Project
I-80 Six Bridges Project

Caltrans Increasing Height of Six Bridges Spanning Interstate 80 in Vallejo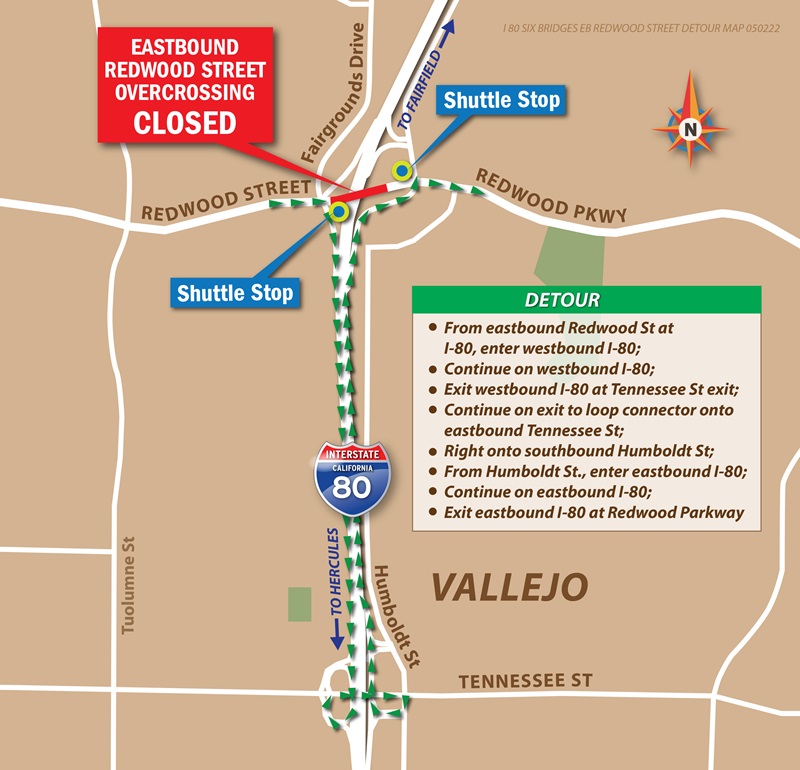 The bridges are being elevated to a height of 16-feet six-inches to accommodate the a change in Federal Policy that allows taller trucks.
To accomplish the work, Caltrans will close overcrossings for periods of several months while working to elevate the roadway. To date, Caltrans has closed and reopened Springs Road, Magazine Street, and Benicia Road.
The Redwood Street overcrossing will be closed on Monday, May 16, 2022.
The Georgia Street overcrossing was closed off to the traveling public on January 20,2022. It will reopen on May 6, 2022.
The Tennessee Street overcrossing was closed during the week of January 31, 2022. It will reopen on May 13, 2022.
SHUTTLE SERVICE AVAILABLE:
Phone Number: (415) 263-4000
A 24-hr shuttle service will be available for pedestrians and bicyclists who need to safely cross the Georgia or Tennessee street overcrossings. One shuttle stop will be located on each side of the bridge.
For more information about upcoming freeway and overcrossing closures click the links below:
Updated June 17, 2022
Video