SR-12 - Hooker Creek and Sonoma Creek Replacement Project
SR-12 - Hooker Creek and Sonoma Creek Replacement Project
Replacement of Sonoma Creek and Hooker Creek Bridges on Route 12 in Sonoma County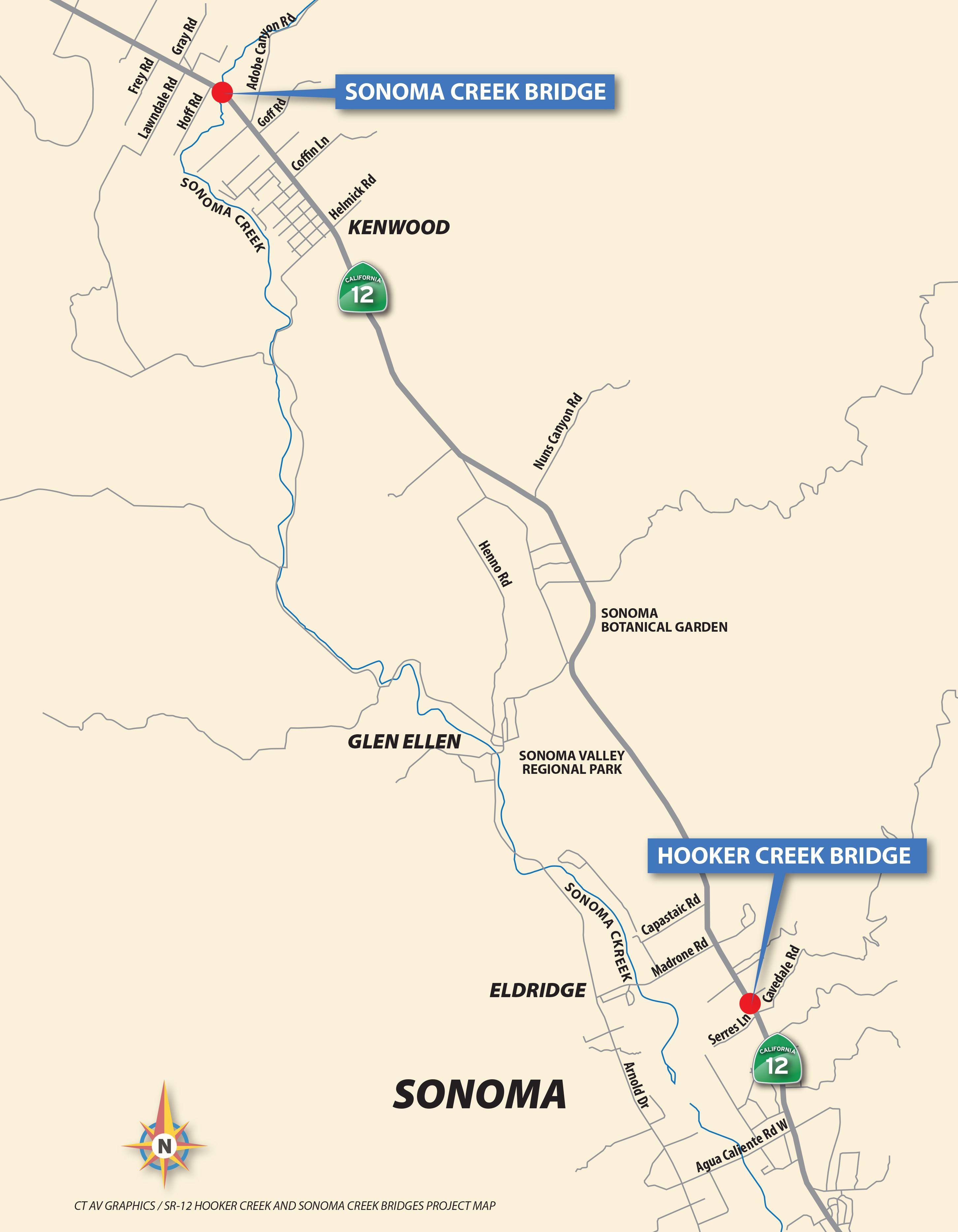 News Update, August 18, 2023:
Caltrans has scheduled a 30-day closure of State Route 12 at the Hooker Creek Bridge beginning September 5, 2023.
Caltrans will replace the Sonoma Creek Bridge and the Hooker Creek Bridge on State Route 12 in Sonoma County. While some preliminary work on the $24 million project was done between August 2022 and March 2023 - tree removal, utility work, etc. - the large-scale construction will begin during the third week of April 2023, when Caltrans begins drilling holes for piles to support the new Sonoma Creek Bridge.
The project is scheduled for completion in January 2025.
The Hooker Creek Bridge near Agua Caliente and the Sonoma Creek Bridge near Kenwood (not to be confused with a bridge of the same name on Route 37) were built in 1900 and 1922. Highway 12 spans both bridges as a two-lane road – one lane in each direction at both bridges.
In June 2023, Caltrans began demolishing and rebuilding the Sonoma Creek Bridge in sections, at times using one-way traffic control to create working room to accommodate construction. Work was completed on July 10, 2023.
The Hooker Creek Bridge is too old and brittle to be demolished and replaced in sections. To replace the bridge, Caltrans will close Route 12 to through-traffic at Madrone Road and Agua Caliente Road, detouring traffic onto local roads for about 30 days, scheduled to begin September 5, 2023.
Bridge Scour is the Problem
Decades of rapidly flowing water during rainy winters have eroded the foundations and compromised the bridges' strength.
During winter rainstorms, Sonoma and Hooker creeks swell with run-off. The tranquil waterways of summer and fall can morph into a winter torrent. In a process known as scouring, fast-flowing water strikes bridge columns or abutments, swirling rapidly around the fixed object, creating a vortex that erodes the creek bed and undermines the bridge.
Over the years, the effects of scouring accumulate, weakening the bridge from the bottom upwards. Caltrans considered strengthening the bridges in place, but studies revealed more structural damage than was visible during onsite inspections, leading Caltrans to decide upon replacing the bridges as a better long-term and cost-efficient solution.
Sonoma Creek Bridge
The Sonoma Creek Bridge lies at post mile 25.8 between Adobe Canyon Road and Hof Road. The bridge was built in 1922 and widened in 1950 and 1962.
Caltrans has removed the existing 46-ft wide bridge and replaced it with a 55-ft wide precast/pre-stressed type structure. The new structure would be 69 ft. long, replacing the existing bridge of the same length.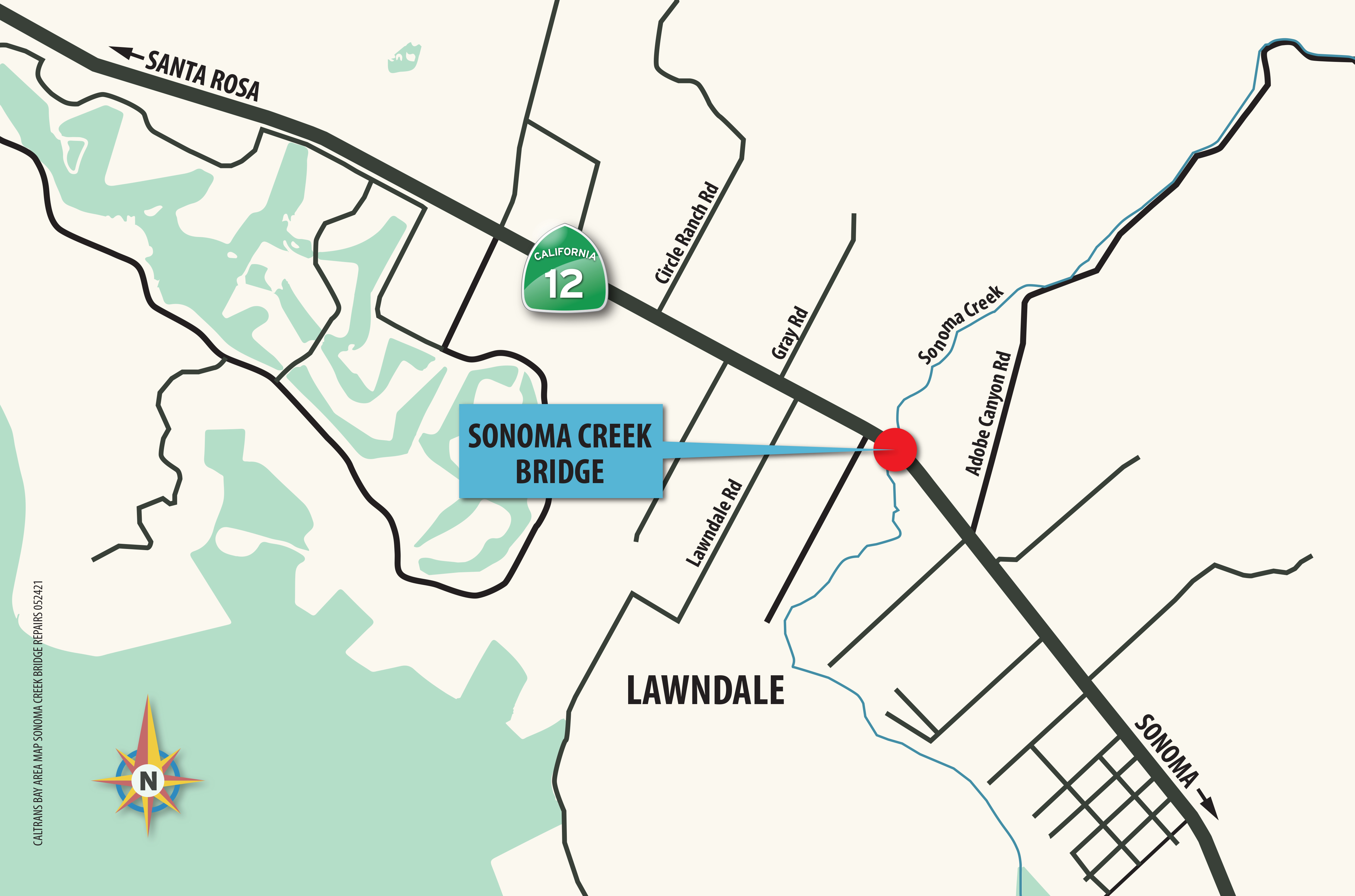 Hooker Creek Bridge
Hooker Creek Bridge is located at post mile 33.3 between Cavedale Road and Rancho Bonita Way.
The bridge has been minimally improved much since opening in 1900. Only guardrail and new pavement have been added over the years. Except for the yellow and black-striped paddle signs, most motorists would have little idea they were traveling over a bridge. The creek itself is often invisible, shrouded by the canopy of nearby trees. Nevertheless, Hooker Creek is an attractive, if humble bridge, a turn of the 20th Century concrete arch structure about 24-feet in length.
At the Hooker Creek Bridge location, Caltrans will remove the existing 36-ft wide bridge and replace it with a 44-ft wide PC/PS slab-type structure. The new structure would be 41.5 ft. long, replacing the existing 24-ft long bridge.
Caltrans will detour traffic around the bridge over county roads for about 30 consecutive days in September 2023 to accommodate construction.