d4 Sonoma 12 - Paving in City of Sonoma
d4 Sonoma 12 - Paving in City of Sonoma
Caltrans Begins Paving and Sidewalk Upgrade Project in the City of Sonoma
Work includes paving, upgrading curb ramps, and adding pedestrian beacons
Caltrans began a roadway and sidewalk upgrade project on a 3.8-mile stretch of State Route 12 in the City of Sonoma, between Leveroni Road and Boyes Boulevard.
Highway 12 is also known as Broadway and W. Napa Street where it travels through the City of Sonoma.
Bay Cities Paving and Grading of Concord, Calif. is the contractor on the $7 million project that includes paving, modifying traffic signals and streetlights, installing curb ramps and pedestrian beacons.
Caltrans will grind and repave the 3.8-mile stretch of roadway as one of the last orders of work, probably starting in September 2021. The agency hopes to complete paving by October 31, 2021, the end of paving season in most parts of the North Bay. If not, Caltrans will return in the warmer spring months of 2022 and complete the work.
As part of the project, Caltrans will install two overhead pedestrian beacons on W. Napa Street: one at Third Street, and another located mid-block between Riverside Drive and 7th Street.
To bring the sidewalks into compliance with the Americans with Disabilities Act of 1990 (ADA), Caltrans will replace 25 curb ramps with new ADA-approved ramps.
Update: September 9, 2021
Caltrans has upgraded several curb ramps, bringing them into compliance with ADA standards.
Utility covers and conduits have been lowered. Many utilities run beneath the highway and their controls boxes and access points lie beneath covers in the pavement. As part of the paving project, the old asphalt will be ground off, then covered with a fresh layer. If the utility boxes, covers, pipes, etc., were not lowered several inches they would be destroyed by the grinder.
Work crews have replaced traffic poles, light standards, and signals lights along Broadway, W. Napa Street, and along Hwy 12 near the Springs.
The Agua Caliente Bridge has been upgraded. Caltrans has replaced the old guardrail with new guardrail, bring the bridge up to today's safety standard. The bridge will also be more pedestrian-friendly after Caltrans narrows each traffic lane by one foot and widens the shoulders by one foot.
This should slow traffic on the bridge and give pedestrians a wider berth.
Upcoming Paving
Caltrans plans to begin paving work the week beginning Wednesday, September 22, 2021. First, work crew will perform "digouts." As the name implies, digouts happen at places where the pavement is in bad shape, often because water has eroded the roadbed. Such areas will be "dug out." The unstable soil will be excavated and replaced with new gravel and asphalt. Later these areas will be paved.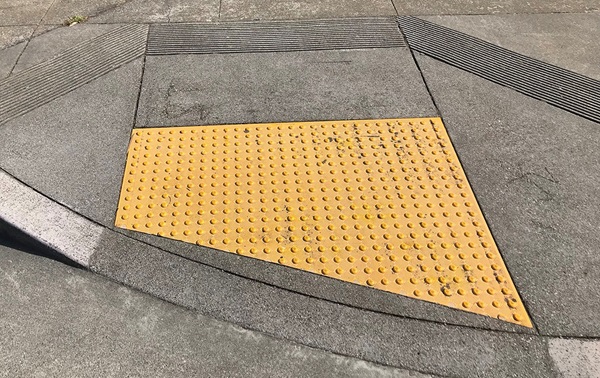 New ADA-Compliant Curb ramps will be installed at up to 24 locations.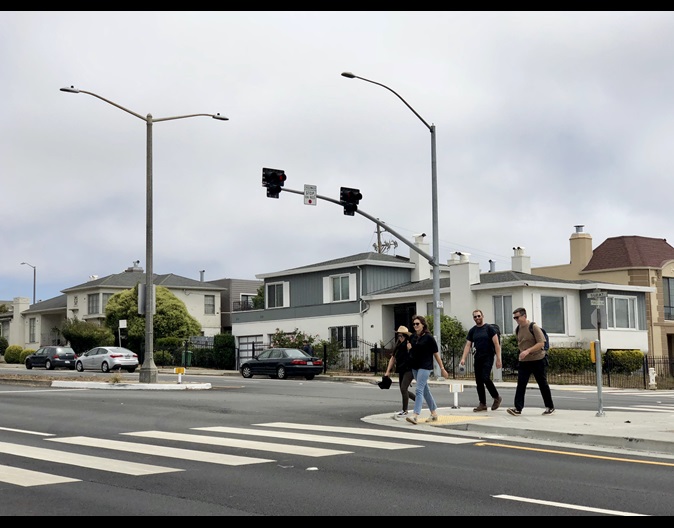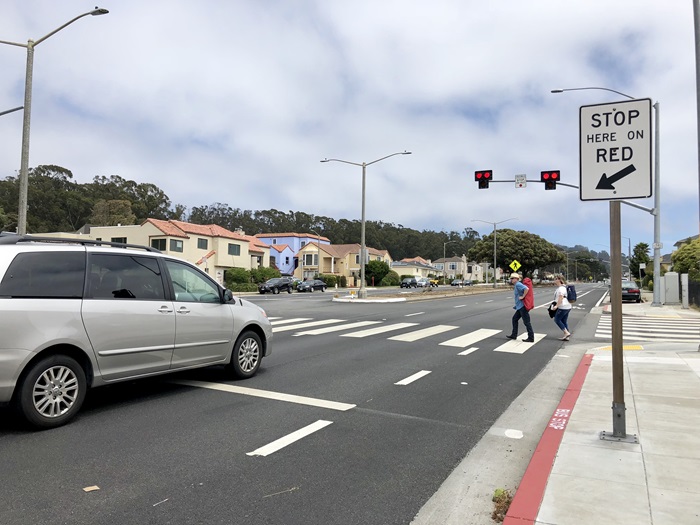 As part of the project, Caltrans will install two overhead pedestrian beacons on W. Napa Street:
The picture shows an example of a Pedestrian Hybrid Beacon, which is similar to the type that will be installed on W. Napa Street. To see a how-to guide to the pedestrian signals click here.