pkg-2a-spanish
pkg-2a-spanish
I-80/I-680/SR 12 Interchange PKG 2A (Spanish)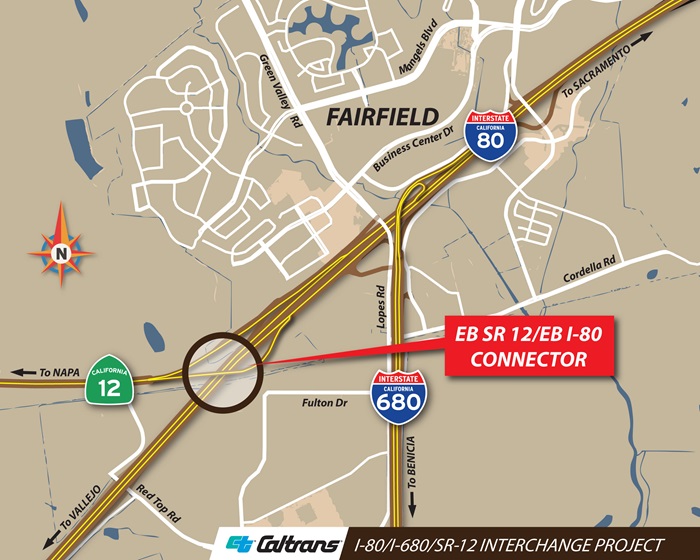 DESCRIPCIÓN DEL PROYECTO:
Caltrans Bay Area comenzará a trabajar en la Interestatal 80 (I-80), Interestatal 680 (I-680) y Ruta estatal 12 (SR-12) parte de proyectos el condado de Solano, conocido como Fase 2A.
El Projector I-80 / I-680 / SR-12 Fase 2A se enfocará en aliviar la congestión al reemplazar el puente de coneccion SR-12 a I-80 de un solo carril en dirección este (EB) existente por un Carretera de dos carriles y una estructura de puente que ha sido diseñado para adaptarse a las fases futuras de otros proyectos. La seccion actual de tráfico que se une a EB I-80 desde SR-12 y sale de la rampa de EB I-80 a Green Valley Road y SB I-680 será eliminada por este proyecto. El intercambio de trafico se eliminará mediante la construcción de una nueva rampa de salida exclusiva desde EB SR-12 hasta Green Valley Road y una nueva rampa de salida dedicada desde EB I-80 hasta Green Valley Road y I-680 en dirección sur.

I-80 / I-680 / SR-12 es uno de los proyectos de varias fases de varios años que incluye el Paquete 1 al Paquete 7. El sitio del Proyecto fase 2A estará cerca de los vecindarios de Green Valley y Cordelia en Fairfield, y cerca del Projecto Fase 1A I-80 / I-680 / SR-12 Interchange que fue contruido y que se completó en 2017. Estos projectos mejorarán la seguridad de los automovilistas a lo largo del intercambio I-80 / I-680 / SR-12. Se espera que la construcción comience a fines de septiembre de 2020.

IMPACTOS DEL TRÁFICO:
La I-80, I-680 y SR-12 Interchange fase 2A incluirá cierres de rampas, carriles y autopistas completas, mientras que el proyecto de dos años está en marcha. Finalización del proyecto fase 2A sera 2022.
Para mas información vaya a nuestro sitio web en www.i8068012interchange.com

Habra un REUNIÓN INFORMATIVA PÚBLICA VIRTUAL SEPT 2020:
Caltrans Bay Area y Solano Transportation Authority (STA) lo invitan a participar en una reunión informativa pública virtual donde Caltrans le presentara el projecto que consiste en la Fase 2A a la comunidad del condado de Solano. La reunion se llevara a cabo en dia miercoles 23 de Septiembre a las 4:30 PM a traves de Zoom.

POR FAVOR UNETE A LA REUNION VIA ZOOM:
1. Instale la applicacion de ZOOM en su computadora o en su telefono cellular.
2. Unete a la reunion usando esta deireccion del internet http;//zoom.us/join Meeting ID:873-4601-6535 ( sun nombre y correo electronico sera requerido para tener acceso a la reunion.
3. Para llamar por medio de su telefono cellular use la siguiente informacion abajo

PARA UNIRSE A LA REUNION POR TELEFONO:
1. Llama al numero de telefono: (699)900-6833
2. Entra el codigo: 392660#
3. Oprime # nuevamente par tener accceso at la reunion
Para levantar su mano oprima en su telefono el numero *9

Accessibility Assistance: Co/trans makes every attempt to ensure our documents are accessible. Due to variances between assistive technologies, there may be portions of this document which are not accessible. Where documents cannot be made accessible, we are committed to providing alternative access to the content. Should you need additional assistance, please contact Pedro Quintana, Caltrans Bay Area, Public Information Officer, Phone: (510) 286-5620.