101 Express Lanes Overnight Closures
101 Express Lanes Overnight Closures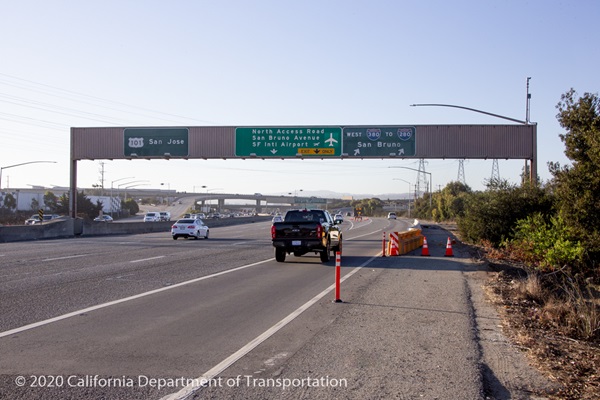 As part of the San Mateo 101 Express Lanes Project, Caltrans is installing four overhead sign structures (that span the width of one side of the freeway, from the shoulder to the median) on U.S. 101.
The sign structures are large and installing them requires flatbed trucks to move them and two cranes to hoist them into place from the center of the freeway. Therefore, it is necessary to close one direction of the freeway at a time for up to five hours for the installation. A total of four closures are needed to complete this work.
This work is weather dependent and subject to equipment availability. Construction activities may change without notice.
There are two ways to be notified about the upcoming freeway closures:
1. Sign up for our weekly construction updates by emailing 101express@dot.ca.gov with the subject line 'Weekly'.
2. Follow @CaltransD4 on Twitter
The sign structures being installed are replacing structures removed in 2021. The new structures are wider to accommodate the new Express Lanes throughout the corridor.
Closure Details
All closures will:
Occur on Sunday mornings from 1:00 AM to 6:00 AM when traffic volumes are lightest.
Be displayed on freeway overhead signs and changeable message signs at least one week in advance.
Travelers are advised to be familiar with the proposed detour routes and allow extra travel time on mornings when closures are planned.

During these closures, motorists will be directed to exit the freeway in advance of the closed sections, and detour signs will clearly guide them through city streets until they are able to get back on the freeway, or to their destination. Detour routes have been carefully selected with input from local jurisdictions to minimize impacts to nearby residents. The detour maps below provide the exact detour routes for each closure.
At no point will both Northbound and Southbound U.S. 101 be closed at the same time.
Closure Locations and Detours
Signs are being installed at the following four locations:
Northbound U.S. 101 between East Hillsdale Boulevard and S.R. 92 (See Detour)
Northbound U.S. 101 south of the San Bruno Avenue overcrossing (See Detour)
Southbound U.S. 101 south of Terminal Court (See Detour)
Southbound U.S. 101 south of Marco Way (See Detour)
Northbound U.S. 101 from East Hillsdale Boulevard to State Route (S.R.) 92
This detour will be used for the installation of the sign structure on northbound U.S. 101 between East Hillsdale Boulevard and S.R. 92. During this closure, motorists will be directed to exit northbound U.S. 101 at the East Hillsdale Boulevard Off-Ramp, in the City of San Mateo. Motorists will then be guided by detour signs, which they can either follow east or west along East Hillsdale Boulevard. Motorists may choose to return to Northbound U.S. 101 by either detour route, or access other destinations, such as S.R. 92. Southbound traffic will be unaffected.
During this closure, the following freeway ramps will be closed:
Northbound U.S. 101 On-Ramp from East Hillsdale Boulevard
S.R. 92 Connector Ramps from Northbound U.S. 101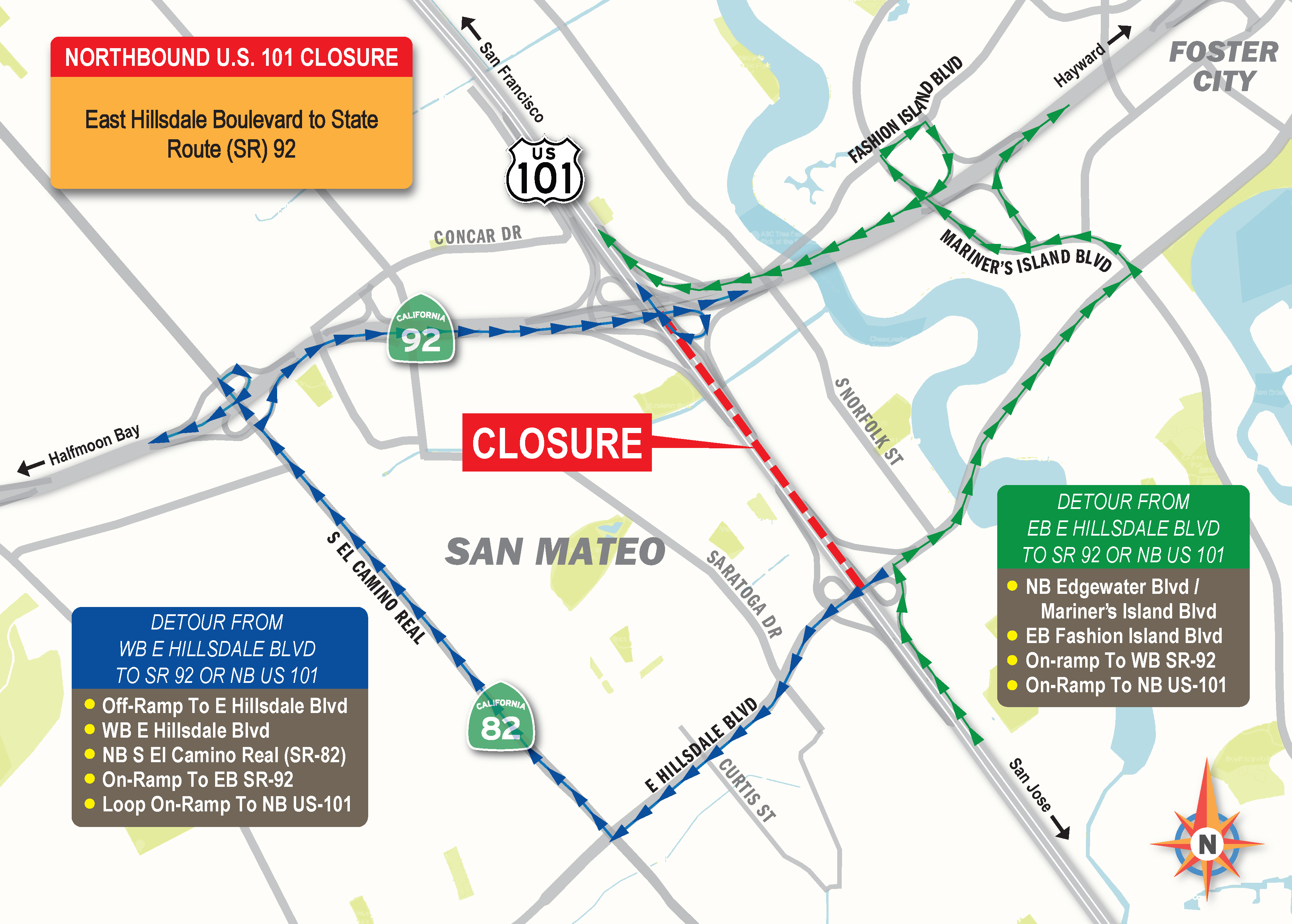 Northbound U.S. 101 from Millbrae Avenue to San Bruno Avenue
This detour will be used for the installation of the sign structure on northbound U.S. 101 south of the San Bruno Avenue overcrossing. During this closure, motorists will be directed to exit at the Millbrae Avenue Off-Ramp, in the City of Millbrae. Motorists will then be able to choose between two detour routes, diverging east and west, to either return to northbound U.S. 101, or reach their destination. The detour route on El Camino Real will cross through the cities of Millbrae and San Bruno, while the detour route on McDonnell Road will keep drivers on the frontage road adjacent to SFO Airport. Travelers wishing to access SFO Airport should take westbound Millbrae Avenue to South McDonnell Road. Southbound U.S. 101 traffic will be unaffected.

During this closure, the following freeway ramps will be closed:
Northbound U.S. 101 On-Ramp from Millbrae Avenue
Northbound U.S. 101 On-Ramp from SFO
Northbound U.S. 101 Off-Ramp to San Bruno Avenue/Westbound I-380 Connector
Southbound U.S. 101 from South Airport Boulevard to San Bruno Avenue
This detour will be used for the installation of both sign structures on southbound U.S. 101 (south of Terminal Court and south of Marco Way). During this closure, motorists will be directed to exit at the Produce Avenue/South Airport Boulevard Off-Ramp, in the City of South San Francisco. Motorists will then be guided by detour signs to South Airport Boulevard and diverge at the South Airport Boulevard/I-380 intersection. Motorists may choose to return to Southbound U.S. 101 by way of the (SFO Airport) San Jose On-Ramp from San Bruno Avenue, or access other destinations. Northbound traffic will be unaffected.

During this closure, the following freeway ramps will be closed:
Southbound U.S. 101 On-Ramp from Produce Avenue
Southbound U.S. 101 Off-Ramp to Westbound I-380
Southbound U.S. 101 Off-Ramp to San Bruno Avenue/SFO/ North Access Road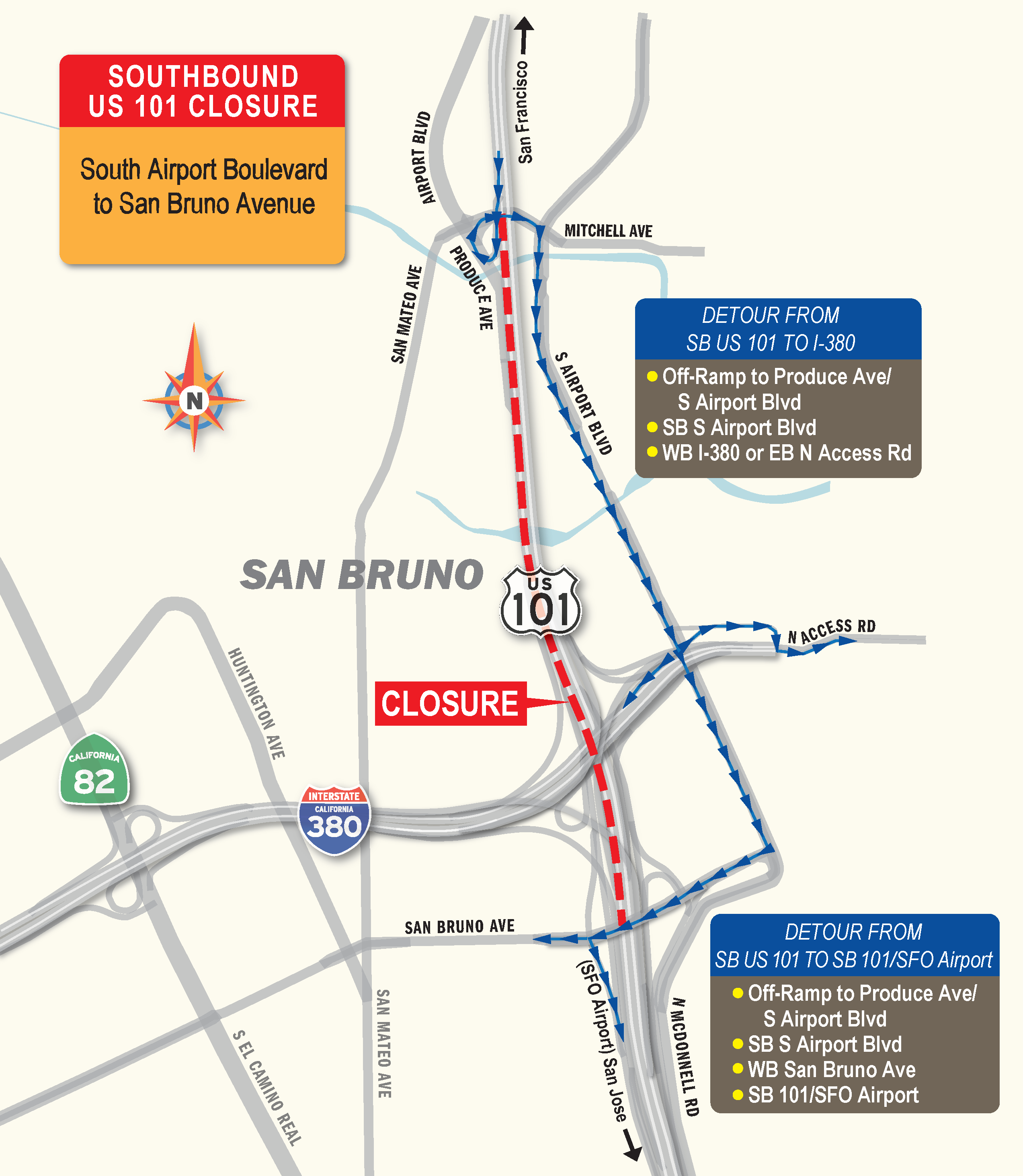 Learn More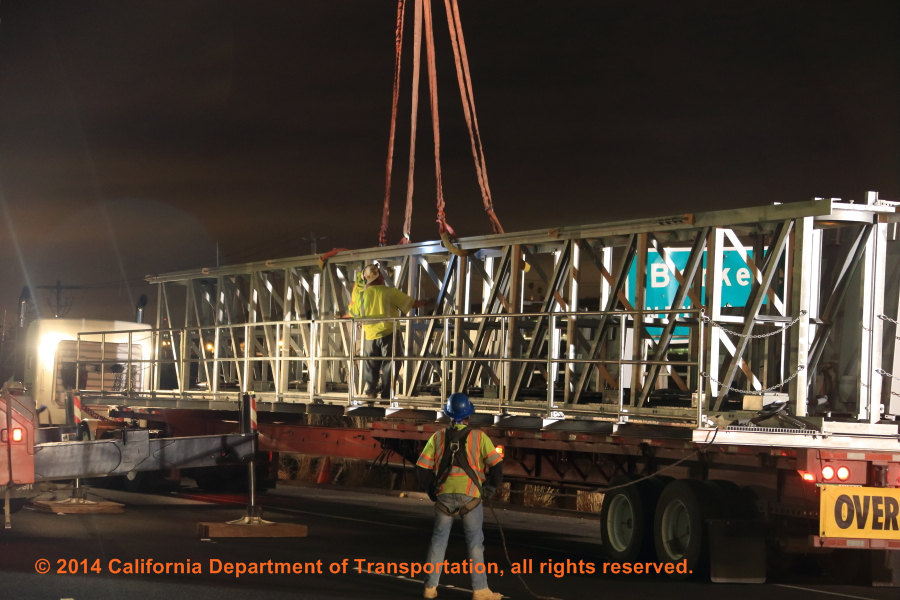 Construction crews removing an overhead sign bridge on another project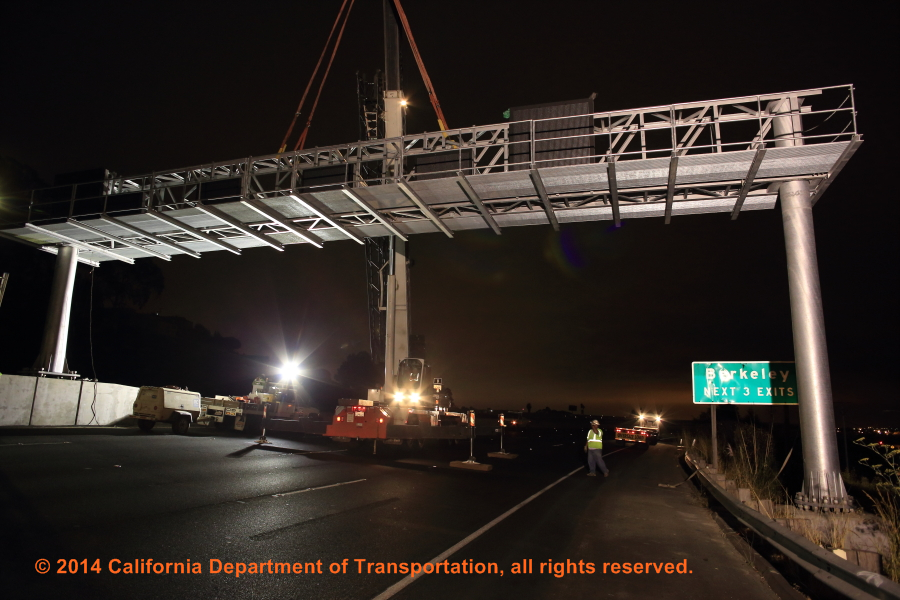 Construction crews installing an overhead sign bridge on another project