State Route 37 Flood Reduction Project Fact Sheet From US 101 to SR 121 Junction
State Route 37 Flood Reduction Project Fact Sheet From US 101 to SR 121 Junction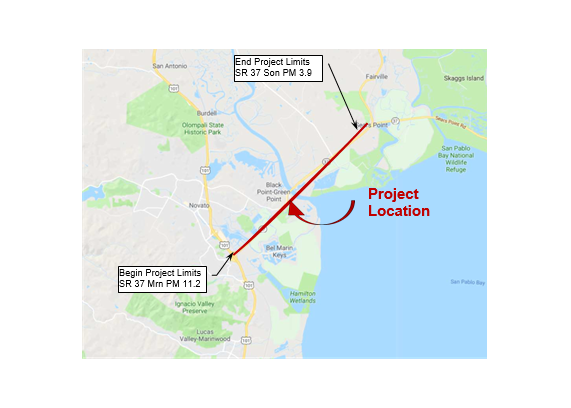 Project Description:
The project proposes to elevate the roadway and reconstruct waterway crossings along State Route (SR) 37 from the US 101 interchange to SR 121 to reduce recurring flooding due to sea level rise looking out to 2050. The Project Build Alternatives would not preclude a future project to address sea level rise over the long-term along the entire SR 37 corridor from US 101 to I-80.
Purpose and Need:
The purpose of this project is to address recurring flooding and future SLR impacts to the existing SR 37 in Marin County and a portion of Sonoma County. Flooding on SR 37 occurs during seasonal rain and high tide events, causing delays and closures. Over time, the existing road could be eroded and inundated permanently, resulting in the loss of a safe, reliable transportation corridor.
Project status and schedule:
Begin Environmental Studies - Summer 2021
Scoping meeting - November 17, 2021
Study Alternatives
Prepare Draft Environmental Document
Circulate Draft Environmental Document - Spring 2023*
Prepare Final Decision Document
Complete Environmental Phase - 2023*
Complete Design - 2026*
Begin Construction - 2027*
* Target dates and pending funding availability.