EA 04-4Q320 Fact Sheet 06302020
EA 04-4Q320 Fact Sheet 06302020
FACT SHEET
State Route 37 Improvement
from US 101 to SR 121 Junction
Location Map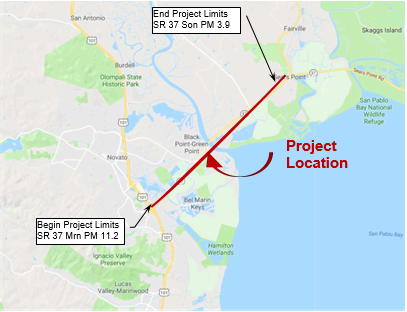 Project Description:
The Long Lead project proposes to reconstruct State Route (SR) 37 to address Sea Level Rise (SLR) and recurring flooding, while including Complete Streets features to address multi-modal bicycle and pedestrian use.

Purpose and Need:
The purpose of this project is to address recurring flooding and future SLR impacts to the existing SR 37 in Marin County and a portion of Sonoma County. Flooding on SR 37 occurs during seasonal rain and high tide events, causing delays and closures. Over time, the existing road could be eroded and inundated permanently, resulting in the loss of a safe, reliable transportation corridor.

Status:
Programmed in 2018 SHOPP and started the environmental phase of the project.