EA 04-2Q500 FactSheet 06302020
EA 04-2Q500 FactSheet 06302020
FACT SHEET
State Route 37 Bridge Preservation
04-Mrn-37-PM 14.5 EA 2Q500
Petaluma River Bridge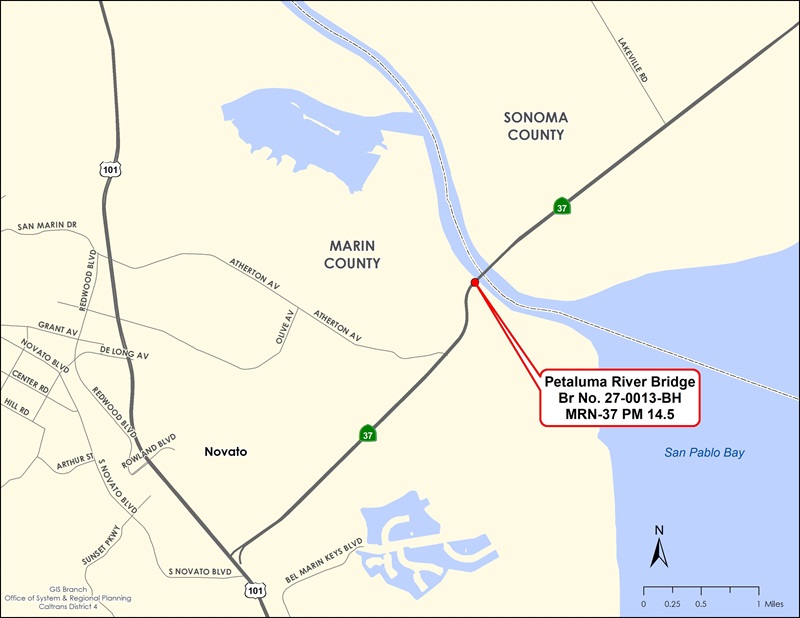 Project Description:
Resurface bridge deck, replace bridge fender system, mitigate bridge scour, and upgrade bridge Railings.

Purpose and Need:
The purpose of the project is to address the health and safety of the Petaluma River Bridge on State Route (SR) 37 with respect to identified maintenance issues. These include the bridge fenders, railing, decking, and certain piers that have been affected by scour.

This project is needed to address deteriorating bridge deck and fender system, bridge scour to ensure the integrity and longevity of the bridge structural system and upgrade the bridge railings to meet current safety standards and maintain the structure in a reliable and serviceable condition.

Status:
Programmed in 2020 SHOPP and the environmental phase will begin in late summer 2020.