Hwy 1 Gleason Beach Realignment
Hwy 1 Gleason Beach Realignment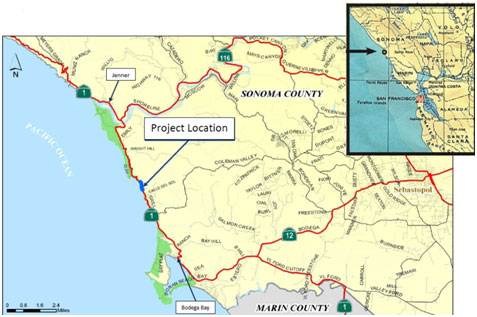 Caltrans proposes to realign a section of State Route (SR) 1 near Gleason Beach in Sonoma County to maintain SR 1, which is the only road connecting the communities of Bodega Bay and Jenner. The Gleason Beach Realignment Project would construct approximately 3,700-foot, roadway and 850-foot long bridge span over Scotty Creek. The two-lane roadway and bridge span would be 50 feet wide including 6- to 8-foot shoulders and a 6-foot sidewalk in the southbound direction to accommodate bicycle and pedestrian access. The existing box culvert and grade-separation structure at Scotty Creek would be removed.

The community meeting will provide an update on the following:
Get an overview of the Project Purpose, History and Project Timeline;
Learn how the project would protect and enhance sensitive coastal resources;
How public input has been incorporated to shape the development of the project;
View the latest project developments including roadway and bridge project renderings and,
Hear about upcoming public meetings.
.