How to Join the August 11, 2022 Virtual Public Meeting
How to Join the August 11, 2022 Virtual Public Meeting
Notice of Completion/Availability of Draft EIR/EA and Online Meeting
The City of South San Francisco and the San Mateo County Transportation Authority (SMCTA), as the project sponsors, and the California Department of Transportation (Caltrans) as the lead agency, will host an online public meeting for the US 101/Produce Avenue Interchange Project on August 11, 2022 from 5:30 to 7:00 PM. The Draft Environmental Document is available online at SSF.net/101Produce or CaltransD4Environmental.com. Information about the meeting, including how to log on to the public meeting, and project specific information will be provided at those links.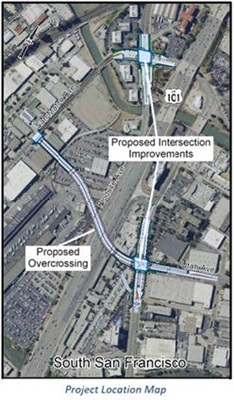 The project would add an east-west connection across US 101 (referred to as the Utah Avenue extension), modify two intersections, and provide additional pedestrian and bicycle access in the project vicinity. The proposed new US 101 overcrossing would extend from the Utah Avenue/South Airport Boulevard intersection to San Mateo Avenue. The intersections at South Airport Boulevard/Utah Avenue, San Mateo Avenue/Utah Avenue, and Airport Boulevard/Produce Avenue/San Mateo Avenue intersections would be reconstructed to provide new turning lanes and pedestrian/bicycle facilities. The overcrossing would provide two through lanes, bicycle lanes, and sidewalks in each direction. The overcrossing would span from the east side of US 101 and extend over Terminal Court, an existing city street and cul-de-sac.
Caltrans, as the Lead Agency under the California Environmental Quality Act (CEQA) and the National Environmental Policy Act (NEPA), has initiated a public review period and will conduct a virtual public meeting to request comments on the Draft Environmental Impact Report/Environmental Assessment (EIR/EA) for the proposed project.
Get Involved
Review the Draft Environmental Document and Provide a Comment:
Review the document at the links provided above. Please submit comments in writing by September 6, 2022, to Caltrans District 4, ATTN: Tanvi Gupta, P.O. Box 23660, MS 8B, Oakland, CA 94623-0660, or by email to Tanvi.Gupta@dot.ca.gov.
Join the Virtual Public Meeting:
Caltrans and partners invite you to attend a virtual public meeting on Thursday, August 11, 2022, from 5:30 PM to 7:00 PM to learn more about the proposed US 101/Produce Avenue Interchange Project. At the meeting, attendees can ask questions about the project and are encouraged to provide comments on the Draft Environmental Document. However, questions and discussion at the meeting are not considered official comments. All official comments on the Draft Environmental Document must be submitted by mail or e-mail to be shared with the entire project development team. Attendance at the virtual public meeting is not required to submit comments.
Virtual Public Meeting
Thursday, August 11, 2022
5:30-7:00 PM
Meeting Link: https://us06web.zoom.us/j/83171018607
Or join by phone: +1 669 900 6833 or 888 475 4499 (Toll Free)
Webinar ID: 831 7101 8607
For more information on this project, including accessing and reviewing the Draft Environmental Document, visit SSF.net/101Produce or CaltransD4Environmental.com.
Get Information in Other Languages:
For language translation, use the contact information below.
Para la traducción de idiomas, use la siguiente información de contacto.
如需语言翻译,请使用以下信息联系
Alejandro Lopez, Alejandro.Lopez@dot.ca.gov, (510) 385-6856