Caltrans Bay Area Invites Public to Share Ideas for the Future
Of State Route 37
Oakland – Caltrans Bay Area invites the public to a virtual meeting on Tuesday, January 25, 2022 at 5:30 p.m. to learn about a study being conducted to improve State Route 37.
State Route 37 is a critical corridor that links U.S. 101 in Marin County to Interstate 80 in Solano County. It is subject to congestion and flooding and faces future risks from sea level rise, extreme weather events, and ecological and multimodal issues. Caltrans is undertaking a study that will examine an ultimate solution to address issues facing the roadway.
The Planning and Environmental Linkages (PEL) Study is a collaborative planning effort to address the corridor-wide needs of State Route 37. The PEL Study will evaluate previous plans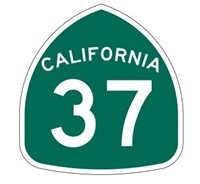 and reports prepared for State Route 37 to identify potential solutions, including potentially new roadway alignments. When completed, it will lay out a vision for the corridor by including different needs, efforts, and projects in one overarching document.
At the virtual meeting, Caltrans representatives will share information on the PEL Study's status, its purpose and need, the methods being developed to evaluate potential alignments, and some preliminary alignments. The public is encouraged to attend to learn about this planning effort, ask questions, and share ideas.
The meeting will be held via Zoom from 5:30 – 7:00 p.m. The meeting link is https://us02web.zoom.us/j/87256452910 or accessible for call-in users by dialing 1-877-853-5247 and entering the meeting identification code 872 5645 2910 and passcode 762806.
The PEL Study is expected to be completed in Summer/Fall 2022. More information is available at https://dot.ca.gov/caltrans-near-me/district-4/d4-projects/d4-37-corridor-projects.
###