(Closure begins at 9PM, Thursday, June 22 to 7AM, Monday, June 26)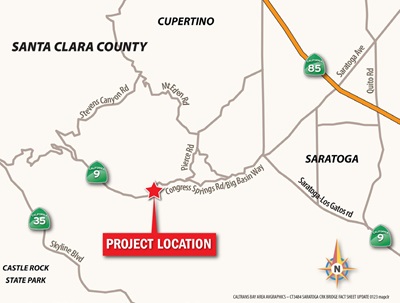 Santa Clara County – Beginning Thursday night, June 22, 2023, the California Department of Transportation (Caltrans) will perform a full closure of State Route 9 (SR-9) Big Basin Way, at Sanborn Road, to begin the installation of a temporary bridge for the Saratoga Creek Bridge Rehabilitation project, in the city of Saratoga, Santa Clara County.
The closure is needed to safely install a temporary bridge adjacent to the existing Saratoga Creek Bridge. The temporary bridge will allow SR-9 to remain open during the rehabilitation of Saratoga Creek Bridge.
This road closure is taking place now to keep pace with an accelerated schedule to complete the overall project by the end of the year and reduce the duration of impact to traffic and the community. The overall goal of the project is to safely rehabilitate the Saratoga Creek Bridge so that the bridge can continue to provide connectivity to SR-9 in the event of an earthquake. Project is scheduled to be complete December 2023.
FULL LANE CLOSURE ON SR-9 at Sanborn Road (no access between Sanborn and Pierce Road). Please use detour.
Thursday, June 22, 9:00 PM to Monday, June 26, 7:00 AM
CHP will be on site and emergency vehicles will be granted access
CMS Signs and Detours will be in place
A detour will also be in place for large trucks, detour routes can be found on State Route 9 Saratoga Project webpage: https://dot.ca.gov/caltrans-near-me/district-4/d4-projects/d4-santa-clara-sr9-saratoga-creek-bridge
Motorists are advised to expect delays and allow extra time. For more information visit project webpage. Saratoga Creek Bridge Rehabilitation Project. For 24/7 traffic updates, follow 511.org: https://twitter.com/511SFBAY. For real-time traffic, click-on Caltrans QuickMap: http://quickmap.dot.ca.gov/.
#BeWorkZoneAlert
See detour map below